Private Mount Batur Sunrise Trek | Explore Hidden Trails
Details

Itinerary

Includes

Availability

Meet at

Host

Reviews

FAQ
Private Mount Batur Sunrise Trek | Explore Hidden Trails
Highlights
Less touristy route - avoid the crowds!
Beautiful panoramic views of Lake Batur
Yummy breakfast including a hard boiled egg - cooked in volcanic steam!
This is a private Mount Batur sunrise trek, that takes you down a much less crowded route to the summit. Your guides, who are all Kintamani locals and know the trails by heart, will be able to give you a very local and exclusive experience as you climb to the top.We also love this trek for the views on the way down, where you get an incredible panorama of the villages and towns below, along side the placid Lake Batur and even the ocean in the distance. What to ExpectStart of the Trek You will meet your guide at 3:45am at a lesser known starting point. The trek will begin in darkness, but your guide will provide you with a head lamp. The terrain will change from a wide dirt road, to a narrow jungle trail and finally turn into a more rocky exposed mountain face path. Trail can be slippery, especially when wet.Reaching the Summit You will reach the summit just as the sky begins to turn from black to inky blue. Once at the top you can settle in to watch the sunrise over Mt Abang, Mt Agung and Mt Rinjani. Enjoy the surroundings while sipping a hot drink and trying a hard boiled egg cooked in the volcanic steam! The Descent After sunrise, you will head to the rim of the main crater, here you will have another great vantage point of the villages and Lake Batur. As you start the descent you will be walking down a narrow path with steep slopes to both sides. This trail will turn into a very gravely lava sand for a short period - be prepared to slide! The final bit will be rocky and sturdy, albeit at times slippery if wet. You will finish around 8:30am, but depends on your pace.Back to Your Hotel On the way back to your hotel, you can choose to make a stop at the Natural Hot Springs to relax your muscles after a strenuous hike. Please note there are additional fees for entrance tickets which can be added to this trip at the time of check out. Optional Add-OnNatural Hot SpringComplete your trek by soaking in the healing waters of Batur Natural Hot Spring where you can relax your tight muscle. Here you can also enjoy the photographic panorama of beautiful Lake Batur from a completely different angleApproximate travel times with moderate trafficFrom Ubud - 1h00minFrom Canggu - 1h45minFrom Kuta - 2h00minFrom Seminyak - 2h00minFrom Uluwatu - 2h40min
You want to summit Mount Batur, but with fewer people along the way
You're looking for a private trek for just you and your friends
What You'll be Doing
20+
Itinerary:
Hike up Bali's most iconic volcano!
Show Details
What's Included
Entrance ticket to Mount Batur area
Local English speaking guide
Bottle of mineral water per person during your hike
Light breakfast on the top of volcano
Transportation (additional charge)
Availability
Prices in SGD
Select Time for 03 Dec 2023
Where We'll Meet
Start Point
Meet-up at Mt Batur (Exact location will be provided after booking) (Mount Batur, Indonesia)
Meet at selected timeslot
Transport Add-ons
Add-on #1
Return Transfer from Bali(Price:

S$ 57.39

for up to 6 guests)
Add-on #2
Return Transfer from Sidemen(Price:

S$ 71.29

for up to 4 guests)
Add-on #3
Return Transfer from Munduk or Bedugul(Price:

S$ 99.9

for up to 4 guests)
Useful Information
Cancellation & Other Policies
Cancellation

As Mt Batur Sunrise Trekking would be holding the slot for you and turning down other potential customers, you won't be able to cancel after you book.

Reschedule Policy

Cancellation 24 hours will full charge and can move to another day 12 hours before travel.
See More
Suitability / Accessibility
Child Friendly (Recommended Age: 2+)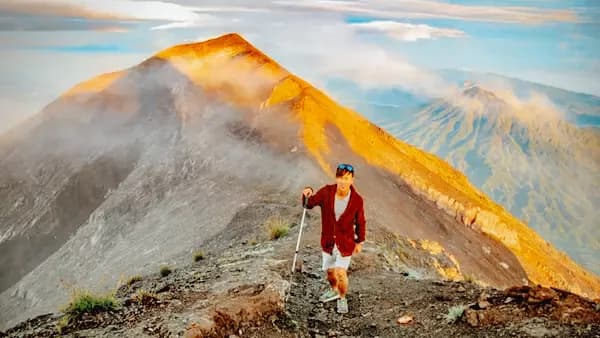 Mt Batur Sunrise Trekking
Mt Batur Sunrise Trekking is owned and managed by Jero, a Mt Batur area local who has come from a farming family. Although he had grown up helping the family with onion and tomato farming, he had always loved hiking the mountain with his cousins and friends. After getting a degree in business at a local university he decided that his own native land was rich with opportunity. He created a website with out much experience and started Mount Batur Sunrise Trekking hoping to share the beauty of the mountain with visitors and make a better living for himself and his family. Jero and his team have been Mt. Batur trekking guides since they were kids, for more than 25 years. He now employs over 20 local guides which he trains for English and deep understanding of the mountain and makes sure they are licensed by the government.
Speaks: Fluent English
Acceptance rate: 98%
Keep your payments secure by using the Seek Sophie website for all transactions and communications.
Helpful Questions
Sunblock and extra T-shirt
How much is additional cost of pickup from Kappa Senses Ubud?
Bla1234, 01 Sep 2023
Hi there, for a return transport the cost is Rp 646.463,92 and it's available on the add ons :)
Hi! I have a few questions. 1. Where is the hot spring located? 2. I don't see where to put in pick up address. 3. We are looking to meetup with friends at the end so our route would be this route: "Hotel -> trekking -> hot spring -> drop: Lake View Restro". Can it be done? 4. In case of bad weather, what is your cancellation policy?
David, 07 Aug 2023
Hi David, Trust our customer service has been in touch with you via email :)
Hi! We are a family of 6 looking for a mt. batur hike that would be best for us and that we could combine with a bit of sightseeing. If we take all the add-ons (plantation, hot springs and waterfall sightseeing) if that is even possible - when would we be back at our hotel in the afternoon?
Tina, 28 Jun 2023
Hi Tina, We highly recommend choosing only one add-on to combine with the hiking activity, considering the tight schedule and the possibility of getting tired from multiple activities. Similarly, for safety reasons, we recommend adding only one of the available add-ons, and the arrival time at your hotel will depend on its location/suburb.
With the recent ban on all mountain hikes, any updates regarding this?
Zon, 02 Jun 2023
Hi Zon, the decision is not yet official. The government and authorities are currently in the process of reviewing the regulations concerning activities in these mountains. Hope that helps!
Not your usual touristy stuff
Here you'll find some must-sees. But mostly you'll find what's real - not just what's on show for tourists.
Handpicked guides
We're a marketplace, but a highly curated one. We'll only recommend guides who we love.
Planet-Friendly
We believe that travel shouldn't harm our planet. We offset all carbon emissions for trips booked on Seek Sophie.