2.5H Pottery Workshop on Hand-Building | Oldest Pottery Technique
Details

Itinerary

Includes

Availability

Meet at

Host

Reviews

FAQ
2.5H Pottery Workshop on Hand-Building | Oldest Pottery Technique
Highlights
Learn to create your own ceramic cups/bowls
All materials, tools, and firing are provided
Guidance by a patient and experienced instructor
Have experienced potters glaze and colour your work for you
Bring home your beautiful creation when it's ready
Hand-building is one of the oldest pottery methods and involves creating pieces without a pottery wheel - simply using hands, fingers, and simple tools. The session focuses on pinching, coiling, and slab rolling methods to make your unique creations. Recommended age: 13+It is up to the parents' good judgement whether the workshop is suitable for their younger children.What to ExpectThe class begins with a short demonstration from the instructor on the different hand-building techniques (be punctual so you won't miss this!). Once you get a better understanding of what to do, you'll try it out for yourself. The instructor will go around to help and give tips on how to execute these techniques. Pro-tip: Come prepared with images of what you would like to make so that you spend more time on the wheel and less time planning!Collection of PiecesYou will get to keep one of your favourite pieces from this session. Each additional piece will cost $10 to keep (for the firing & handling). They will be available for collection after 8 weeks, as they require glazing with colour and 2 rounds of firing. If you wish to glaze your own wares, opt for the 2-lesson pottery bundle where you may return to the studio to glaze your work after the pieces have been fired once in the kiln. Time SlotsThere are slots available from Tuesday to Sunday. The class is sized to a maximum of 8 pax per lesson. Other NotesThis 2.5-hour class is suitable for those with little or no pottery experience, and individuals of 13 years & above. Individuals with special needs will be accompanied by a caregiver.
What You'll be Doing
1+
Itinerary:
Enjoy the experience of hand-building pottery method!
Show Details
What's Included
One piece will be fired and glazed by staff.
Availability
Prices in SGD
Select Time for 28 Nov 2023
Where We'll Meet
Start Point
Meet-up at 3 Arts Pottery Studio (394 Joo Chiat Pl, Singapore 428078)
15 mins before selected timeslot
Notes: The workshop begins with a handbuilding demonstration. Please be punctual as the steps are crucial for learning and you will not want to miss this! Classes will start promptly.
Know someone who might like this?
Useful Information
Start & Ends
Every Tuesday

03:00PM - 05:30PM

Every Wednesday

01:30PM - 04:00PM

Every Thursday

03:00PM - 05:30PM
See More
Cancellation & Other Policies
Cancellation

As 3Arts Pottery would be holding the slot for you and turning down other potential customers, you won't be able to cancel after you book.

Minimum Participants

If there are fewer than 2 participants, the host may reschedule or refund your booking.
See More
Suitability / Accessibility
Child Friendly (Recommended Age: 8+)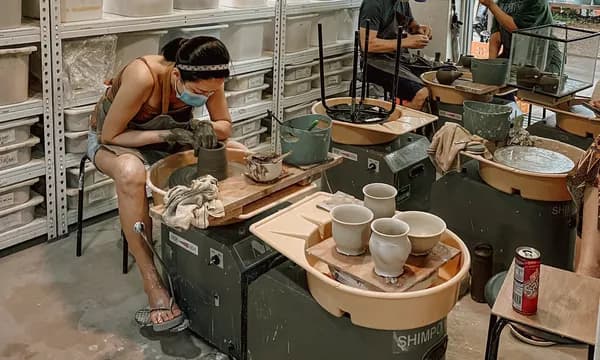 3Arts Pottery
3 Arts x Center Pottery was founded by Joan, a doctor by training. In 2016, she decided to switch her career for a potter after seeing many people around her suffering from mental illnesses. Among her circle of friends, she found many suffering from anxiety and depression due to their work environment and lifestyle. With her healthcare background, Joan went on to seek natural remedies to improve the mental wellness of her friends and discovered pottery making. Upon learning the calming effect that comes with pottery making, she developed a pottery curriculum together with 2 other certified psychologists from Heart to Heart Psychotherapy and SportsPsych Consulting. Today, Joan has successfully integrated mental wellness into her pottery curriculum and want to inspire more students to find their inner peace. With the studio's mission to bring mental wellness to people, the potter teachers reinforce the principles of the 5Cs: Composure, Confidence, Cope-ability, Cohesion and Concentration, and point out reflective moments for students to understand themselves better.
Experience: 7 years
Speaks: Fluent English
Acceptance rate: 89%
Top Rated Host
Keep your payments secure by using the Seek Sophie website for all transactions and communications.
Helpful Questions
Pre-Requisites for The Trip
Hi, I didn't read properly when I proceed with the booking. Is it possible to change my booking to the one with pottery wheels?
Lynn, 09 Sep 2022
Hi Lynn, We are very sorry - Once the booking is confirmed, you won't be able to change to other options.
From the reviews, seems like one of the instructors isn't that ideal. Are we able to know which instructor is scheduled for the different dates?
Ping, 07 Jun 2022
Hi Ping, We are not able to guarantee which instructor will be available on a certain date, but we will make sure the instructor will give their best to assist you during the workshop :)
Can I ask if is skillsfuture claimable?
Elaine, 14 Feb 2022
Hi Elaine, Unfortunately we do not accept SRV/skillsfuture credit :)
Hi, i have never done pottery. After attending a class do you think i can continue to make something at home ?
Anu, 03 Aug 2021
Hi Anu, Thank you for your question. You may practice the hand-building technique you learned from the class at home if you have the materials :)
Not your usual touristy stuff
Here you'll find some must-sees. But mostly you'll find what's real - not just what's on show for tourists.
Handpicked guides
We're a marketplace, but a highly curated one. We'll only recommend guides who we love.
Planet-Friendly
We believe that travel shouldn't harm our planet. We offset all carbon emissions for trips booked on Seek Sophie.