Mount Batur Sunrise Jeep Tour & Natural Hot Spring
Join-in trip
·
Up to 15 persons
Mount Batur Sunrise Jeep Tour & Natural Hot Spring
Join-in trip
·
Up to 15 persons
Highlights
Highlights
Enjoy a private jeep tour and learn about the biggest lava eruptions
Get to see black sand and lava up close!
Complete your day with a long soak in the healing waters of Batur Natural Hot Spring
Details
Details
Have you tried any surprising activities while on your vacation in Bali? Are you just sitting in the night club with a bottle of Bintang? Or sunbathing on the beach, looking for Instragrammable spots? What about trying something new and unexpected like a Jeep Tour of the ancient Mount Batur?! This will give you an opportunity to see the sunrise over the beautiful volcano mountain as well as explore the black sand left over after Mt Batur's lava eruptions. What to ExpectSunrise on the Caldera You will meet at the Bintang House in Kintamnai. Here we will start our Mount Batur jeep trip. The jeep drive to the sunrise point will take approximately 30 minutes through farms and rocky and sandy roads. Arriving at the sunrise point you will be amazed by gorgeous view of the caldera, Lake Batur as well as Mount Abang and Mount Agung as the sunrises overhead. While you enjoy the sunrise, you will get a yummy breakfast and hot drinks such as tea, hot chocolate or Balinese black coffee. Black Lava Sand Field After sunrise you will continue your trip to explore black sand, black lava. On your way you will pass by villages, getting a glimpse of local life as you see farmers tending to their tomato and onion fields or driving behind a big lorry packed with vegetables heading to market. Before you make it to the lava field you will even cross through a forested area, making for a beautiful green surroundings. Once you arrive at the black sand lava field it will be a truly incredible sight. The black sand appears to go on forever making the landscape seem like something from another planet. It's incredible to think that this is the power of this seemingly innocuous volcano, gently napping in the background. Its last significant wake up was back in the year 2000, which produced this lava field.Natural Hot Springs You will complete your trip by soaking in the healing waters of Batur Natural Hot Spring and where you can relax your tight muscle. Here you can also enjoy the photographic panorama of beautiful Lake Batur from a completely different angle.
Suitable For: Backpackers, Families with Kids, Vegetarians, Vegans, Foodies, Solo Travellers, Couples, Pet-Friendly, Team Events, Wheelchair-accessible
Tags: Nature Walks, Mountain / Volcano Hikes, Forest / Jungle Treks, Forest Adventure
What's included
What's included
Entrance ticket to Mount Batur area

One bottle mineral water per person

Entrance Fees Batur Natural Hot Springs

Locker, Soap, Towel in hot spring

Light breakfast at the sunrise point

Hot drink ( Tea or Coffee)
Transport (must be booked as an add-on)
Show all inclusions & exclusions
Where You'll Meet
Where You'll Meet
This activity has no specified meeting point. Please contact your host if you require more information.
Transport Add-ons
Your host can provide transport add-ons for additional cost:
Return Transfer from Bali (+S$ 57.05)
Availability
Availability
Prices shown in SGD
What You'll Do
What You'll Do
Itinerary: Mount Batur Sunrise Jeep Tour & Natural Hot Spring Itinerarry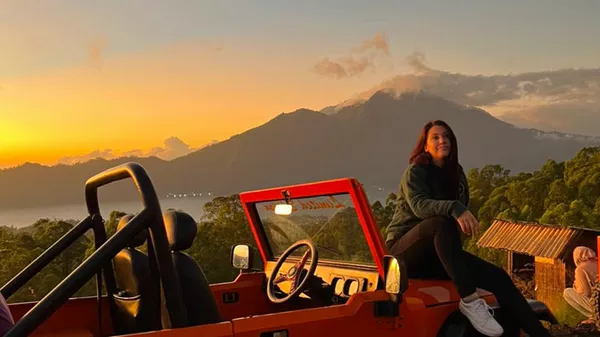 Enjoying private tour in a jeep through Batur volcano and stunning amazing sunrise and learn about the biggest lava eruptions 1963
03.30 – 04.15 am: Pick-up time from your hotel by our private driver for ( Booking include pick up drop off service)
05:00 am: Arrive at starting point, introduction and safety procedure by our guide
05.25 am: Start driving in Jeep to Mount Batur Caldera to reach 1,360 meter above sea level.
05:55 am: Arrive at the sunrise point, 1,360 meter above sea level
06:15 am: Enjoy the spectacular views and sunrise and have breakfast
07:00 am: Explore black lava by Jeep and enjoy the views.
08:30 am: Return to starting point
9:00 am: Enjoy and relax in the Natural Hot Spring
10:30 am: Visiting coffee plantation on the way back (optional)
11:30-12.00 pm: Estimated arrival back to your hotel.
View details
This is a sample itinerary and may be weather-dependent.
Meet your host
Meet your host
Mt Batur Sunrise Trekking is owned and managed by Jero, a Mt Batur area local who has come from a farming family. Although he had grown up helping the family with onion and tomato farming, he had always loved hiking the mountain with his cousins and friends. After getting a degree in business at a local university he decided that his own native land was rich with opportunity. He created a website with out much experience and started Mount Batur Sunrise Trekking hoping to share the beauty of the mountain with visitors and make a better living for himself and his family. Jero and his team have been Mt. Batur trekking guides since they were kids, for more than 25 years. He now employs over 20 local guides which he trains for English and deep understanding of the mountain and makes sure they are licensed by the government.
Fluent English
Cancellation & Rescheduling
Cancellation & Rescheduling
Cancellation Policy
As Mt Batur Sunrise Trekking would be holding the slot for you and turning down other potential customers, you won't be able to cancel after you book.
Reschedule Policy
Please reschedule or cancel 8 hours before pick up time.
Wet Weather Policy
Please reschedule or cancel 8 hours before pick up time if bad weather.
In the Event of a Government Lockdown
If there is a government lockdown that prevent you from going on your trip, you may get a full refund via Seek Sophie credits or reschedule at no additional costs. Otherwise, we would do our best to help you reschedule in other cases.
Read our full policy here.
Helpful Questions

from Our Community

Hiking shoes and Jacket and swim suits

Sunblock and extra T-shirt

The things you should wear and bring:

Hi! I am interested in mt batur jeep tour for 4 person. After mt batur, is it possible to arrange our own itinerary for the rest of the day with driver? Want to visit waterfall, Ubud downtown, Taman Ayun temple and local night market before back to hotel in Seminyak. Possible to make such arrangement?
No Results Based On Your Search
Your question would also be very useful to the rest of the travel community!
Not what you are looking for? Ask us anything, your question would be very useful to the rest of the travel community!