North Bali Canyoning | All-levels with waterfalls & rock features
Join-in trip
·
Up to 10 persons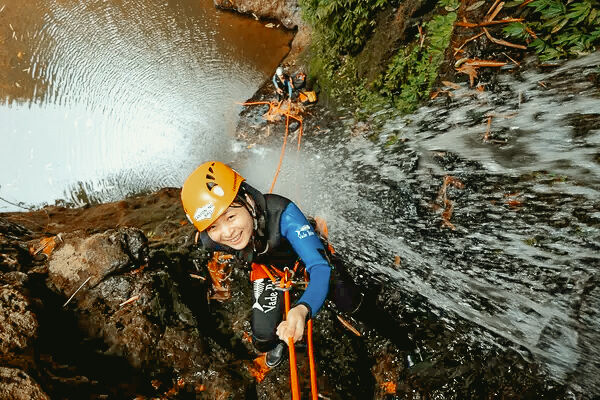 North Bali Canyoning | All-levels with waterfalls & rock features
Join-in trip
·
Up to 10 persons
Know someone who might like this?
Highlights
Highlights
Hike through a beautiful jungle to the canyon, and go through thrilling natural obstacles!
A day full of action! Abseiling waterfalls, plunging into natural pools and natural water slides
Soak in a natural hot spring
Details
Details
Egar is a very special spot for canyoning in Bali. It has exquisite waterfalls and rock features surrounded by beautiful forests. This canyon has everything to offer; awesome jumps ranging from 2 meters to 4 meters, flumes, vertical rock slides, and awesome waterfall abseils. Egar Canyon is non-stop fun, with something for everyone! What to ExpectBegin your trip in the morning with pick up from your accommodation (expect approx. 2 hours drive to North Bali for the experience)Hike through a beautiful jungle to the canyon, and go through thrilling natural obstacles!Descend and explore the canyon- abseiling waterfalls, plunging into natural pools and natural water slidesSoak in a natural hot springImportant NotesTime in the canyon- approx. 2.5hrs canyoningThis canyoning location is suitable for all abilities (so long participants are comfortable in water). Participants can choose the level of challenge they want throughout the trip – our guides can provide alternative routes for you and will guide you through every adventure!Adventure start point in North Bali: Jl. Raya Bedugul - Singaraja, Gitgit, Kec. Sukasada, Kabupaten Buleleng, Bali 81161, IndonesiaApproximate travel times with moderate trafficFrom Ubud - 1h20minFrom Canggu - 1h30minFrom Kuta - 1h50minFrom Seminyak - 1h45minFrom Uluwatu - 2h30min
Min 2 persons requirement:
Please note that this experience require a minimum of 2 persons to proceed. You may book for fewer than 2 persons, but if there are fewer than 2 persons booked for the date, you may be asked to reschedule to another date.
Tags: Waterfall Hiking, Canyoning
Trip Highlights
What's included
What's included
Round-trip transfer from your Bali accommodation

Unlimited mineral water refills

Full CE-standard canyoning equipment (wetsuits, canyoning shoes, helmets, canyoning harness and all the technical gear) Safety instruction and Full briefing

Free photos and video (please bring your own SD card/USB stick)
Show all inclusions & exclusions
Where You'll Meet
Where You'll Meet
Your host provides free pick up from:
Anywhere in Bali (Denpasar)
Availability
Availability
Prices shown in SGD
What You'll Do
What You'll Do
Itinerary: Accommodation - North Bali - Egar Canyon
Today you will encounter flumes, vertical rock slides, and waterfall abseils!
*Pick up time varies based on your accommodation*
05.00 - 05.30 (Nusa Dua area, Uluwatu area, Jimbaran area, Benoa area, Candidasa, Tulamben, Amed,)
06.00 (Sanur Area, kuta Area, Legian, Kerobokan, Petitenget, Canggu, Denpasar, Tabanan, Tanah Lot, Ubud Area, Pemuteran)
06.30 (Mengwi, Munduk, Tejakula)
07.00 (Bedugul, Lovina, Singaraja)
- Our driver will pick you up at your accommodation.
8.30am
- Arrive at our basecamp, and you will get:
- Coffee / tea & light breakfast.
- Official explanation about your trip and.
- Gear up for canyoning.
9.15 am
- Go to the canyon by car.
9.30 am
- Arrive at parking lot, we continue tracking to start point
9.40 am
- Arrive at the start point we will give you a brief about safety and training how to use equipment, how to rappel down and how to do inside the canyon during the trip.
10.00am
- Start Canyoning
12.30 pm
- Reach the Finish Point, back to basecamp and get a shower.
13.00
- Lunch, copy photos and videos to you.
14.00
- Our Driver will transfer you back to your accommodation.
16.00
-Arrive at your accommodation. Trip FINISH.
This schedule may change according to the situation and weather condition.
View details
This is a sample itinerary and may be weather-dependent.
Meet your host
Meet your host
Canyoning Bali is a high-performance company in the field of canyoning trips and adventures. The company has been established by a group of people with relevant experiences and practical competencies in the various fields - qualitative canyoning trips to adventures.
4 years experience
Basic English, Bahasa
What others are saying
What others are saying
Activity Reviews (6)

Host Reviews (28)
We were a bit skeptical at first as two of us doesnÍt swim but glad we went ahead and booked it. We had such a great experience that I would recommend for everyone. The guides were super friendly and really patient. Just follow their instructions you will be fine. 10/10 would try it again
Kavinraj Thangaraj
07 Sep 2022
First of all, it's great. The staff are so friendly and the food is delicious and guides you safely. Depart from Ubot at 7:20 and arrive around 9:00 in the morning, and explain how to use safety-related equipment well. It was a 3-4 hour course. I only took one battery with my GoPro, so I couldn't capture the full view. But don't worry. The guide staff here will take pictures and videos. You can also bring a USB and put it on your own. Meals and pick-up. until exciting. I had such a great time. thank you!! Next time I'll do something with a higher level.
A highlight of my time in Bali, this would have to be the best way available to experience waterfalls and the forests of Bali. Great hospitality as well, delicious breakfast and lunch made for us.
Mitchell Baker
26 Aug 2022
Wow. Just wow. What a day! Picked up from our Sanur hotel at 6:15am, for a 2.5 hour drive to gitgit. Top quality canyoning suit and vest and of course ropes and all the abseiling equipment. Started with a good safety briefing. Family of four, including a 10 year and 14 year olds. Fun, energetic, not rushed, wet!! Plenty of abseiling, always felt safe. Plenty of photos !! They took them on their GoPro and waterproof cameras. If you bring your own memory card theyÍll upload all the photos at the end !! Wonderful packed lunch at the end too!
Aidan Le-Devenish
05 Aug 2022
The best ever! Worth the money, time and energy. Super friendly local guides, they know what their doing, ensuring the safety of the participants. Great food, great people. You have to try canyoning in gitgit at least once
Sartana Fitra
26 Jul 2022
Cancellation & Rescheduling
Cancellation & Rescheduling
Cancellation Policy
Cancel for free
3 days before
your trip starts. Cancellations after such date will not be eligible for refunds as Canyoning Bali would have paid for your trip's logistics already.
Reschedule Policy
Reschedule is possible but the operator must be informed 2 days before the activity date.
In the Event of a Government Lockdown
If there is a government lockdown that prevent you from going on your trip, you may get a full refund via Seek Sophie credits or reschedule at no additional costs. Otherwise, we would do our best to help you reschedule in other cases.
Read our full policy here.
Helpful Questions

from Our Community

Rash guard/ water sports apparel

USB stick/ SD card to store your free photos/ videos

Underwater camera (if you have one!)

Pre-Requisites for The Trip

Minimum age of 8 years old
No Results Based On Your Search
Your question would also be very useful to the rest of the travel community!
Not what you are looking for? Ask us anything, your question would be very useful to the rest of the travel community!