1 Day Cruise on a Luxury Modern Catamaran
Join-in trip
·
Up to 80 people
1 Day Cruise on a Luxury Modern Catamaran
Join-in trip
·
Up to 80 people
Know someone who might like this?
Details

Includes

Meet At

Availability

Guide

Cancellation & Rescheduling
Details
Details
Step aboard the brand new Premium 5-Star Catamaran and be greeted with exquisite views, exciting water slides, and exceptional customer service put together for the perfect experience of Halong and Lan Ha Bay. On this luxurious trip, look forward to kayaking in a private lagoon and swimming along a pristine beach, then delight your taste buds with deluxe traditional dishes prepared on board by an award-winning chef. The Catamaran also has a splendid sundeck adorned with gorgeous light-wood fittings, where you can sunbathe in the beautiful loft nets or enjoy a refreshing glide down the water slides. Take a picture anywhere on deck – you'll find an Instagram-worthy background in every shot! Important Note: If you would like to book the the transportation from Hanoi to Halong Bay, please select the add-on when you are making your booking.
Tags: Sightseeing Boat Cruise, Sightseeing Boat Cruise
Trip Highlights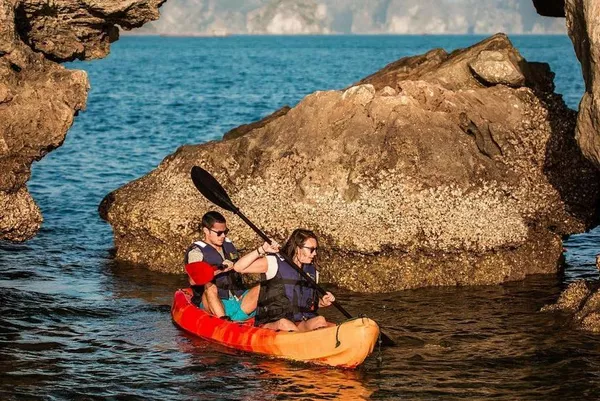 Three Peaches Islet (Ba Trai Dao)
What's included
What's included
Complimentary drinking water all-day

Teas, coffees, fruits, cakes

Entrance and sightseeing fees

Onboard insurance and service charges

FOC for one child aged 5 or below
2nd child aged 5 or below (22 USD/ pax)

Speed boat transfer to visit the Lan Ha Bay and Floating Village (5 USD/ person)

Jet Ski on the bay (15 USD/ person/ 10 minutes)

Tips and other personal expenses

Round trip transfer from Old Quarter Hanoi (add-on available)
Show all inclusions & exclusions
Where You'll Meet
Where You'll Meet
You can choose to meet at
Tuan Chau Harbour
, or your host provides free pick up from:
Tuan Chau Harbour
Tuần Châu Harbor, Ngọc Châu, Tuần Châu, Thành phố Hạ Long, Quảng Ninh, Vietnam
Details
Availability
Availability
Prices shown in SGD
What You'll Do
What You'll Do
Itinerary: Hanoi - Halong Bay - Hanoi
Sail among giant limestone karsts in luxury!
8:30 - 8:45 am - Quick rest stop en route to Halong Bay
9:30 - 9:45 am - Board the cruise
As the bus arrives at Tuan Chau marina, the Catamaran's welcoming staff will be awaiting your arrival at the pier with a complimentary welcome drink, and a quick briefing will be provided as you set off into the bay.
10:30am - 12:00pm - Kayaking
Paddle through a little grotto and into a private lagoon surrounded by rock walls in all directions, and find yourself a peaceful respite in this secluded corner of Halong Bay. Listen to folklores by the tour guide and take in the spectacular views before paddling back to the boat.
12:15 - 1pm - Lunch on board
Indulge in mouth-watering delights served by the award-winning chef on board – look forward to deluxe famed traditional dishes and a selection of tasty surprises from all around Vietnam. Curated cocktails, fine wines, and craft beers will also be available for your consumption at an additional charge, and the bar will remain open for the entirety of the service.
2:00 - 3:30pm - Three Peaches Beach & Swimming at Lan Ha Bay
Lie on the pristine Three Peaches Beach and feel the white sand between your toes, or go for a refreshing swim in the water at Lan Ha Bay. For those who prefer to stay on the boat, simply sit back, relax, and soak in the sights of this natural wonder.
4:30pm - Sunset ceremony & refreshments
As the sun begins to set and the sky fills with deep reds, purples, and yellows, enjoy complimentary Vietnamese teas, fresh fruit, and little cakes while you embark on the sail back to Hanoi.
5:30pm - Disembark - Bus
After docking at the harbour, board the buses and cruise down the highspeed highway. There will be a quick stop halfway on your trip back to Hanoi.
View details
This is a sample itinerary and may be weather-dependent. Start/end times may depend on transport chosen.
Meet your host
Meet your host
This premium cruise line offers the perfect balance of traditional elegance and modern comfort to all travellers on board, with 99 seats, an open-air front viewing deck, and a beautifully fitted interior. Renowned for their conscientious care and attention to detail in everything they do, the Catamaran team is dedicated to curating a deluxe experience for every guest while bringing out the best of these world natural heritage sites, Halong Bay and Lan Ha Bay.
4 years experience
Fluent English
What others are saying
What others are saying
Activity Reviews (2)

Host Reviews (13)

 
Cancellation & Rescheduling
Other Policies
Other Policies
Child Pricing
Children will pay a discounted price
Please click on the
booking form
to see child prices
Helpful Questions
Backup batteries and charger
Cash (for purchasing drinks or tips)
Passport (required for registration on the boat)
Umbrella and/or light rain jacket