Everything You Need to Know about Renting a Yacht in Singapore
Everything You Need to Know about Renting a Yacht in Singapore
All your questions on renting a yacht answered :)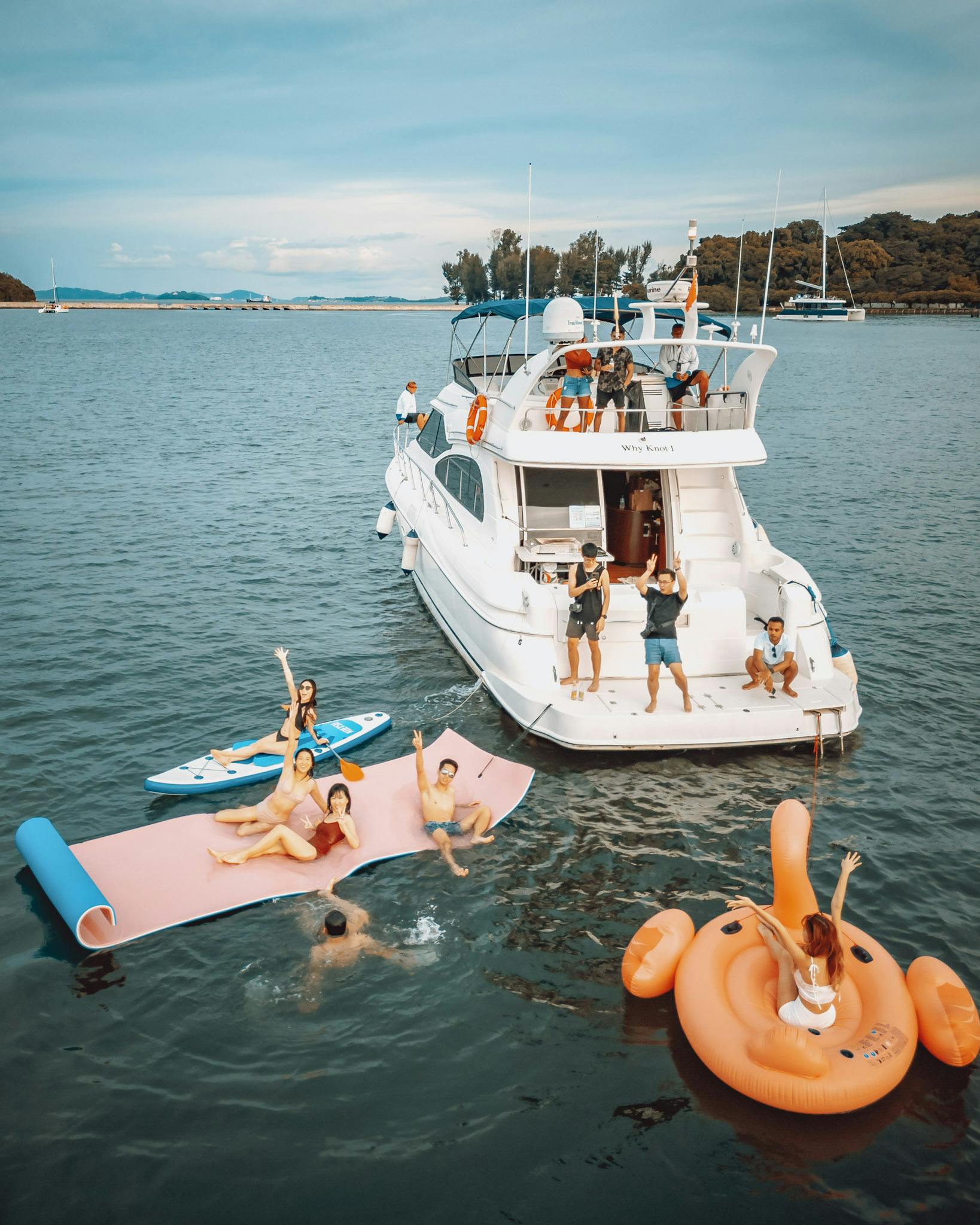 We know renting a yacht for the first time can be daunting! Here are all our answers to your frequently asked questions on yacht rentals, from whether cutlery is included, to which yacht we'd recommend :)
Ready to book? See all our handpicked yacht experiences here!
1
What are the most affordable yachts?
At the time of writing, you can get a yacht for $599 for 10 persons (less than $60 a person!) 🤩
If you're looking for something budget friendly, you can filter by price (low to high) on our yachts page, or you can also see a list of budget-friendly yachts here! Top tip: it's cheaper on weekdays than weekends!
2
Which yachts do you recommend?
3
Is the city skyline tour worth it?
It depends on how much time you want to spend on water activities. Without the skyline tour you have approximately 3 hours for water activities (as it takes half hour each way to get out to Lazarus Island), and with the skyline tour you'll have a little over 2 hours for water activities.
That said, we really enjoy doing the city skyline tour because it allows you to see MBS, the Singapore Flyer and the gorgeous Singapore skyline from the water, which is pretty special!
4
Can we bring our own soft drinks/alcohol and food?
Yes you can, though some yachts may charge a corkage fee for alcohol. If you want to have a BBQ onboard, some yachts will offer the BBQ grill services for free and others may charge a small fee for it.
You can see in the inclusions/exclusions on the yacht booking page whether the BBQ grill rental is included, and if corkage fee for alcohol is waived.
5
Can the yacht provide food and drinks?
Only a small handful of yachts can provide food and drinks. The yachts that do offer catering services are Valencia (large luxury catamaran), Monako (offers a Japanese yakiniku menu), and Wanderlust (great for proposals).
For the rest of the yachts, you'll need to bring your own food and drinks on board. If you're self-catering, note that all the yachts will have a BBQ grill so you can bring your own food to BBQ onboard.
6
Are there any cutlery, glasses and plates on board?
Yes all the yachts will provide this! If in doubt, do take a look at the specific yacht page that will include these items in the inclusions :)
7
Should we bring our own ice or is ice provided?
An ice box will be provided by the yachts, but most of the yachts (unless expressly stated in the list of inclusions) will usually not provide ice. If you're booking a yacht that departs from One 15 Marina at Sentosa, there's a Cold Storage and 7-11 at the meeting point where you can buy ice!
8
Will Floaties be provided?
Some yachts will provide floaties, but many have stopped offering them as they get damaged easily. If you're looking for floaties, do have a look at the inclusions on the yacht booking page to see if that specific yacht is still offering them, and note your request on the booking comments. At the time of writing, Hanako yacht still offers floaties.
Top tip: the watermat is actually much more fun (more stable!) so if you're looking for a fun water toy, we would recommend that!
9
What is the best time slot to book?
The most popular time slots are the afternoon timeslots (usually 1-5pm or 4-8pm), but our favourite is actually the morning slot (8am-12pm). In the morning it's usually cool enough to do water activities, and we like to end off our yacht trip with a lunch BBQ on board! If you do choose the late afternoon or evening slot, do note that water activities will usually need to end by 6:30pm as it gets dark and won't be safe.
10
Can I book the yacht for longer than 4 hours?
Yes you can! All the yachts will offer extra hours as an add-on in the booking form. Just click on the booking form add-ons to see what the extra hourly price is.
If you have a group of more than 20 persons, we would recommend 5 hours or more as this will give your group more time for water activities and BBQ.
11
Is a baby considered one person and chargeable?
Yes babies will be chargeable as one person by the yachts.
12
Is the yacht large enough for 30 persons?
This depends on the yacht that you're looking to book. The capacity of the yacht will be specified in the specific yacht booking page. If you're looking for a large yacht, here are large yachts that can accommodate up to 33 persons.
13
Can I add more people to the yacht trip after I book?
If the yacht is not at full capacity, yes of course! :) You can see the capacity of each of the yachts on the yacht booking page. If you add more people, you may need to pay an additional fee as most yachts will charge on a per person basis.
14
Can I bring my dogs on the yacht?
Yes you can! That's a great idea :) Dogs love being out on the water, and being able to swim when the yacht is docked! Do note that some yachts will charge a pet-cleaning fee, so have a look at the inclusions/exclusions section where this will be specified.
You can see the pet-friendly yachts here :)
15
Can we go early to decorate the yacht?
Yes most yachts will allow you to go up to 30 minutes earlier (if they don't have an earlier booking) to decorate the yacht for a special occasion.
A couple of useful tips on this. First, if your yacht is departing from One 15 Marina Sentosa, the marina has strict rules against balloons and confetti - these are not allowed to minimise risk of marine waste. Second, a few yachts will actually provide a birthday banner, or some simple decorations for free. If they do, this will be specified in the inclusions list on the yacht booking page.
16
Can I view the yacht before booking?
This could be tricky as often the yachts are in and out of the marina with little time in between for viewing. However, if you let us know in advance, it could be possible to find a time for viewing, subject to the yacht's availability.
17
If it rains, can we cancel/reschedule?
In case of light drizzle, the yacht will still set sail. In case of heavy rain or otherwise dangerous conditions, the yacht sail will be delayed. If it is not possible to proceed even after a brief waiting period, the charter will be rescheduled to a mutually agreed date and time. The yacht captain will hold the final decision on whether it is possible to proceed. No refunds will be provided.
18
Can I give a yacht experience as a gift?
Yes you can! :) You can give them a personalised gift card so that they can book the yacht at their convenience and choose their own dates.