50 Seriously Cool Things to Do in Singapore [2023]

/
50 Seriously Cool Things to Do in Singapore [2023]
Not your usual touristy stuff. Uncover hidden islands, villages lost in time, and secret hikes!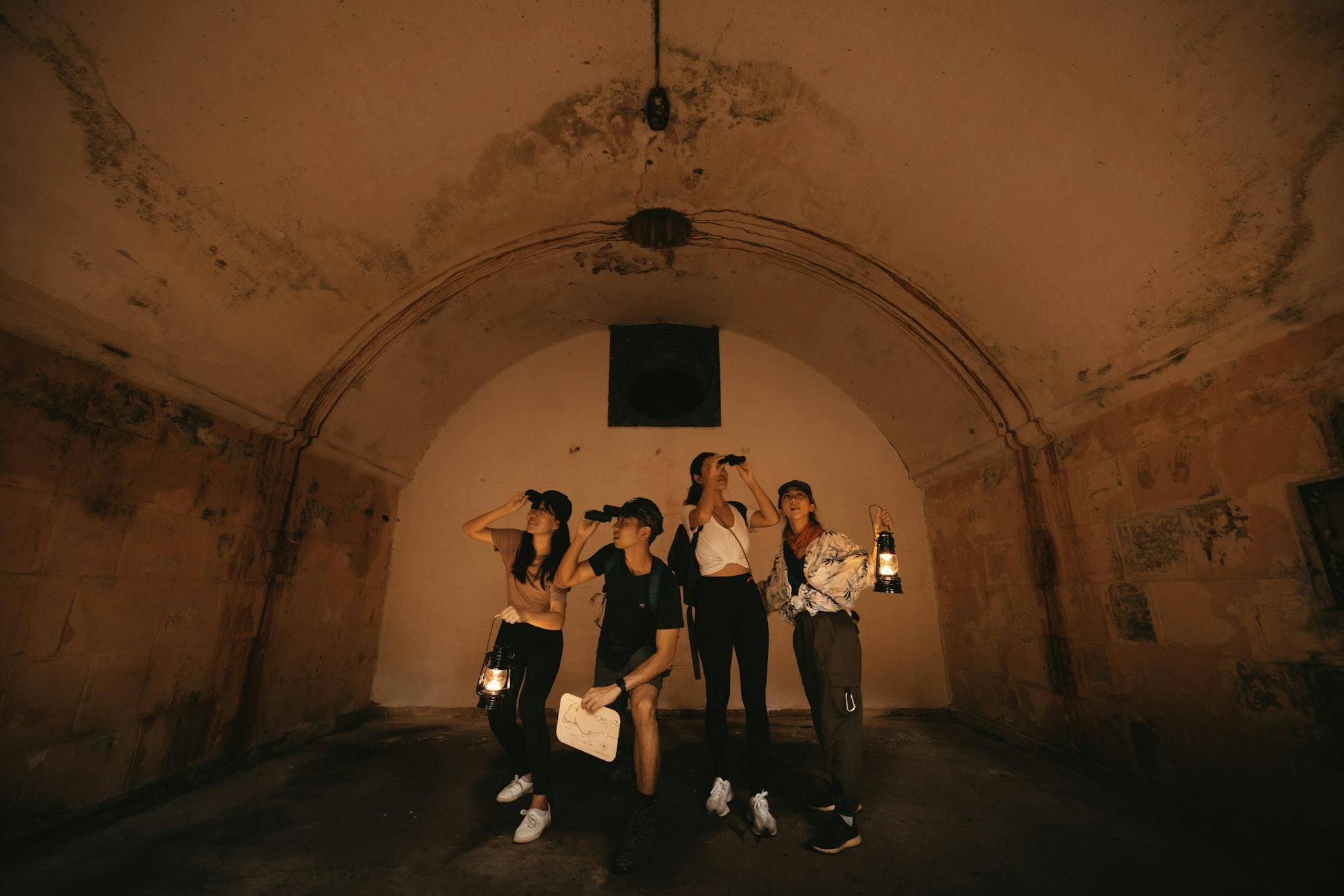 Hi! Welcome to Seek Sophie
We take pride in finding the best local guides and experiences. We will only recommend what we love, and hope you love them too.
If you are looking for things to do in Singapore that are different, and more interesting - we got you! Here, you'll find hidden nature trails that could belong in Indiana Jones, fascinating heritage walks led by ex-gang members, and villages lost in time.
Want more? Check out our favourite ideas for couple activities, family-friendly activities and even team bonding activities!
Sightseeing
We love Gardens by the Bay, but Singapore is so much more than manicured attractions. Here are some experiences that tell meaningful, alternative stories of Singapore, and show a different side to our city.
1. Learn About Singapore's Swinging 1960s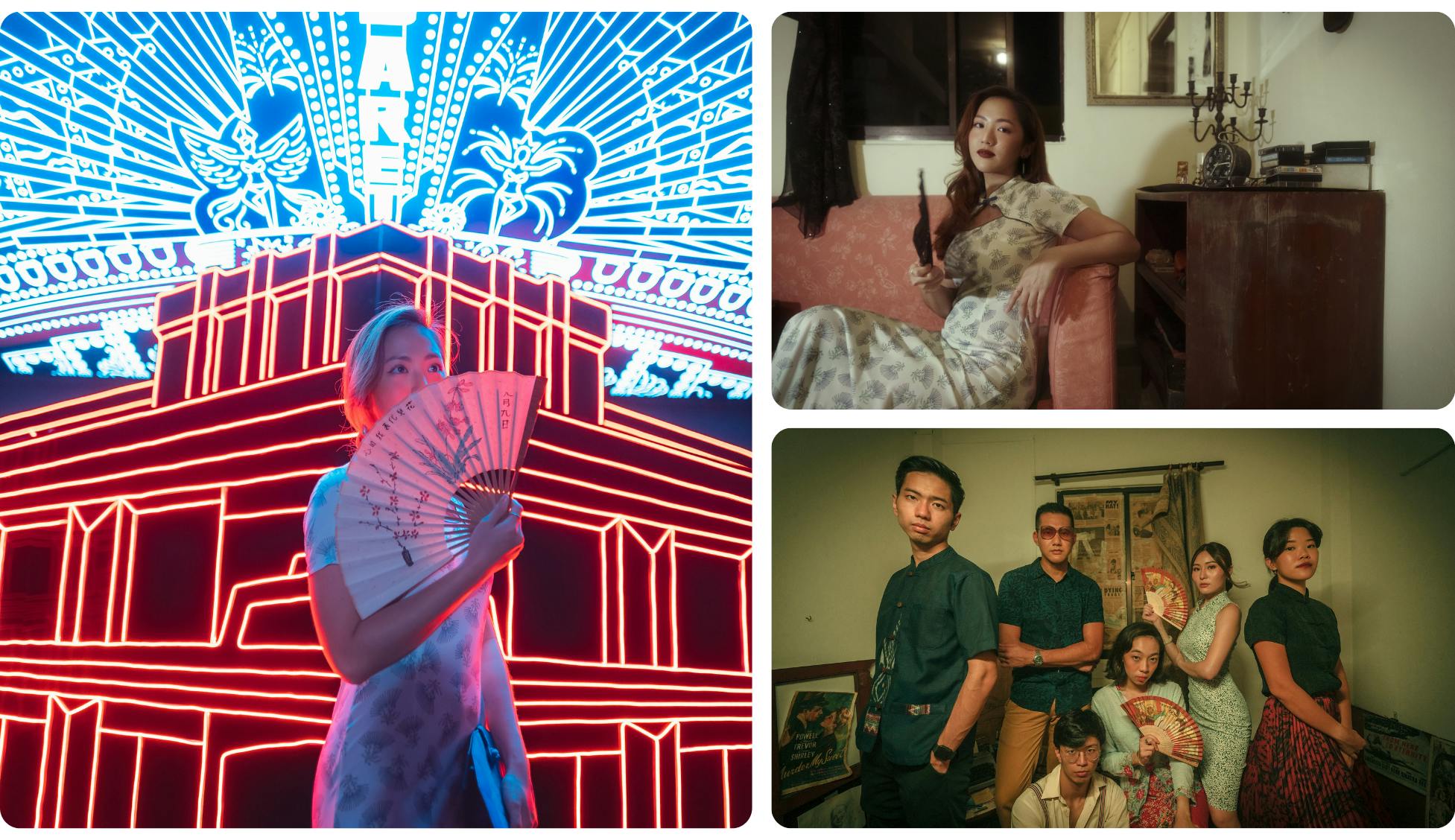 This is a unique walking tour meets immersive street theatre - where you get transported back to the 1960s in Singapore, during the heyday of the cabaret! Stroll along at your own pace through Little India, get immersed in a love story set in the swinging 1960s, and see incredible theatrical sets for a taste of old Singapore! If you love photography and art, you'd love the sets here.
2. Visit Singapore's Last Kampong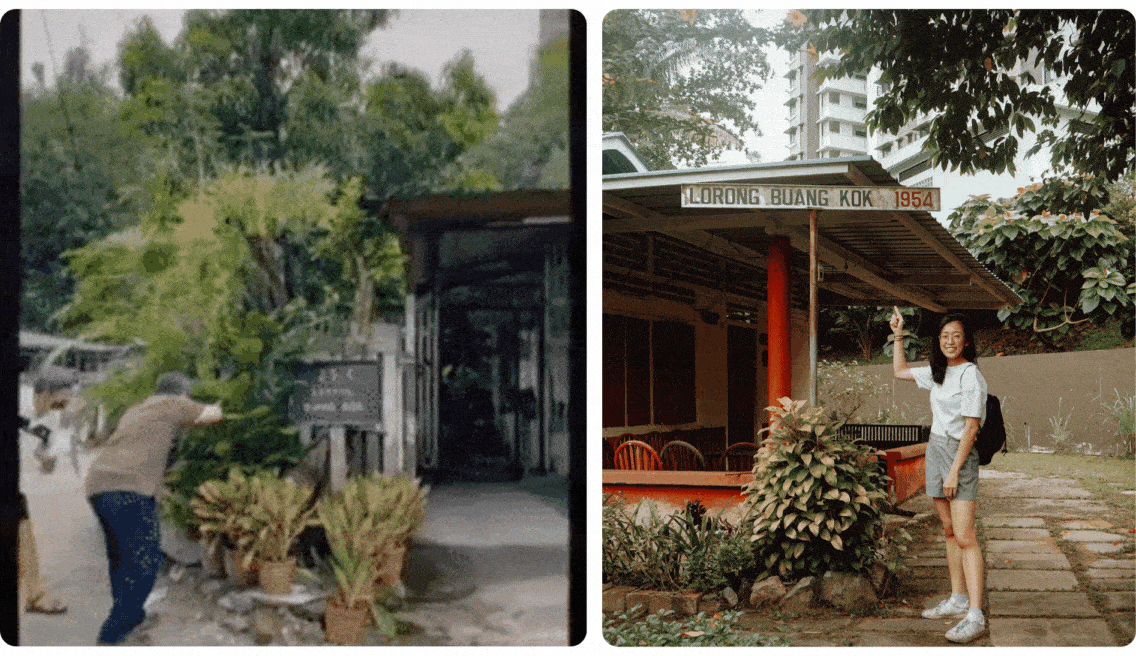 We love seeing Singapore's last kampong, because it reminds us of unique the Singapore story is - from third world to first within a single generation. Back in 1956, the kampong housed over-40 families. Today, it is the last kampong in Singapore, with 26 families remaining.
We would highly recommend coming with a guide as this kampong is actually privately owned. With your guide, you'll get to chat with the residents, and learn about one of the last reminders of Singapore's past.
3. Visit the Quirky Haw Par Villa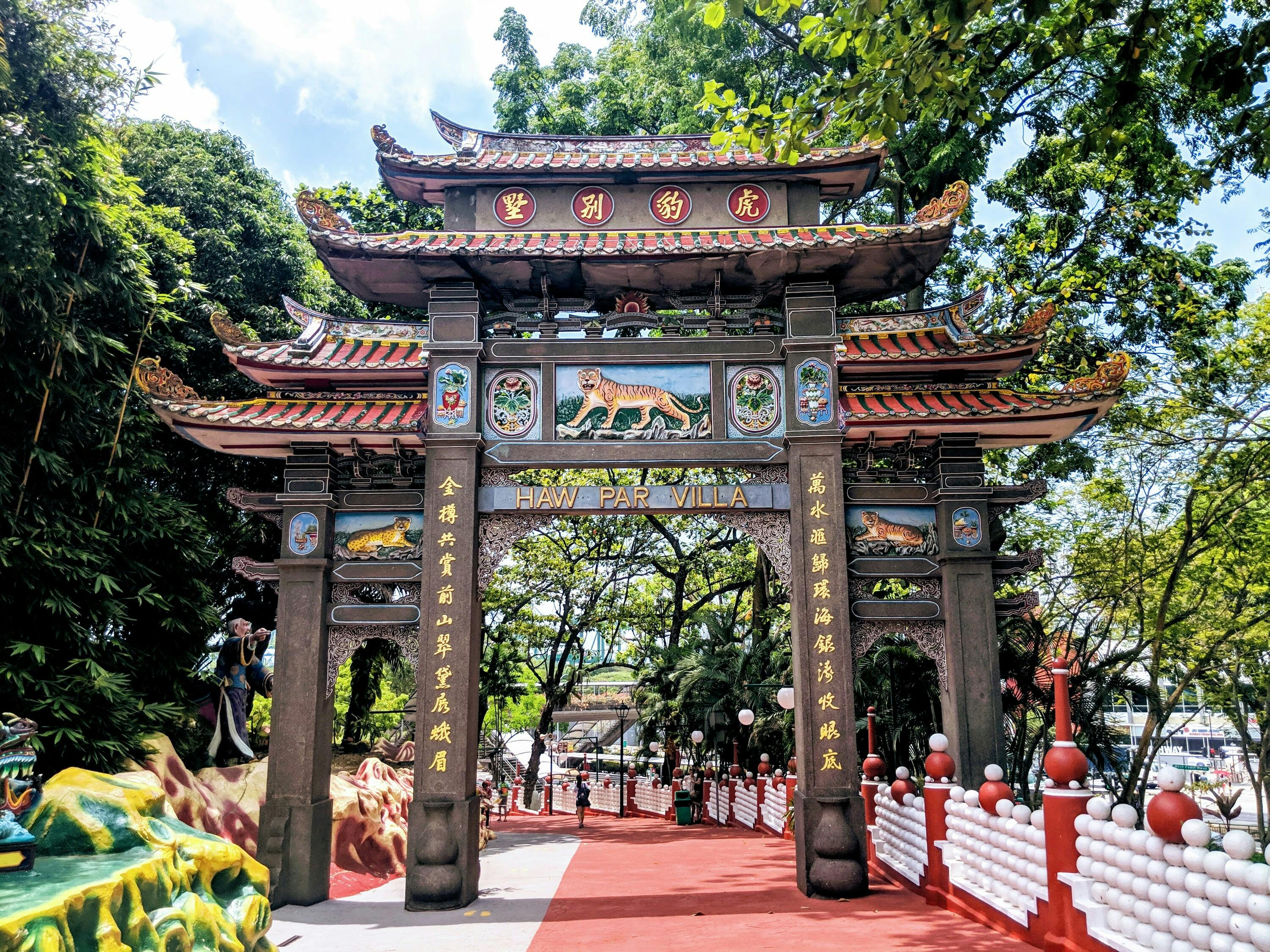 Haw Par Villa is a mix of a cultural artefact, and a semi-terrifying theme park lost in time. The park is an homage of sorts to super traditional 'Chinese values' exhibited in terrifying ways! If you didn't study for your exams or if you were rude to your parents, a gory fate would befall you. It's a great off-beat place to visit to better understand traditional value systems, and it's just fun and unexpected!
4. Walk with Ex-Gang Members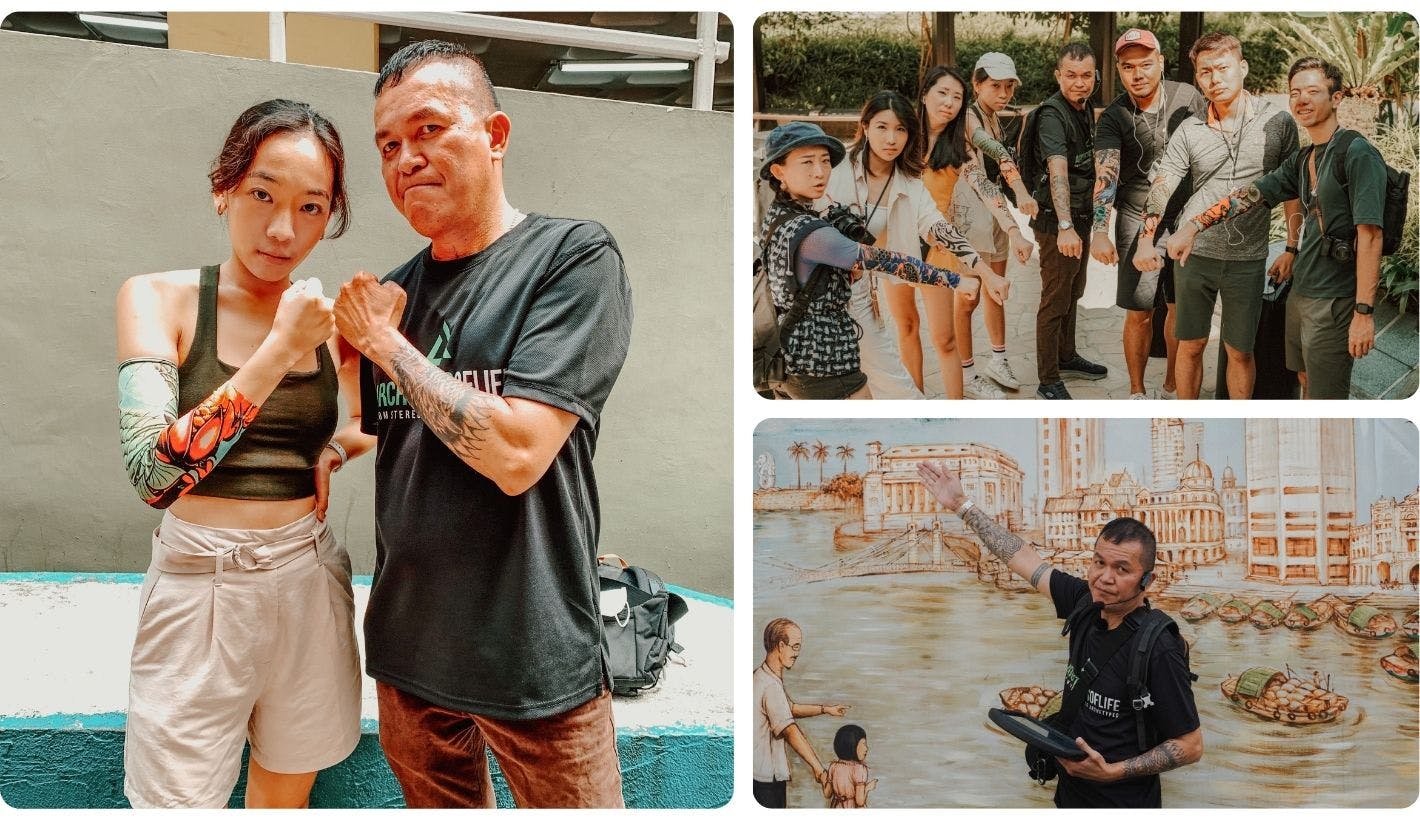 Singapore's one of the safest countries in the world, so not many people know about its dark secrets of gang violence and untold crime 👀
This super meaningful walking tour is led by an ex-secret society member, Alvin. Alvin is very candid in sharing about SG's triad history and his personal stories and struggles. It's a really eye-opening experience to learn more about Singapore's past and how ex-offenders turned over a new leaf. If you're looking for a unique and meaningful way to spend your weekend, we highly recommend going for this!
5. Murder Mystery at Chinatown
This murder mystery is a great, super non-cliche way to explore Chinatown! Here you'll be Sherlock Holmes for the day as you solve the Chinatown Murders with a guide. 😲 Your role-play tour will be filled with fun quests and plot twist. As you're roaming the alleys, you'll also meet quirky characters who'll share interesting nuggets of history along the way. Great for families!
6. Learn the Disappearing Art of Traditional Pastry Making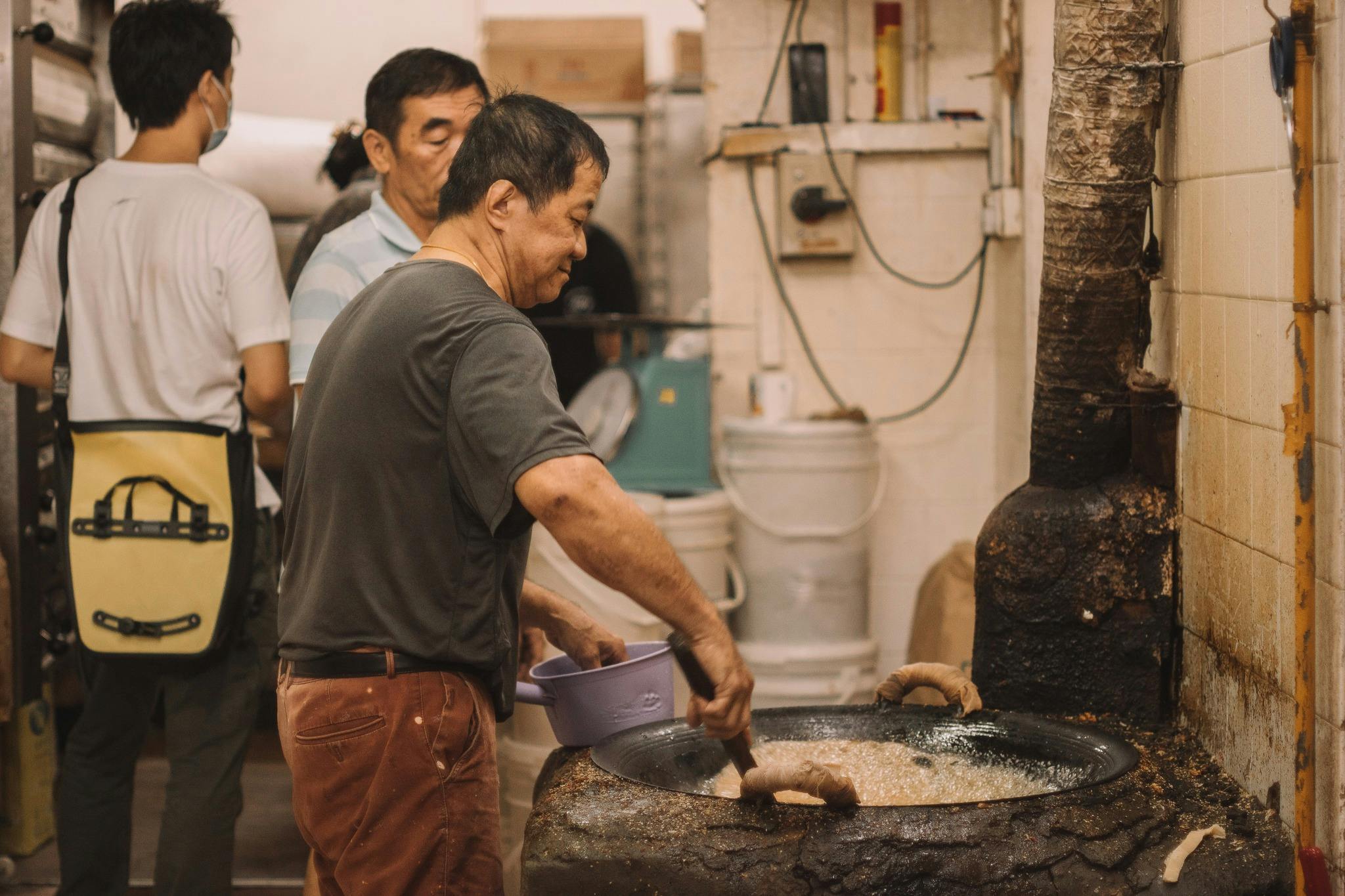 As Singapore modernises, we are rapidly losing a lot of the traditional trades that our parents would take for granted. One of them is the art of traditional pastry making. Here at an award winning pastry shop, you'll get to learn the heart of this culinary tradition that is slowly fading away. You'll also gain a deep understanding of our local heritage through stories of Chinese weddings, customs, and festivals.
7. Cycle Around Little India, CHIJMES & More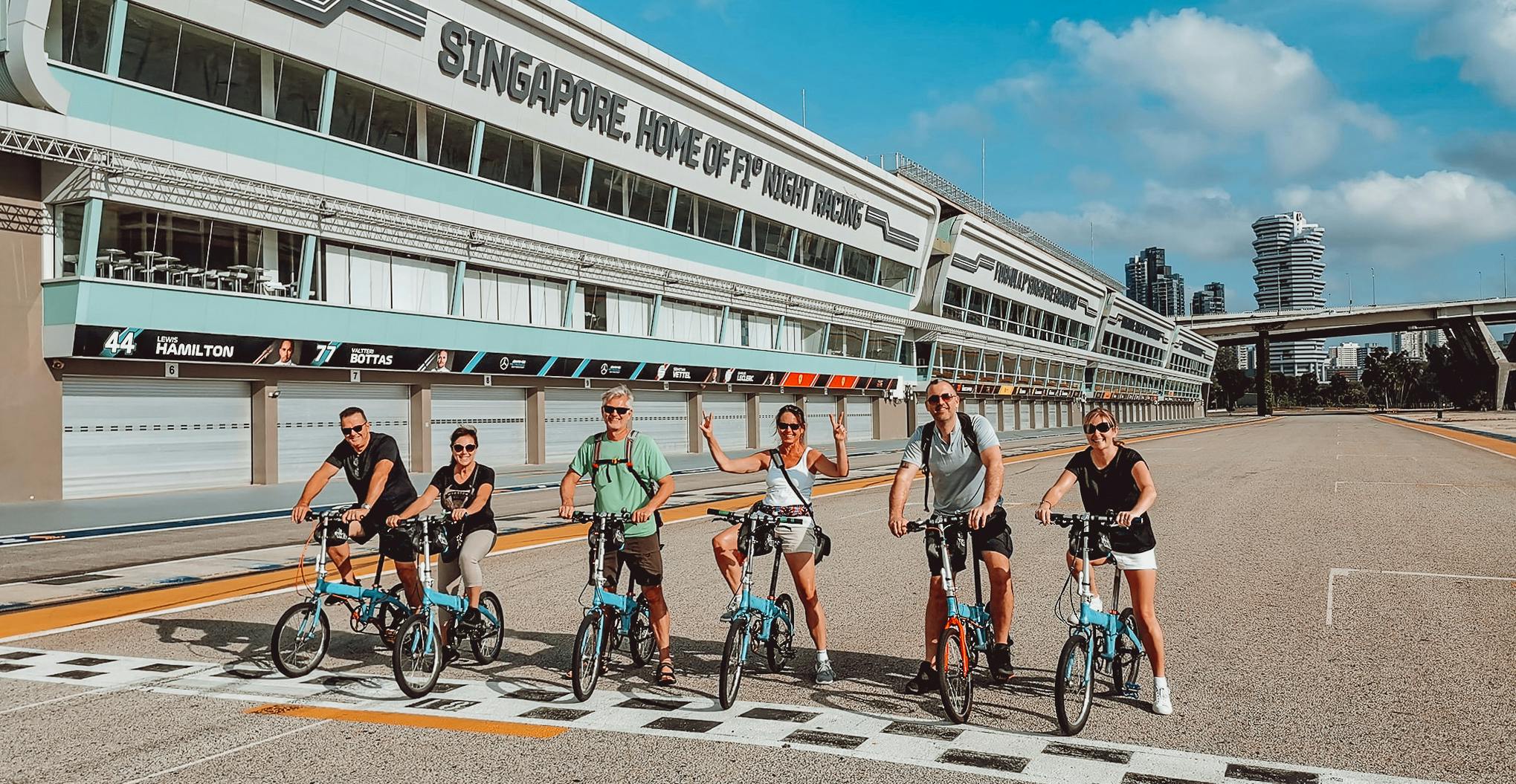 This colourful cycling sightseeing experience is a fun and chill way to check off ALL your sightseeing spots. Pedal to iconic spots at Little India, Chinatown, CHIJMES and find hidden spots you'd miss if you were travelling by bus/car. Your guide is also happy to make pit stops for some history-sharing, cute photo-taking sessions or a chill snack time.
8. See the Skyline at a Hidden Rooftop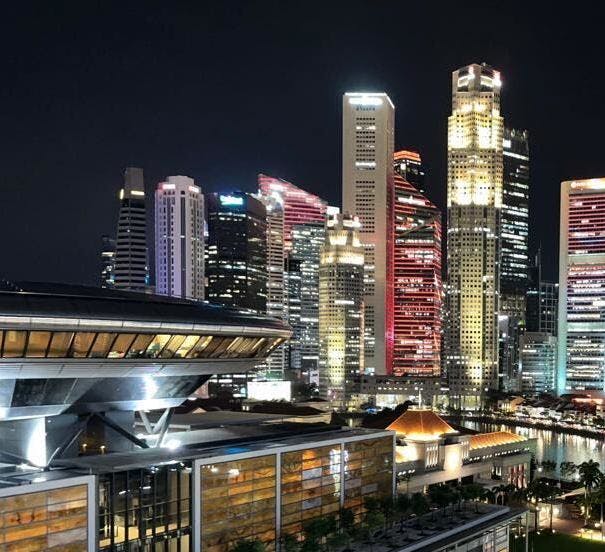 Not many people know this but the top of Funan Mall is one of the best places to see Singapore's skyline! It's only accessible from the lift at Lobby B - and when you take the lift to the top you'll find a roof garden overlooking the spaceship-like Supreme Court, Marina Bay Sands, Esplanade, the Singapore Flyer etc!
Art & Culture
Growing up, Singapore didn't encourage Art & Culture activities, and pursuing the arts was a form of rebellion for many. That's why we're so excited to see alternative stories of Singapore told through art and theatre, and passionate artisans carving their own paths in creative industries from leather-making to glassblowing.
9. Try a Quirky Creative Workshop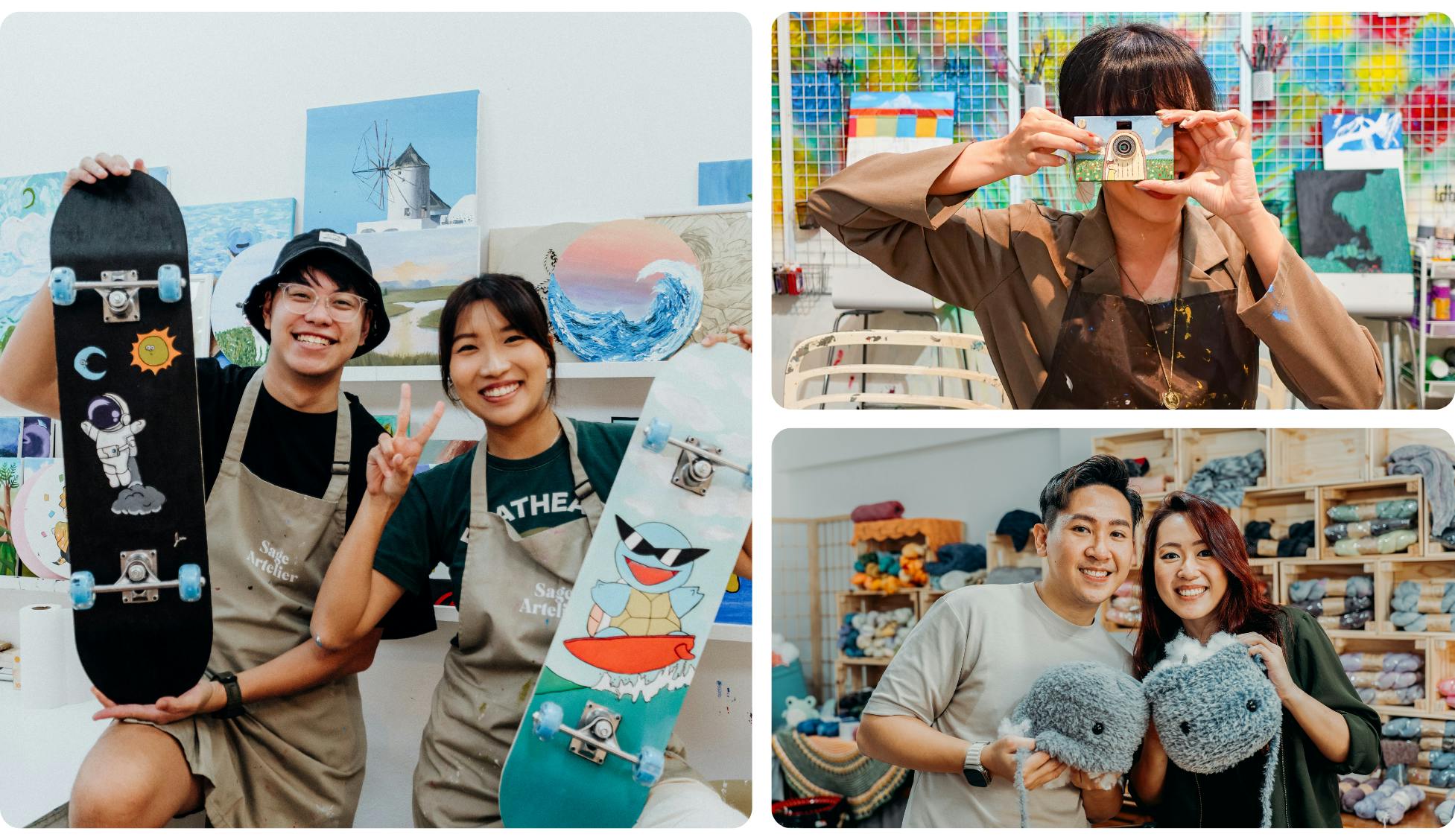 In recent years, lots of really cool crafty experiences have popped up in Singapore. We love this because it's a sign of Singapore being more open and creative as a city, and Singaporeans wanting to chase their creative passions!
You name it and we have it - you can do pottery in cute backyard gardens, paint a skateboard or camera, perfume making with scent engineers and make your own plushie!
10. Learn Leather Crafting from Local Artisans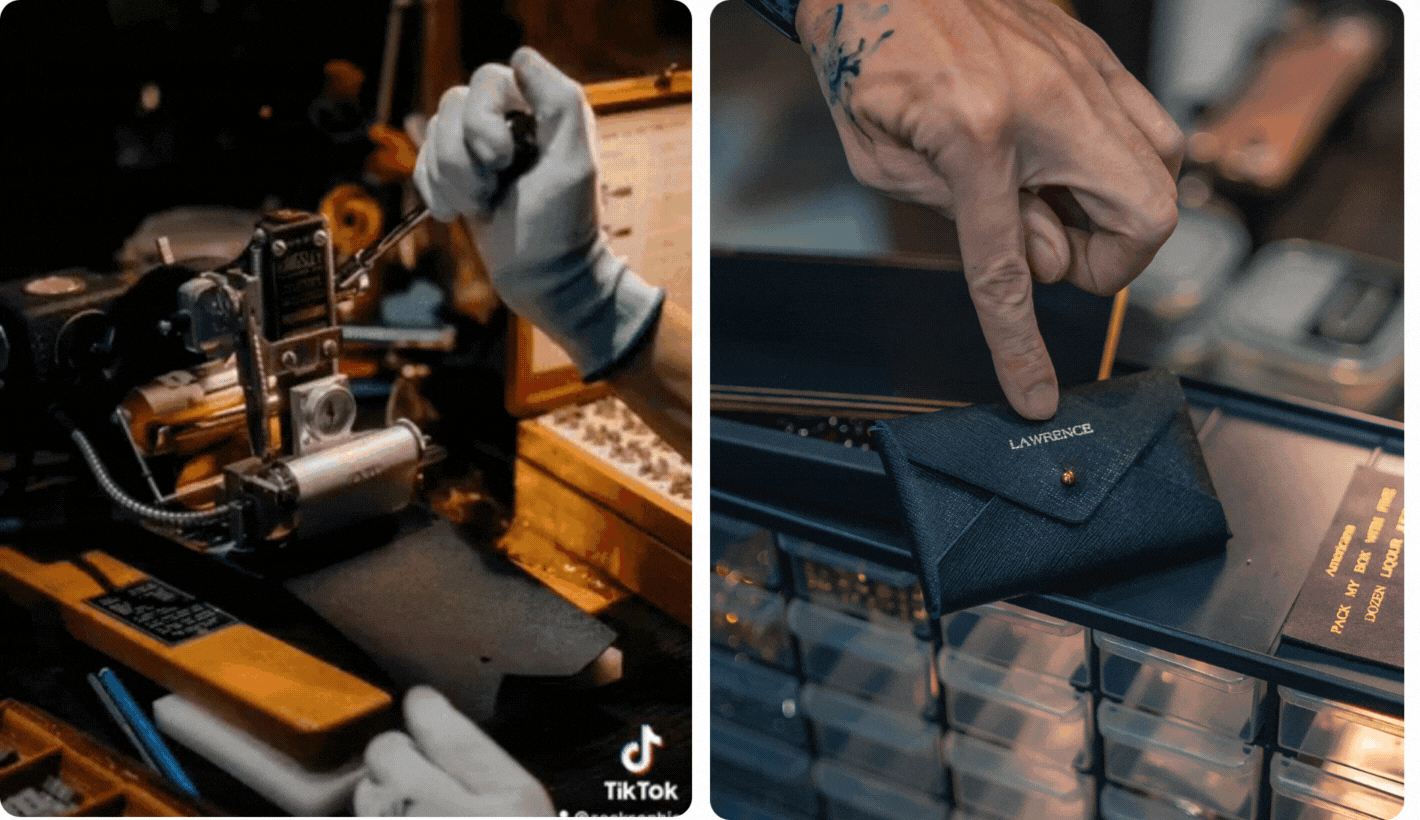 Most people don't know this but Singapore is actually home to a burgeoning leather making industry - with crocodile farms, and up-and-coming young leather artisans. Head to a leather making workshop to learn from Singapore's leather artisans. Learn to craft your own bag, sunglasses case or luggage tags, and even use a vintage Kinsley stamping machine!
11. Watch a Local Play
Singapore's local theatre scene has been getting increasingly exciting in recent years, and we'd highly recommend catching a play! One of our favourite playhouses is Wild Rice - they tell uniquely Singapore stories in ways that are both moving and incredibly thought provoking.
Ps: Wild Rice Theatre is based in Funan so you can check out the rooftop skyline view after the play!
12. Glassblowing at Singapore's Only Glass Furnace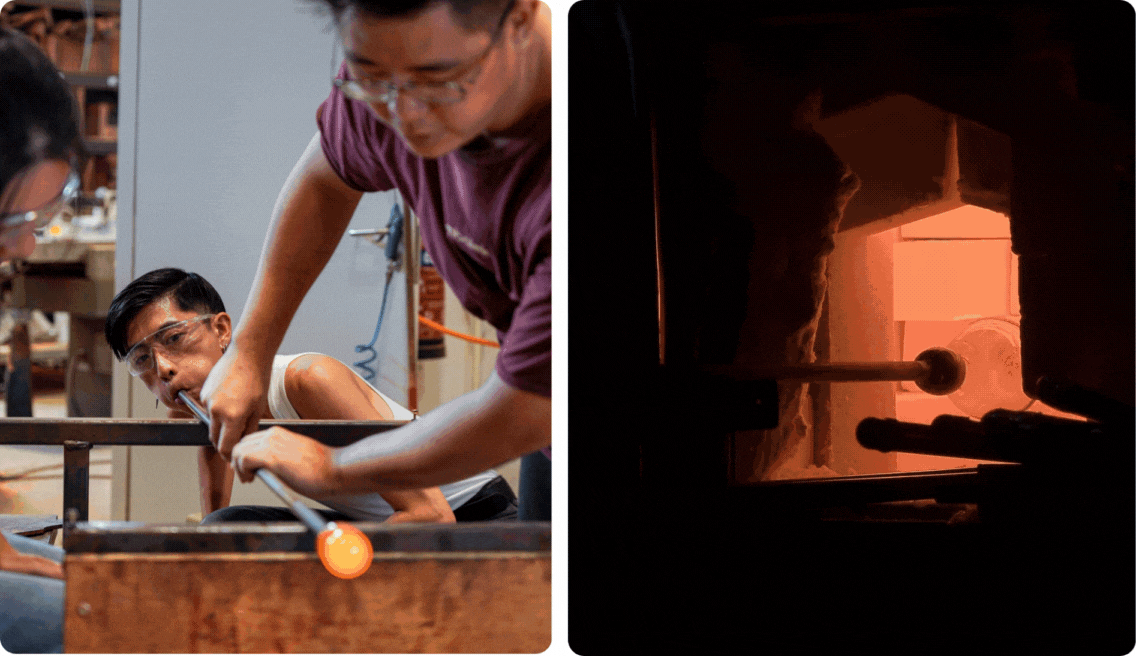 We thought we'd have to go all the way to Venice to try out glassblowing, but who knew that we had glassblowing masters in Singapore as well?! At this cool glassblowing experience, you'll get to experience the art of glassblowing in Singapore's only glass furnace. Learn the fundamentals of blowing a bubble, and shape it into your very own cup or vase!
13. Vandalise Freely!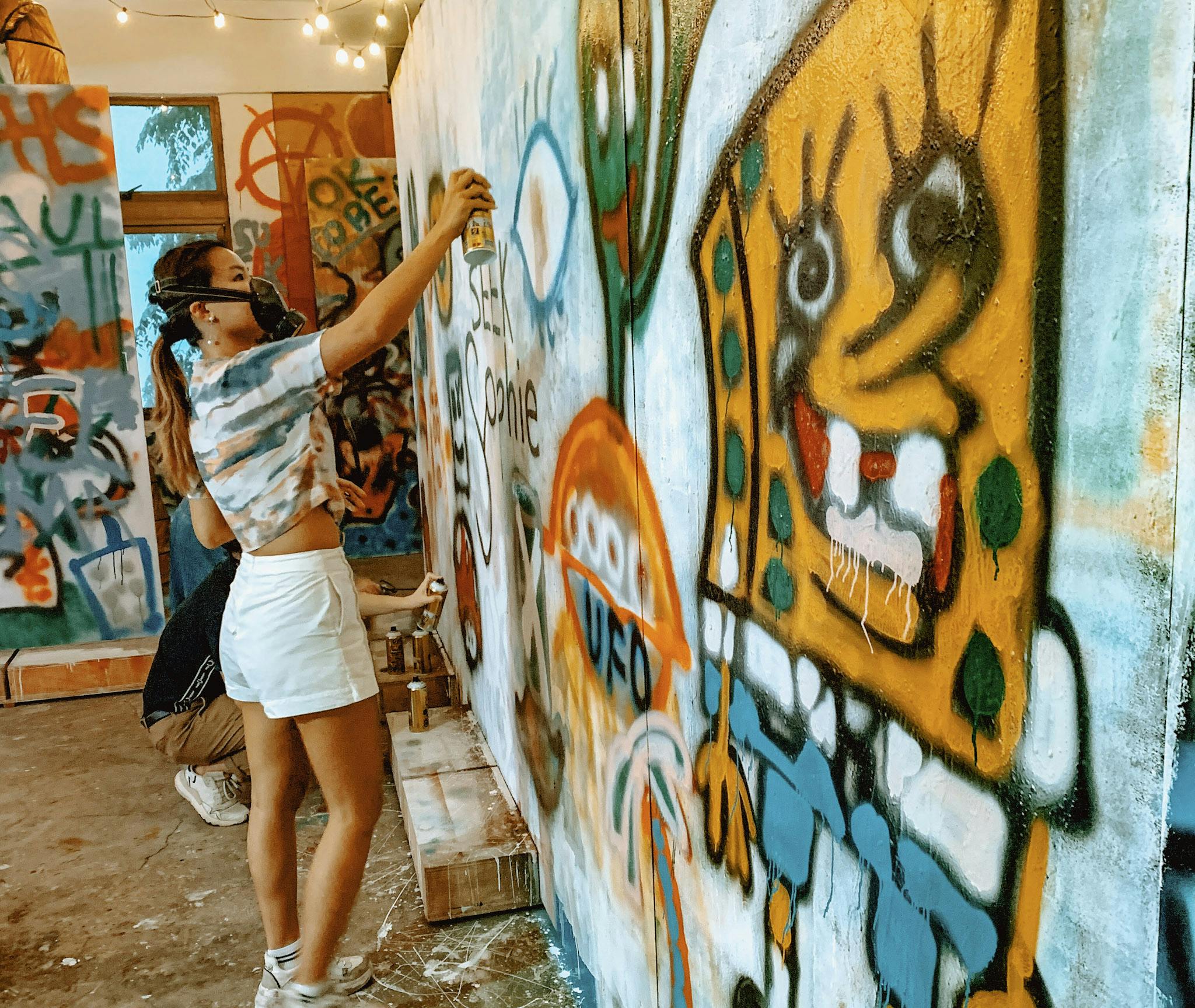 While actual public space graffiti remains a no-no in Singapore, there IS a tucked-away hideout (located in a super cool warehouse location!) for you to blow off some steam by vandalising as you'd wish. Hidden warehouse, check. Otherwise illegal activity, check. It's a seriously cool thing to do in this most straight-laced of cities!
14. 90s Film Photography Workshop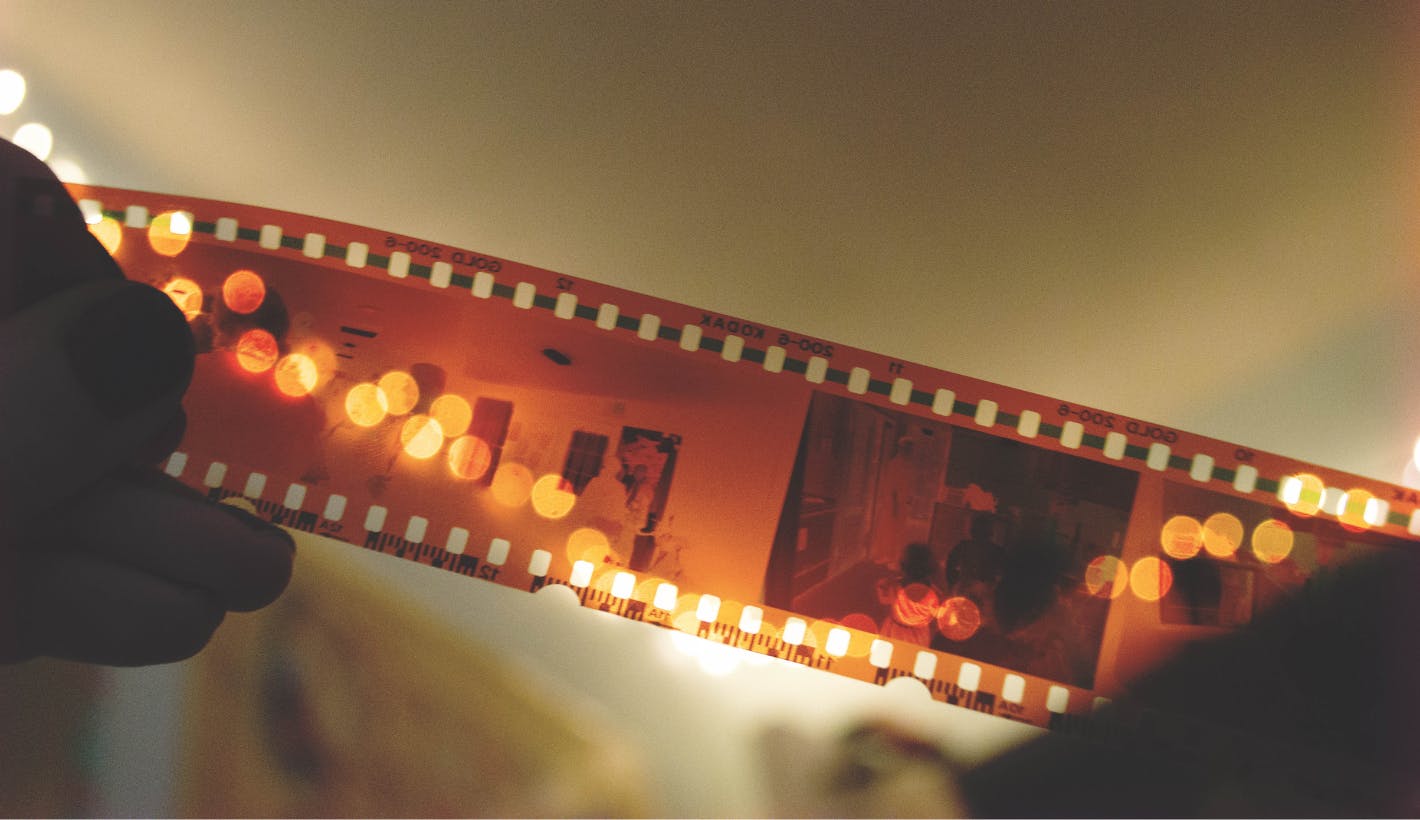 Remember the days of film cameras? This 90s film photogaphy workshop brings you back in time by getting you to learn how to work with the medium of film in photography. Learn about how a fully mechanical camera works (with no batteries) and how photographs were brought to life through the processes of developing & fixing film.
Outdoors & Nature
Many people think of Singapore as a concrete jungle, but Singapore actually has world-class parks, hidden hiking trails and amazingly biodiverse wildlife.
15. Go Back in Time at Pulau Ubin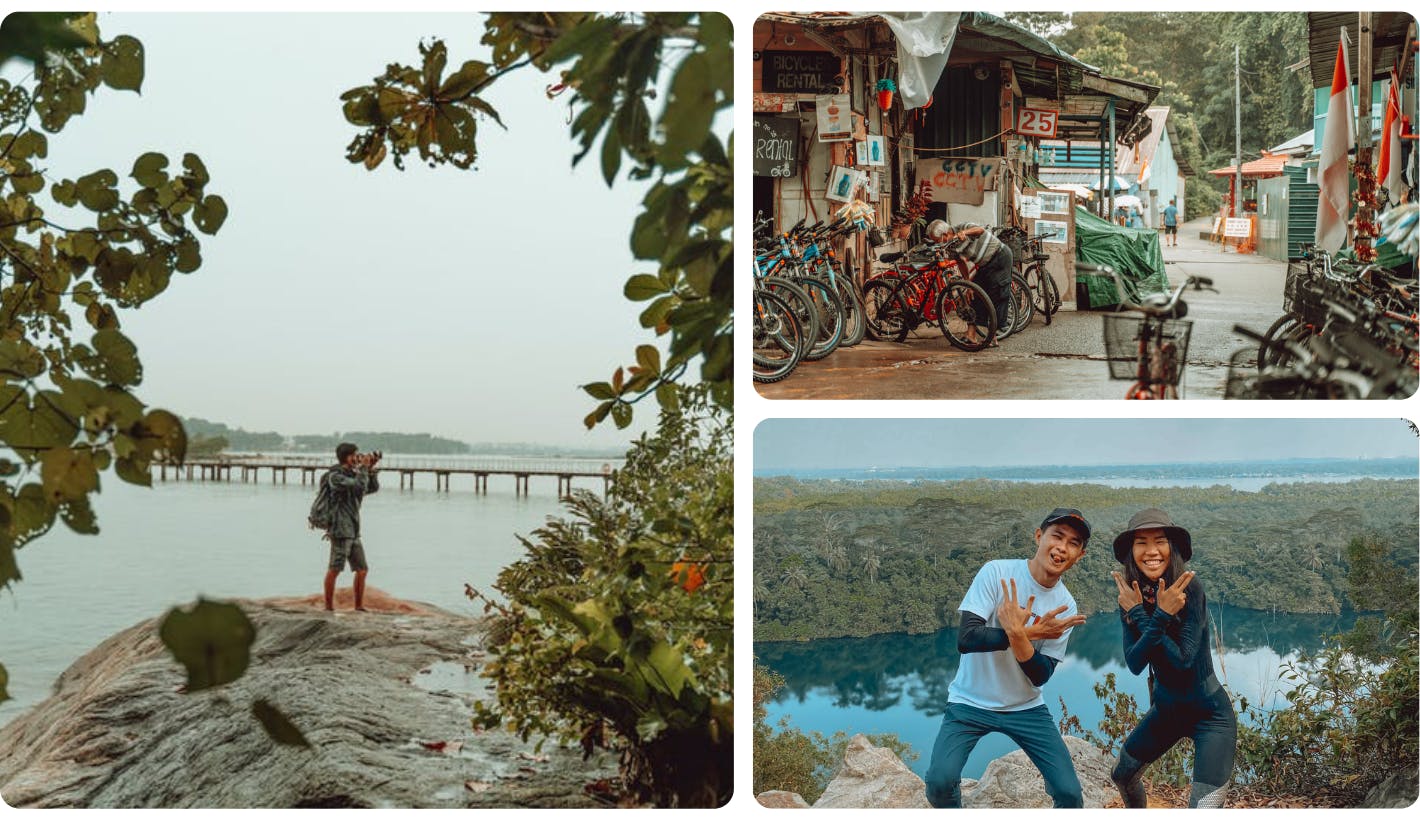 Pulau Ubin is one of our favourite places in Singapore. A trip into the past, the sleepy little village island has always held a special place in our hearts as an untouched paradise. To get to this tranquil little island off Singapore, you'll need to take a rustic bum boat that already feels like an adventure!
Here you can go mangrove kayaking (very Lord of the Rings vibes!), hike up to gorgeous viewpoints, and just enjoy the rustic village vibes. You should also keep a look out for the mangrove swamp that's just crawling with mudskippers, crabs and even lobsters!
16. Explore Sentosa's Hidden Rainforest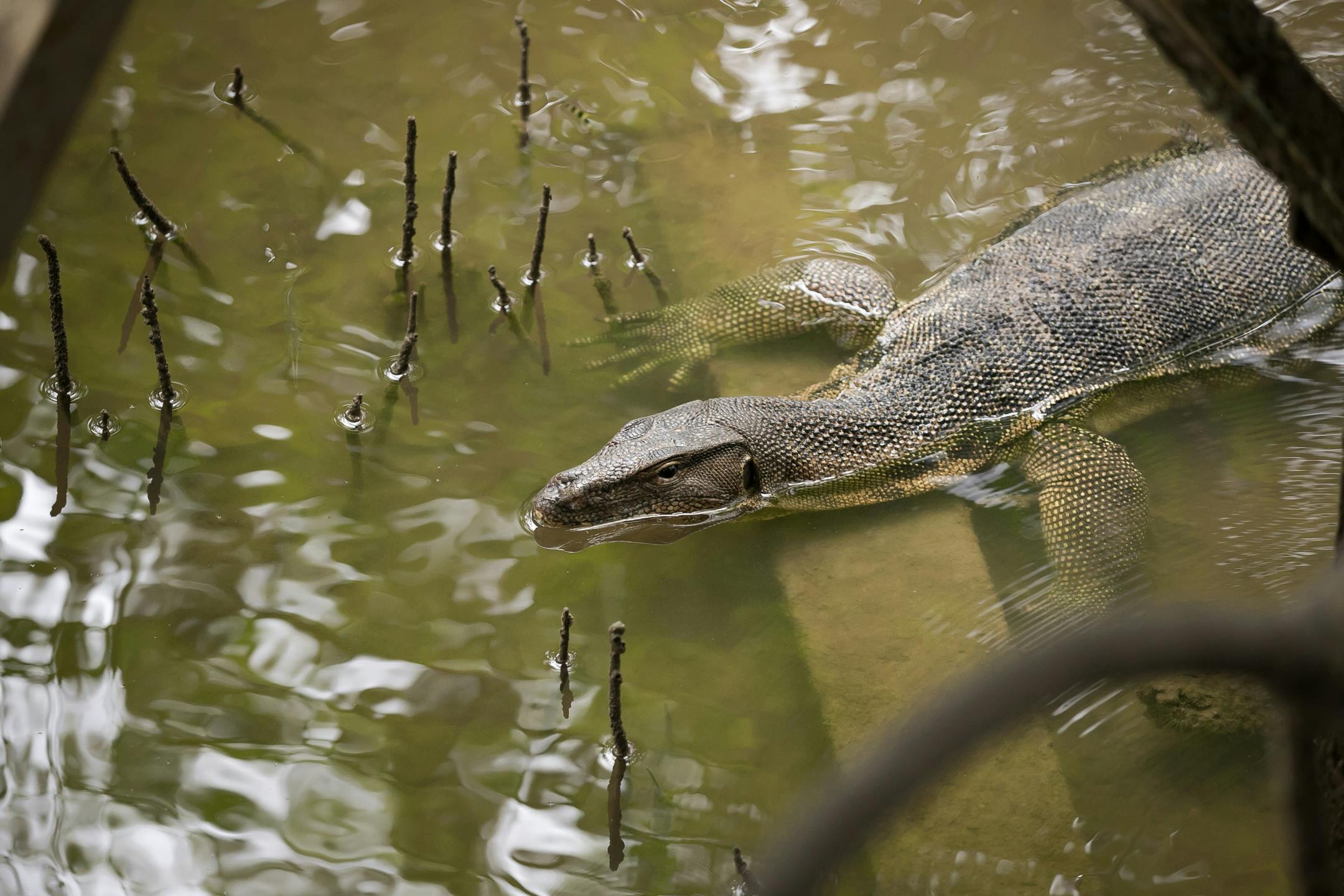 Who knew Singapore had rainforests to explore?! Not us. If you want to see the closest thing to untouched nature in Singapore, head to Sentosa's rainforest with a naturalist guide and a pair of binoculars. Here you'll get close to Singapore's unique fauna, and if you're lucky you might catch sight of endangered wildlife!
17. Explore Sentosa's Hidden Fort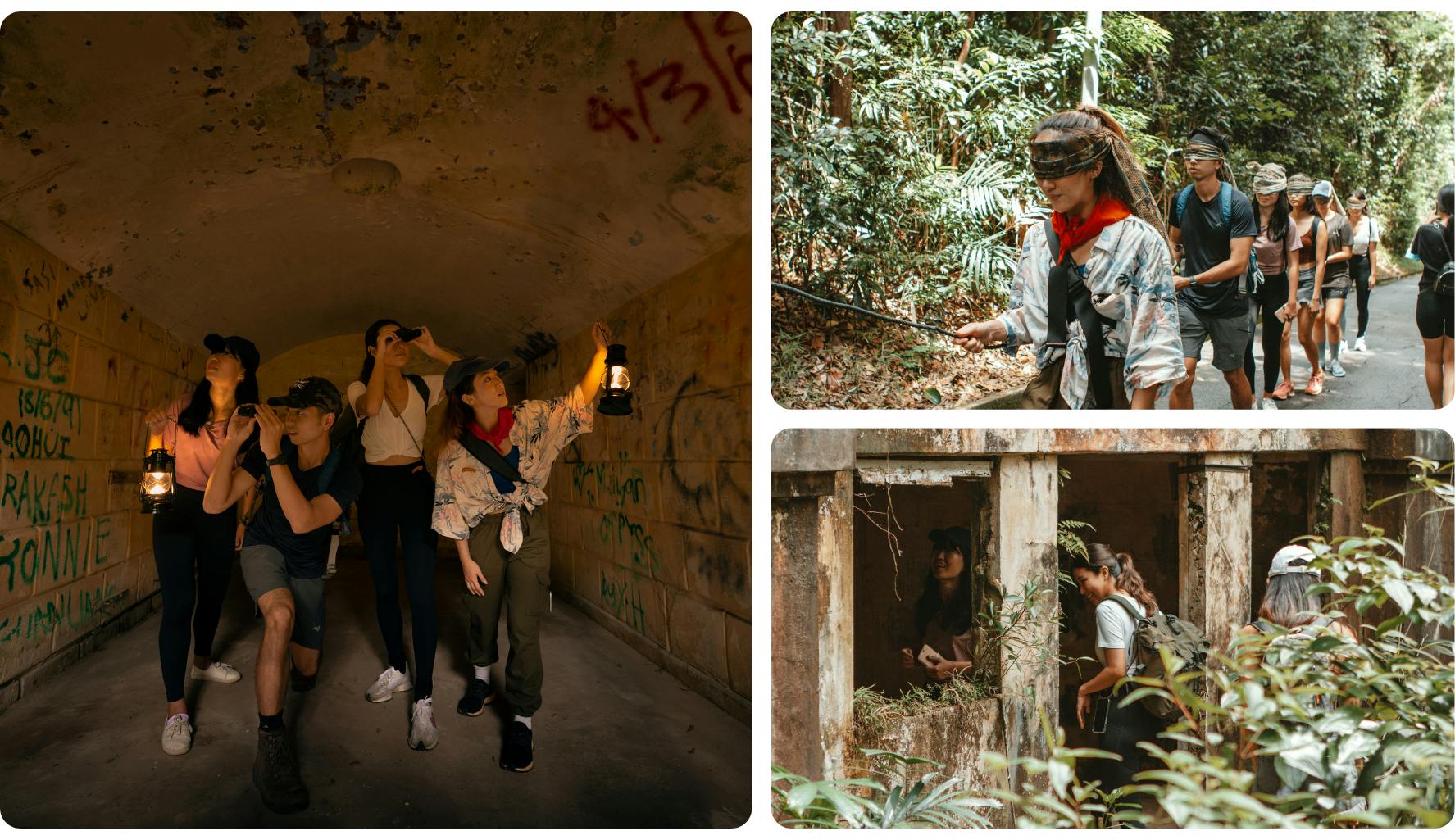 Most of us have been to Sentosa. But did you know that deep in the forest of Sentosa is a hidden fort that's been reclaimed by the jungle? It's like Singapore's very own Angkor Wat! Its location is so secret that you're blindfolded on the way in 😯 If you're looking for an adventure, this is for you!
18. Cycle Around Coney Island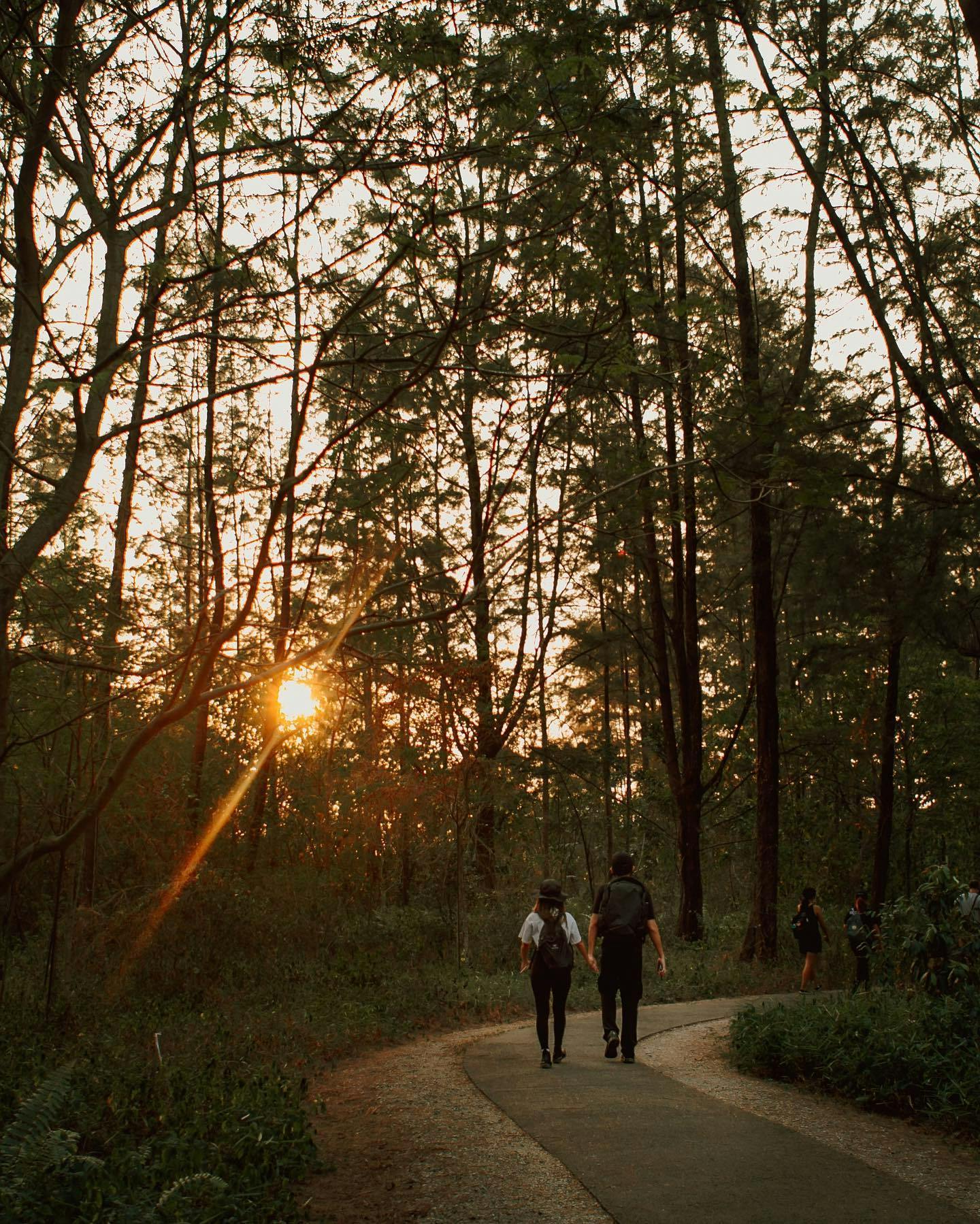 If you don't have time for Pulau Ubin, go to Coney Island instead. There's little to do at Coney Island, but that's also part of its charm. If you're lucky you may also spot its resident family of otters! Our favourite parts of it are the towering Casuarina trees (feels like a forest in Europe!), the mangrove walk and the tiny hidden beaches all around the island.
Top Tip: If you're cycling, you should pair your trip to either a trip to nearby Pasir Ris Park or the Punggol waterway (like a mini Venice in Singapore with 5 picturesque bridges!).
19. Discover Secret WW2 Bunkers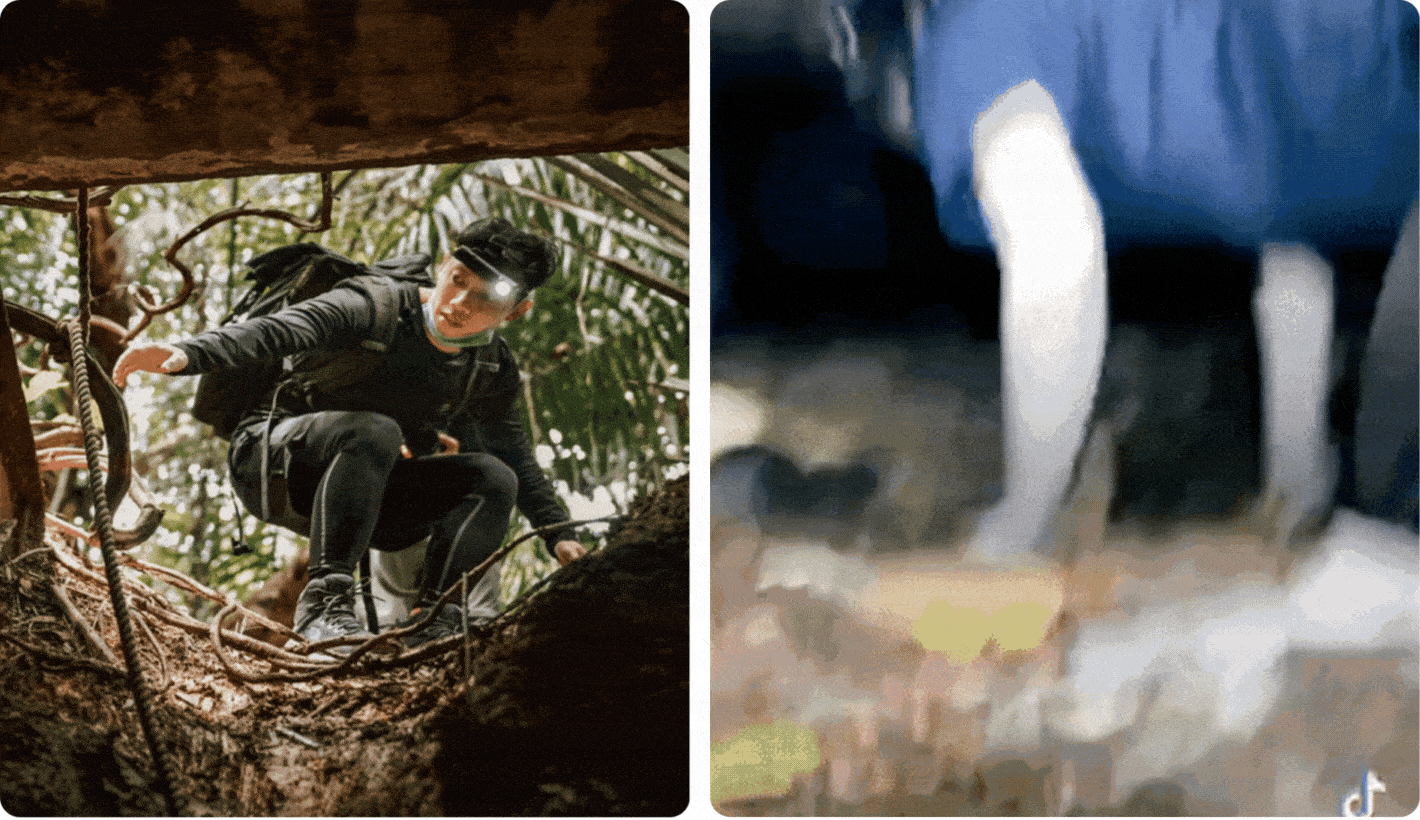 If you love off-grid trails, head to the gigantic underground Marsiling WW2 bunkers. These bunkers were used to store ammunition during the war, and we were surprised by how vast they were. The bunkers are super hidden and in order to find them, you'll need to walk off-trail into the jungle!
20. Hike the Rail Corridor!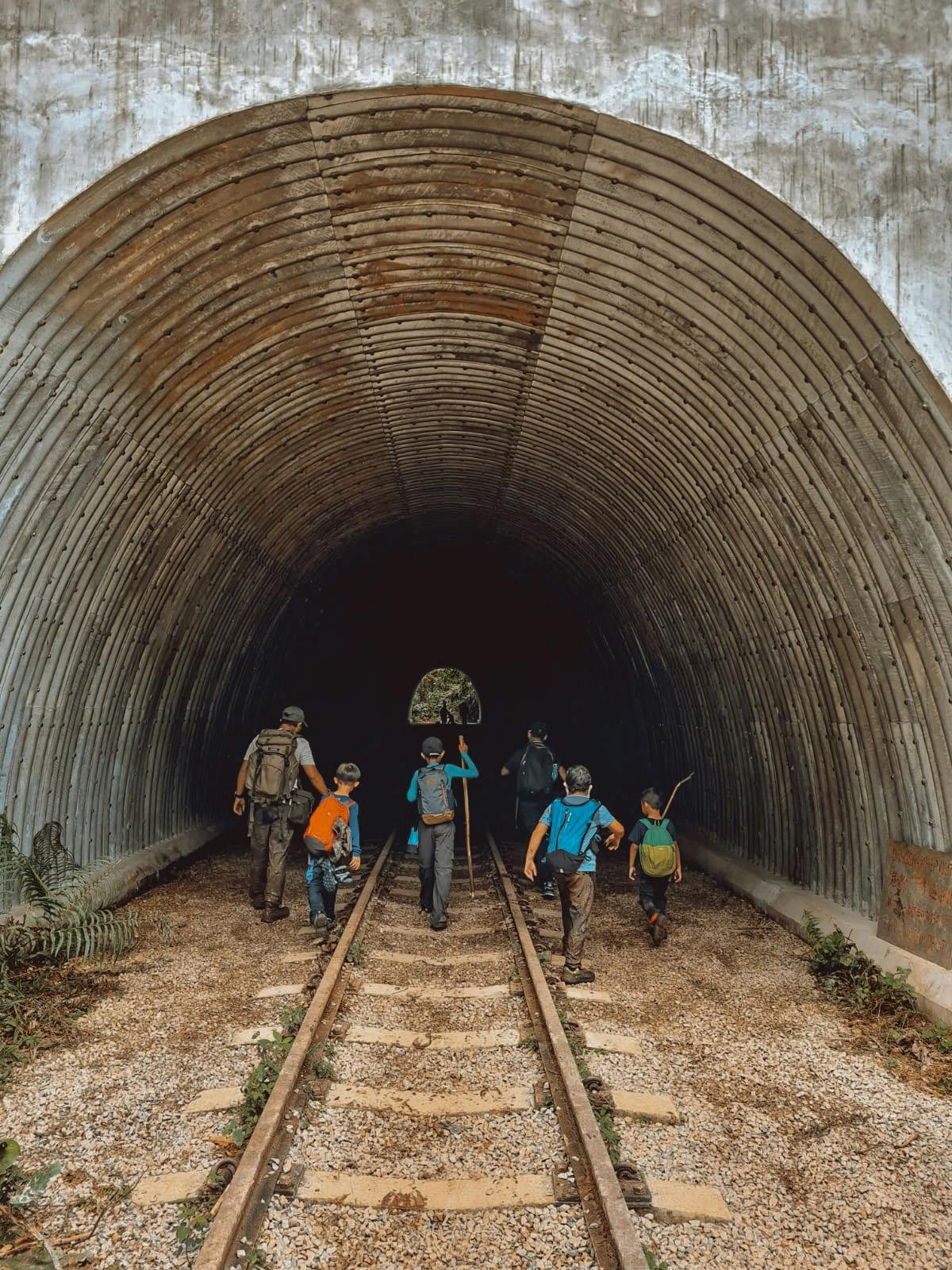 The Rail Corridor is a 24km hiking trail built around abandoned railway tracks. Our fave part of the Rail Corridor is a 2-hour hike through a Jurassic Park-esque viewpoint to an iconic train tunnel that's perfect for the #gram.🚆📸 Start from Greenleaf View, take a hidden side detour off the Bukit Timah Railway Station (towards Clementi Forest - ask someone!), and end at the iconic train tunnel by Clementi Forest. Then head to Springleaf Prata for breakfast after :)
Top tip: come early (6- 7am!) to avoid the crowds, and have the view all to yourself - it looks straight out of a movie!
21. Uncover Hidden Marine Life in Singapore's Intertidal Zones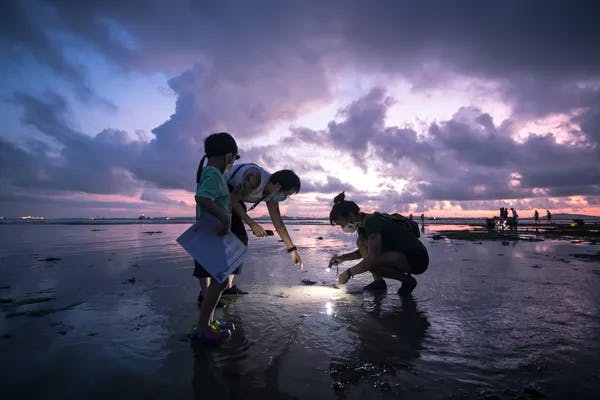 Did you know that along Singapore's beaches are intertidal zones that are incredibly biodiverse and teeming with hidden marine life? Going on an intertidal walk with a marine guide is as close to a wildlife safari as you'll get in Singapore. Here you'll explore Singapore's very own oceanic wildlife and see things you could've never with the naked eye! Perfect for families and wildlife lovers!
22. Find Nocturnal Animals in Sentosa's Rainforest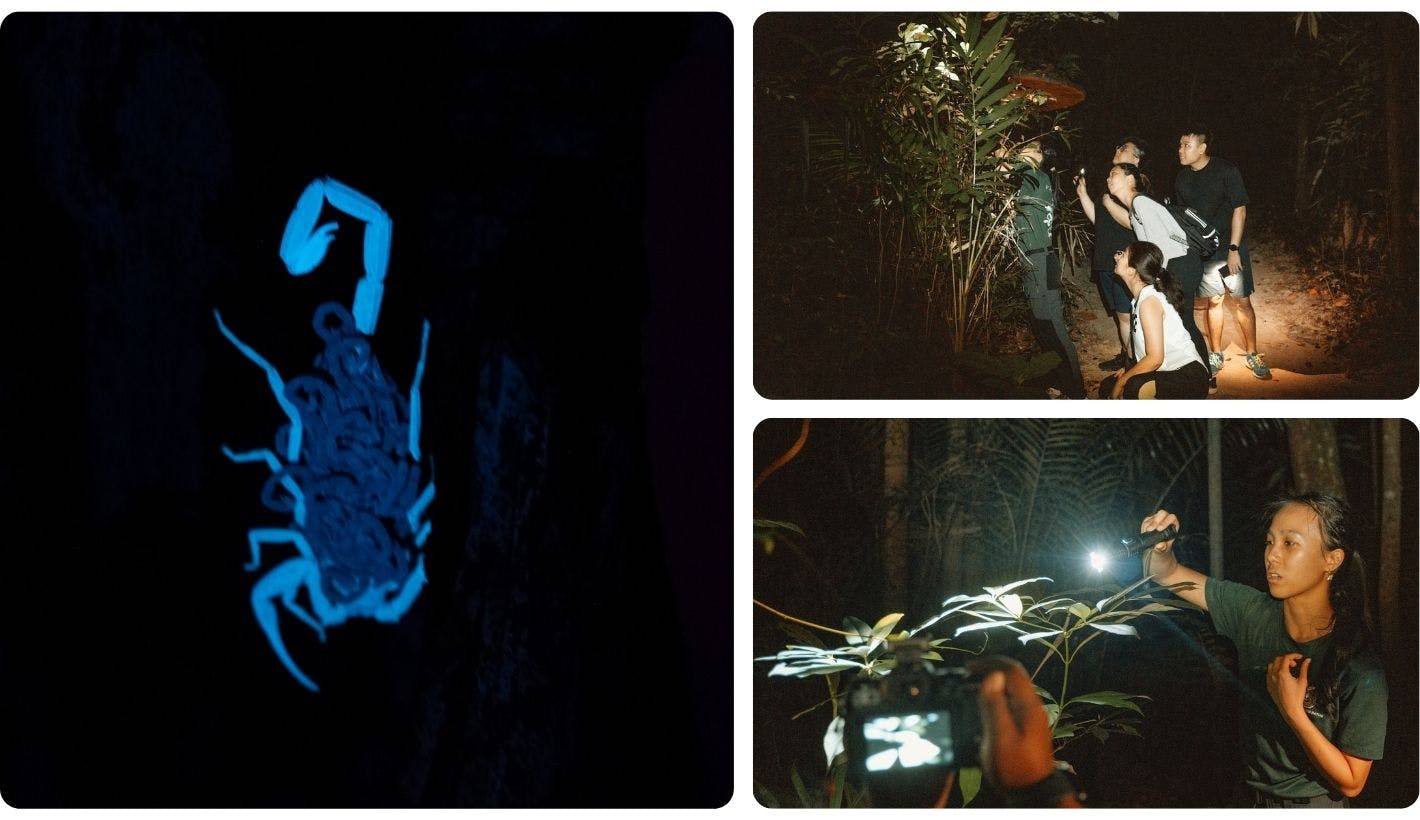 Spot Singapore's wildlife, but without the heat! During this wildlife night walk, head to Sentosa's little known rainforest to see Singapore's nocturnal creatures' in their natural habitat. With a small torch in your hand, you'll be venturing into the dark rainforests to spot Singapore's wildlife with your knowledgeable guides who'll be sharing about these fascinating creatures and their way of life!
23. Explore Sungei Buloh, Singapore's Wildest National Park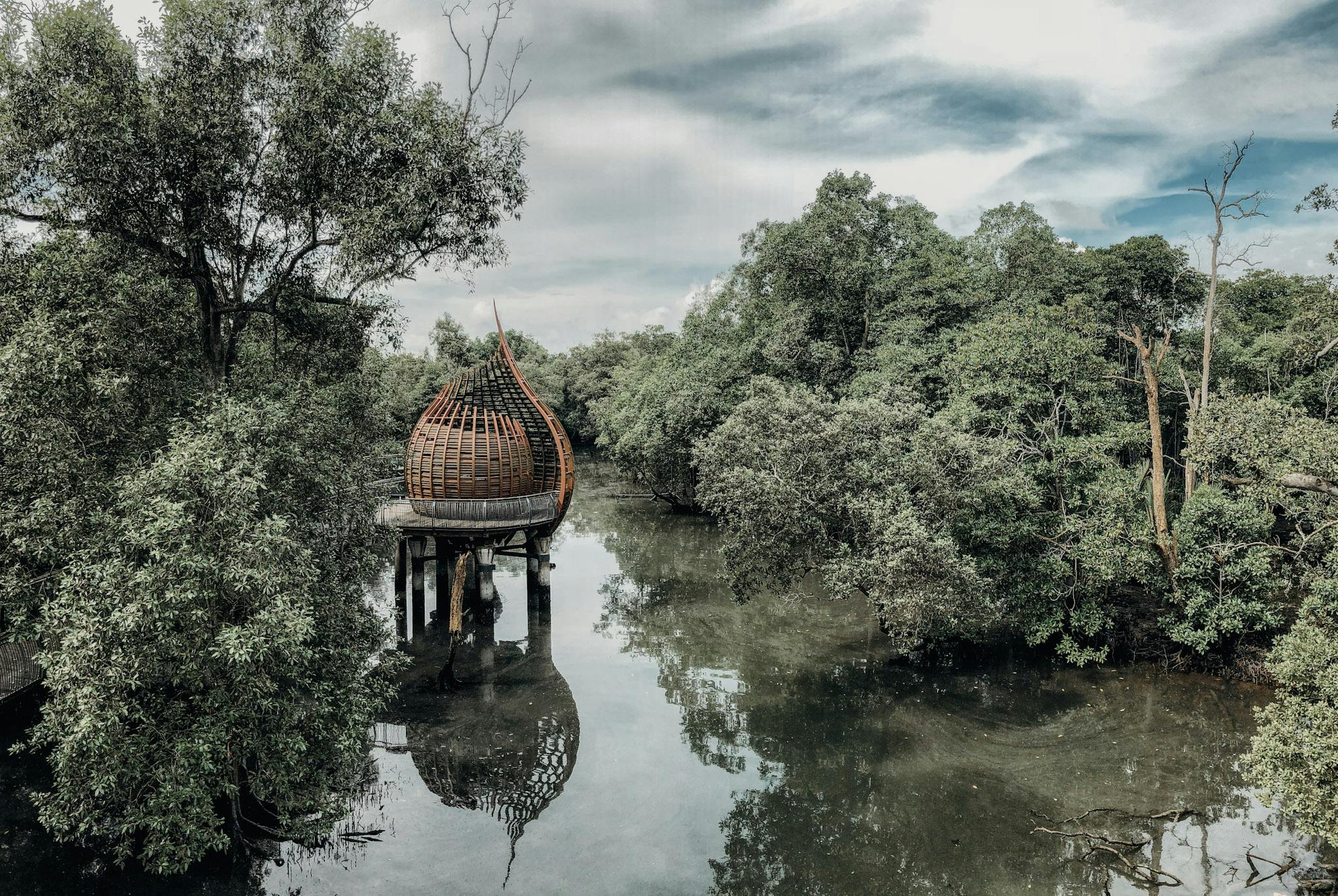 Sungei Buloh is our favourite nature reserve in Singapore because it's the wildest. Here you'll easily see several huuuge monitor lizards walking alongside you, crocodiles, herons, kingfishers and more. Once, we even saw a 4-metre long King Cobra here!
A walk in Sungei Buloh gets better with an experienced guide to share about the wildlife that thrive in this local mangrove and how the ecosystem changes with the environment. You may catch various migratory birds in action, as well as reptiles like the shore pit viper and the estuarine crocodile.
Watersports and Island Hopping
Heading out on the water is our favourite way to get close to nature, and explore Singapore's 64 islands (yes, 64!).
24. Go Mangrove Kayaking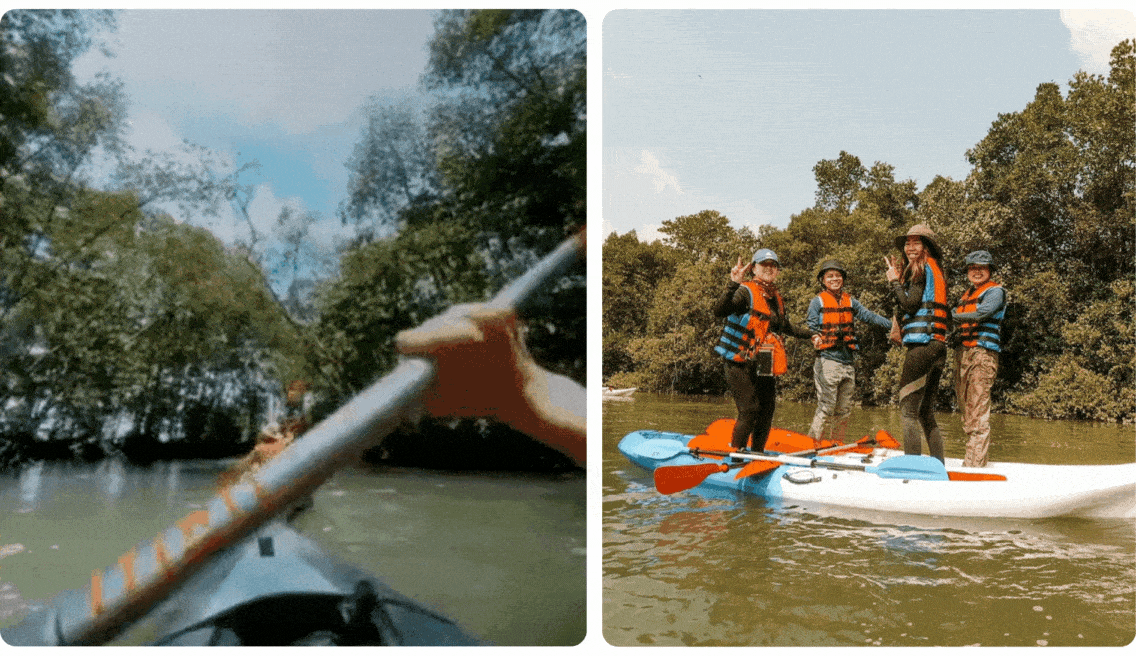 Kayaking in Singapore is hands down one of our favourite ways to get outdoors and recharge. There are a lot of really cool kayaking adventures you can head on. You can kayak through mysterious Lord of the Rings-looking mangrove trees, go kayak fishing, try night kayaking, or even visit disappearing kelongs.
Along the way you may spot wildlife like eagles, herons and otters if you're lucky!
25. E-foiling- Fly on Water!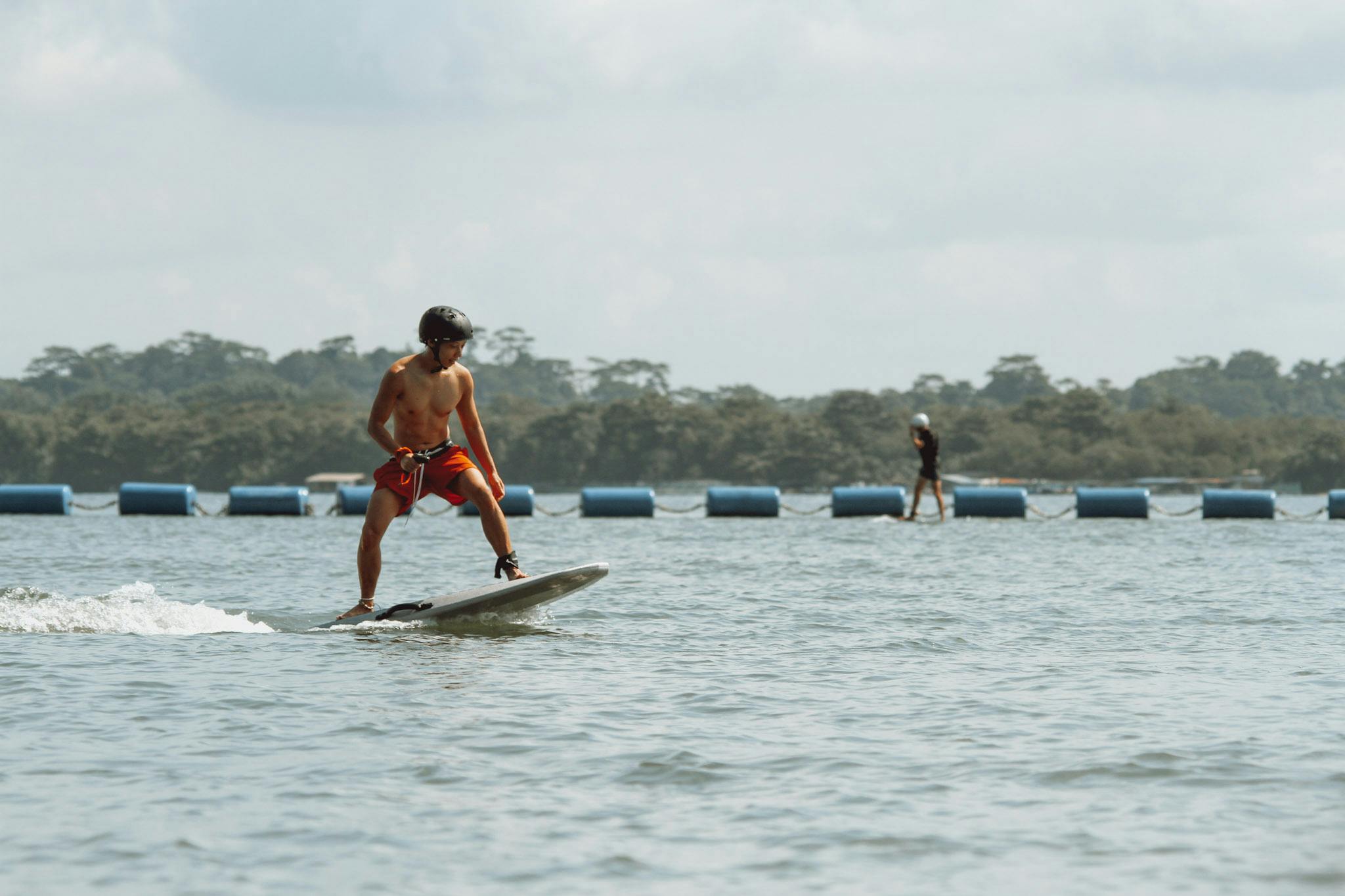 Watersports fans are going to love this super cool alternative to surfing - eFoiling! eFoils are battery-powered surfboards with a motor that lets you tour up to 14km - you'll feel like you're basically flying over water! It's beginner-friendly so you'll learn the ropes pretty quick 🏄
26. Try Your Hand at Fishing!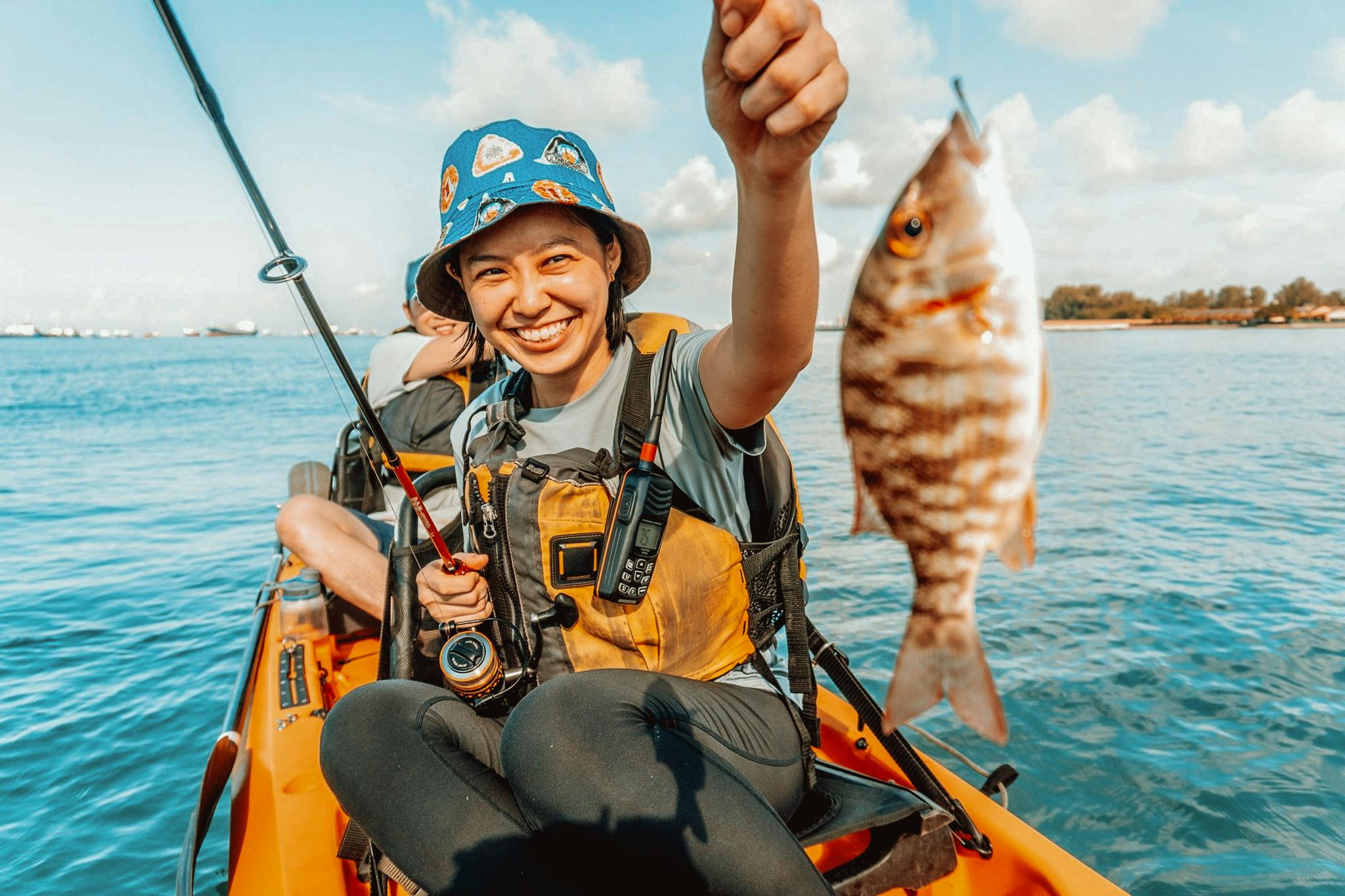 Fishing is a really chill way to spend the day in Singapore. You can try pier fishing, head out on a fishing boat with expert anglers (and BBQ your own catch onboard!) or you can even do kayak fishing. You can even pair your fishing trip with mussel harvesting - how cool is that?!
27. Sail to the Southern Islands on a Private Yacht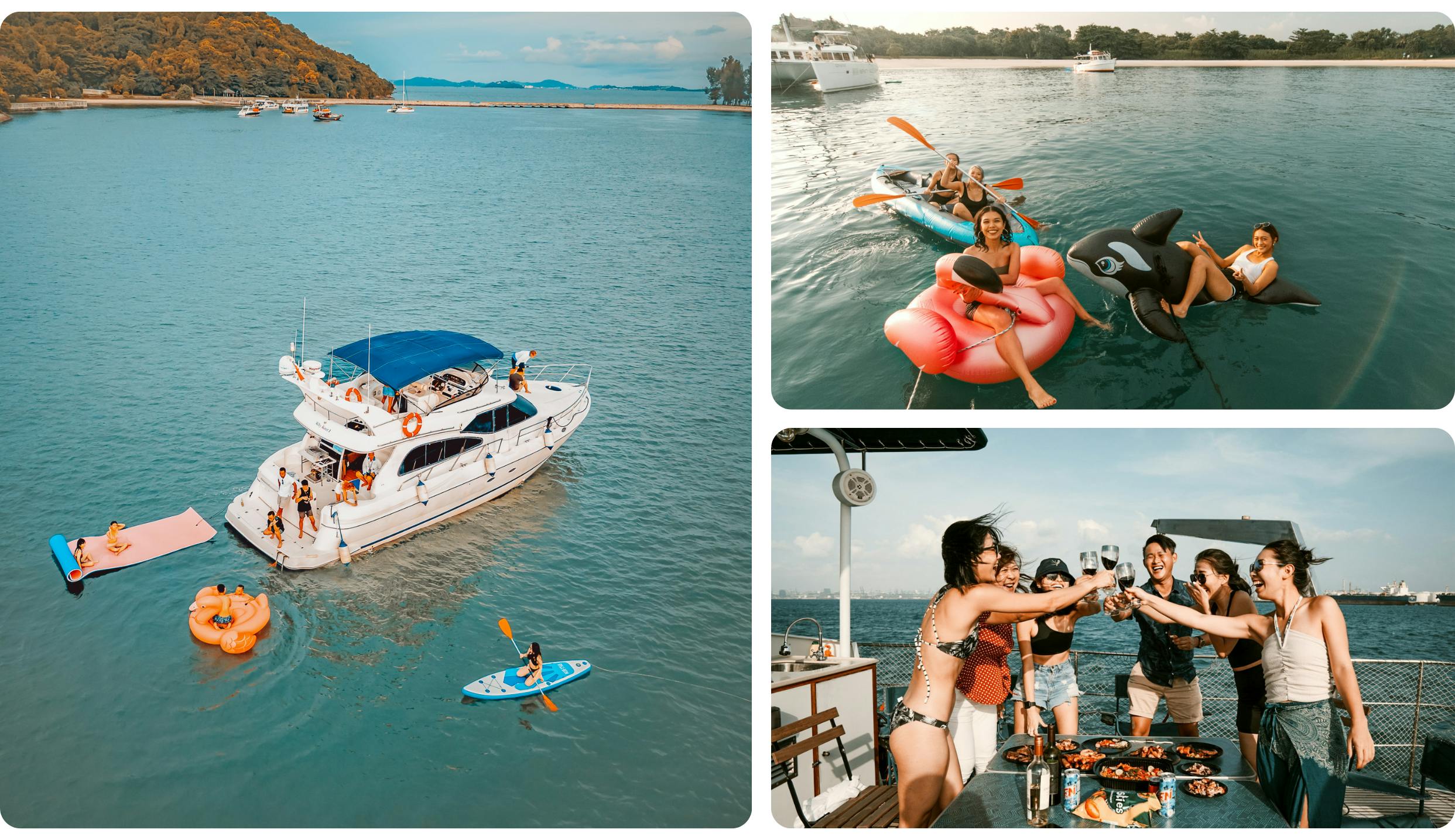 Everyone thinks of Singapore as this chic concrete jungle but we actually have over 64 different tropical islands! Heading to nearby islands on a yacht is one of our favourite ways to explore Singapore's nature, and see different parts of Singapore that we never knew existed. You can sail to Lazarus Island or less-known Hantu Island, and you can do water activities, karaoke and BBQ!
It is also a lot more affordable than you'd think - a yacht trip can be S$50-$100 per person for a 4 hour getaway!
28. Freediving!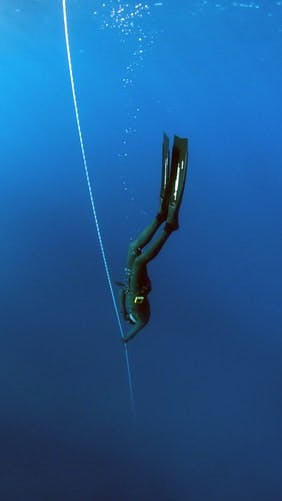 We've lived in Singapore all our lives and we never knew that we could dive in Singapore. But during the pandemic when we couldn't go diving abroad, we discovered that Singapore actually has 80% of the coral reef that the Great Barrier Reef has! If you know the right spots to dive, you can actually see our rich coral reef. You can hop on this yacht for a dive trip, or go freediving!
Food and Drink
Singaporeans are obsessed with food, and we also have some of the top bars in the world. What's really interesting is the new wave of chefs who are re-inventing how we eat and drink, from private dining to using local ingredients and techniques to bring a local twist to traditionally non-Singaporean food and drink.
29. Try Private Dining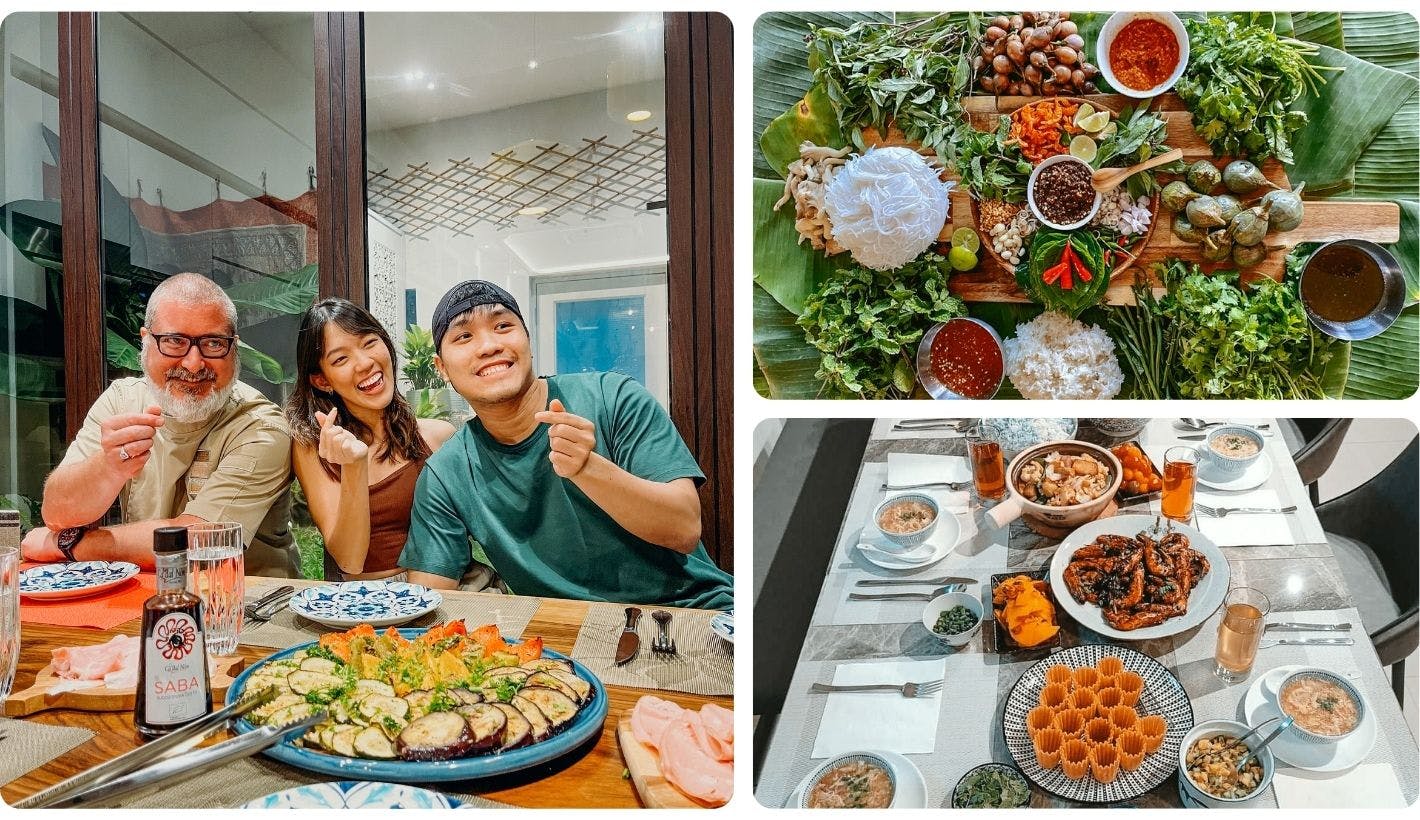 One of our favourite dining trends that has emerged is private dining. It's a really interesting, once-in-a-lifetime experience to have a passionate chef curate an experience for you in the privacy of their home. You can try a fancy pan-European omakase in a gorgeous flat in Tiong Bahru, a lovely Mediterranean feast in a historic Joo Chiat shophouse or a foraging walk with incredible Asian seafood feast.
30. Roast Coffee & Brunch!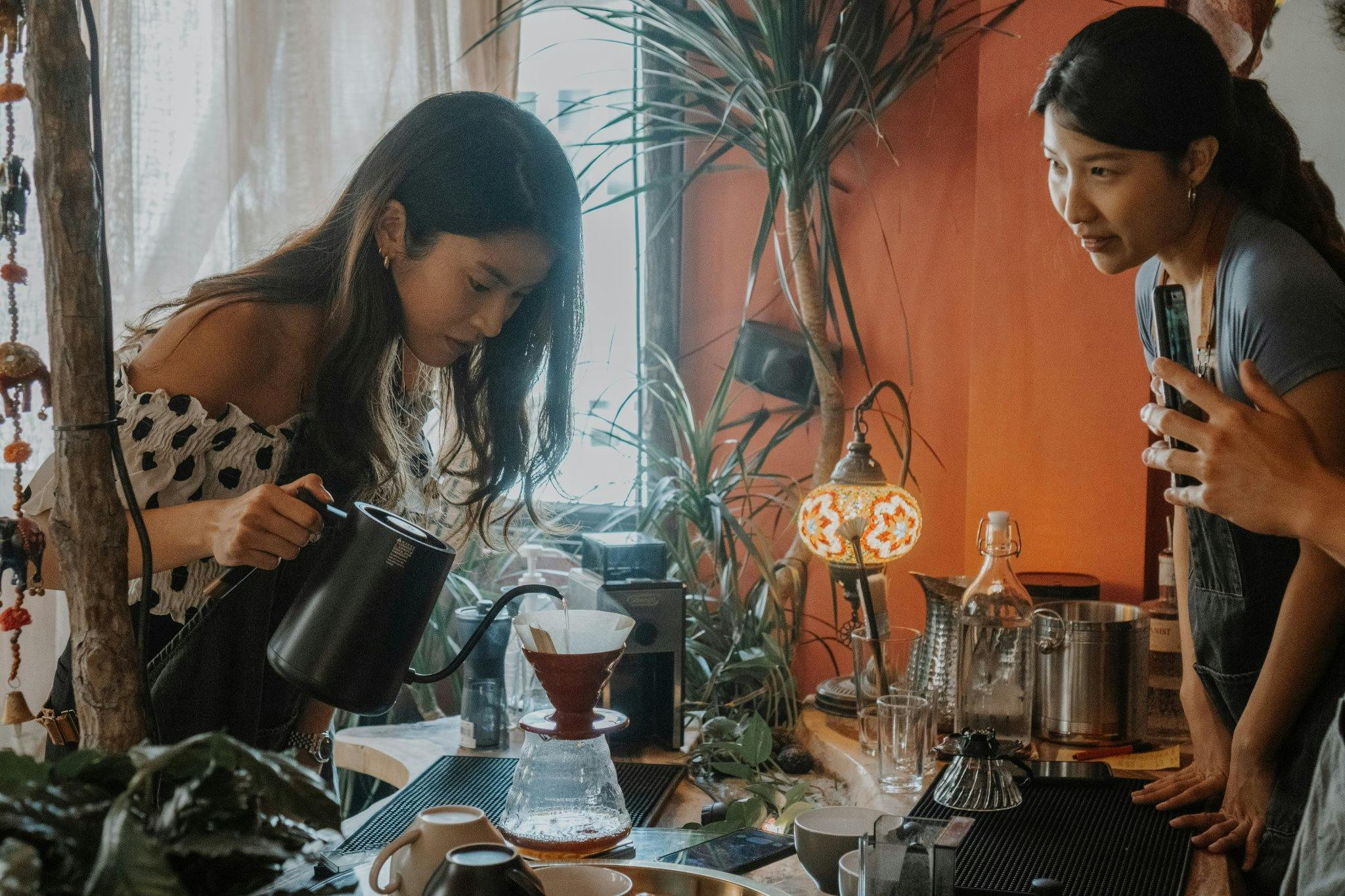 This is probably Singapore's first and only coffee roasting experience, where you'll experience coffee farm-to-table. See the coffee plant growing on the farm; select and roast raw coffee beans over a fire; grind them up by hand; and experiment with different brewing techniques. When you're done, you'll also get to enjoy a brunch of bagels and churros with your coffee!
31. Sake Tasting with an Experienced Sommelier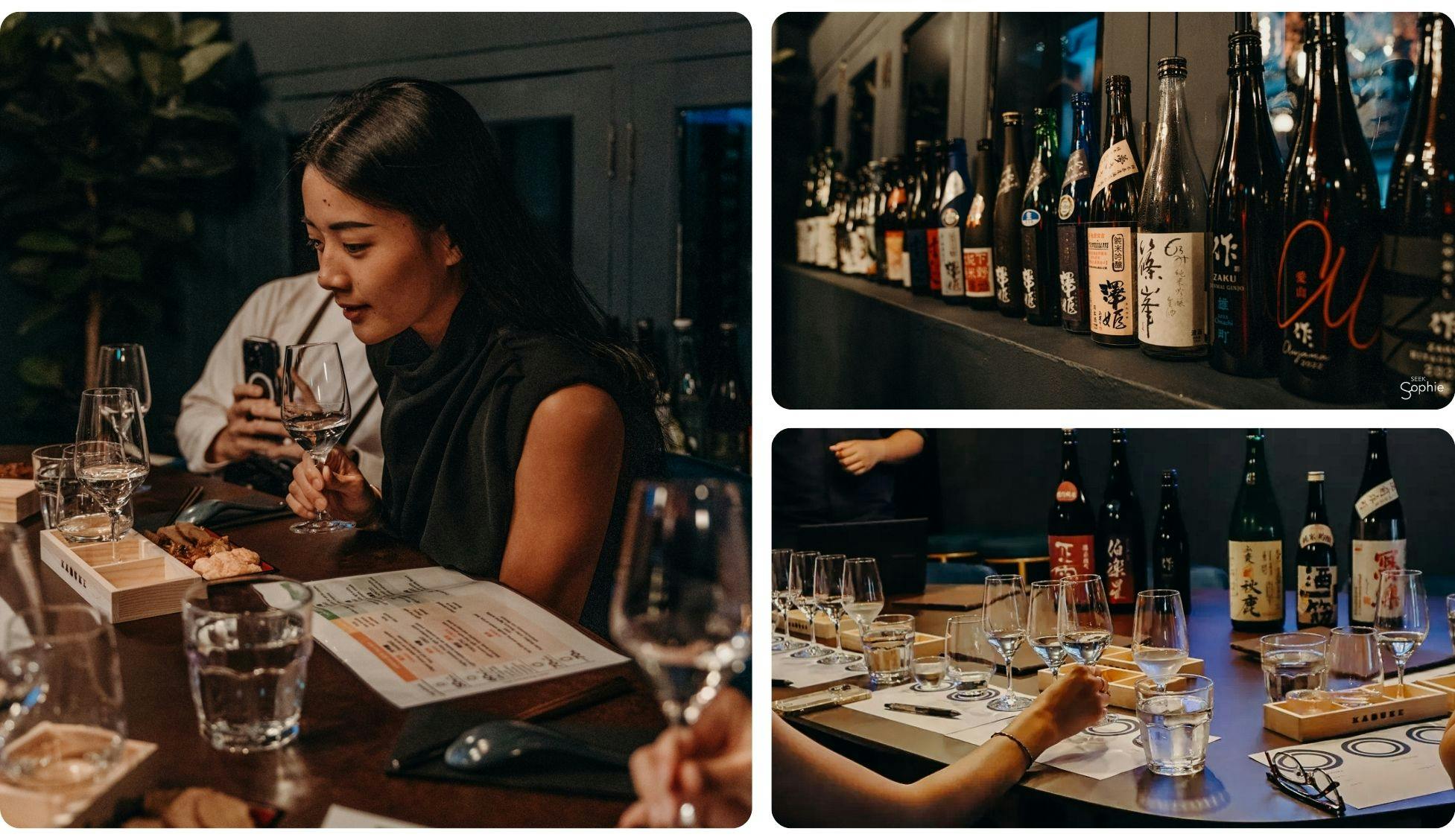 Singaporeans love everything Japanese, and the Japanese food and Sake in Singapore are probably second only to Japan. At Singapore's very first Sake-tasting room, you'll learn about boutique sake houses from Keiji, a passionate sake sommelier. The cool thing about this experience is that the sake here is from some of the most unique breweries in Japan like Japan's first female-run sake brewery!
32. Learn to Cook from Granny in a Kampong Home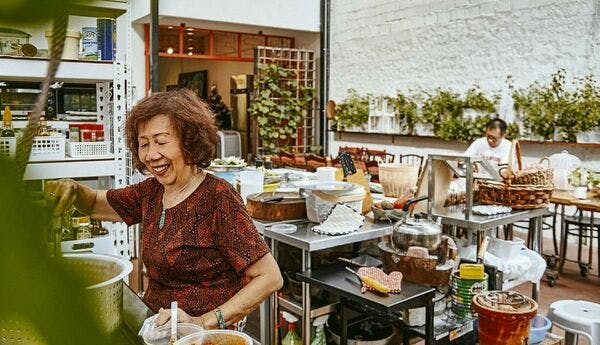 More than just a simple cooking class, one of our favourite things about this farm-to-table cooking experience with Granny is that you'll get to experience modern kampong living here. One Kind House brings back the spirit of a kampung house, where food is farm-to-table and doors are always open for friendly neighbours to pop in to pick a plant or two. An afternoon here will leave you with a full tummy and a fuller heart!
33. Make Your Own Chocolate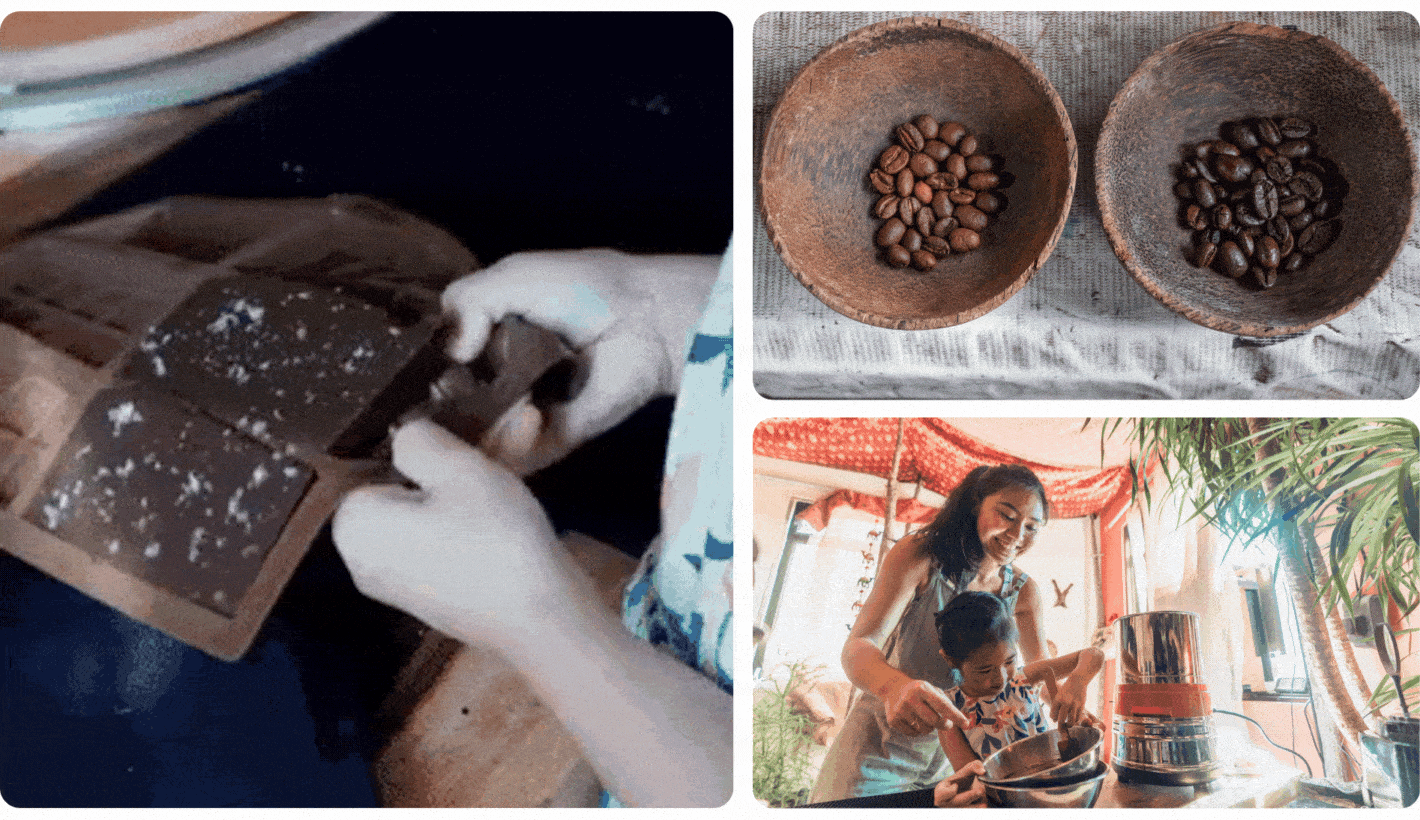 This is Singapore's first and only live chocolate making workshop, designed for anyone who loves chocolate or who is curious about where their chocolate comes from. Explore the origins and creation of chocolate, roast raw cacao beans and slowly transform them into an edible bar of chocolate! YUM.
34. Visit Singapore's Original Gin Distillery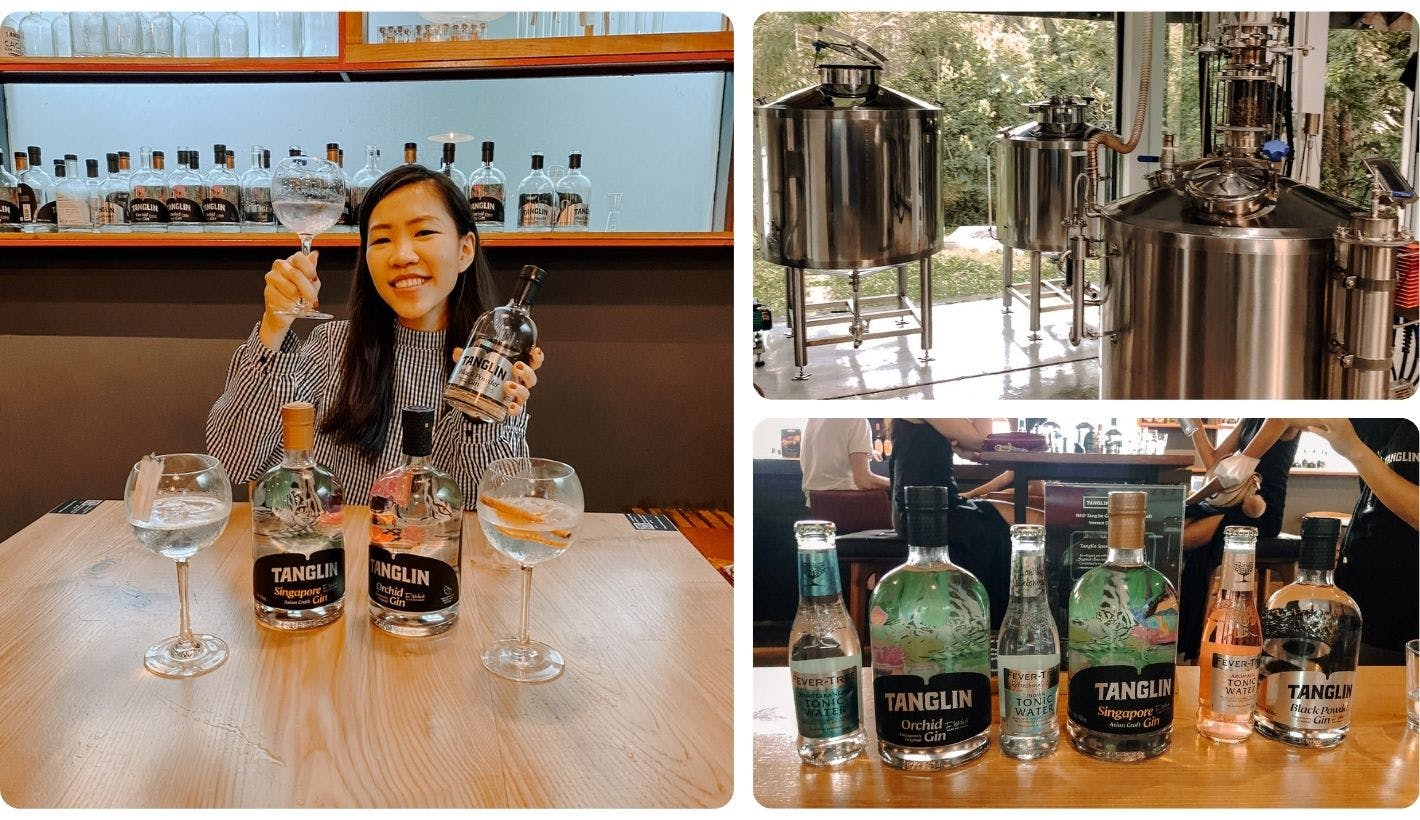 We never knew we had gin distilleries until a couple of years ago, and turns out, we actually have world-class gin in Singapore. Here at Singapore's original gin distillery, you'll get to both try out the distillery process yourself AND have your stomach's fill of gin. The venue is really chic - perfect for a date or showing around out-of-town visitors!
35. Make Singapore Sling with Local Gin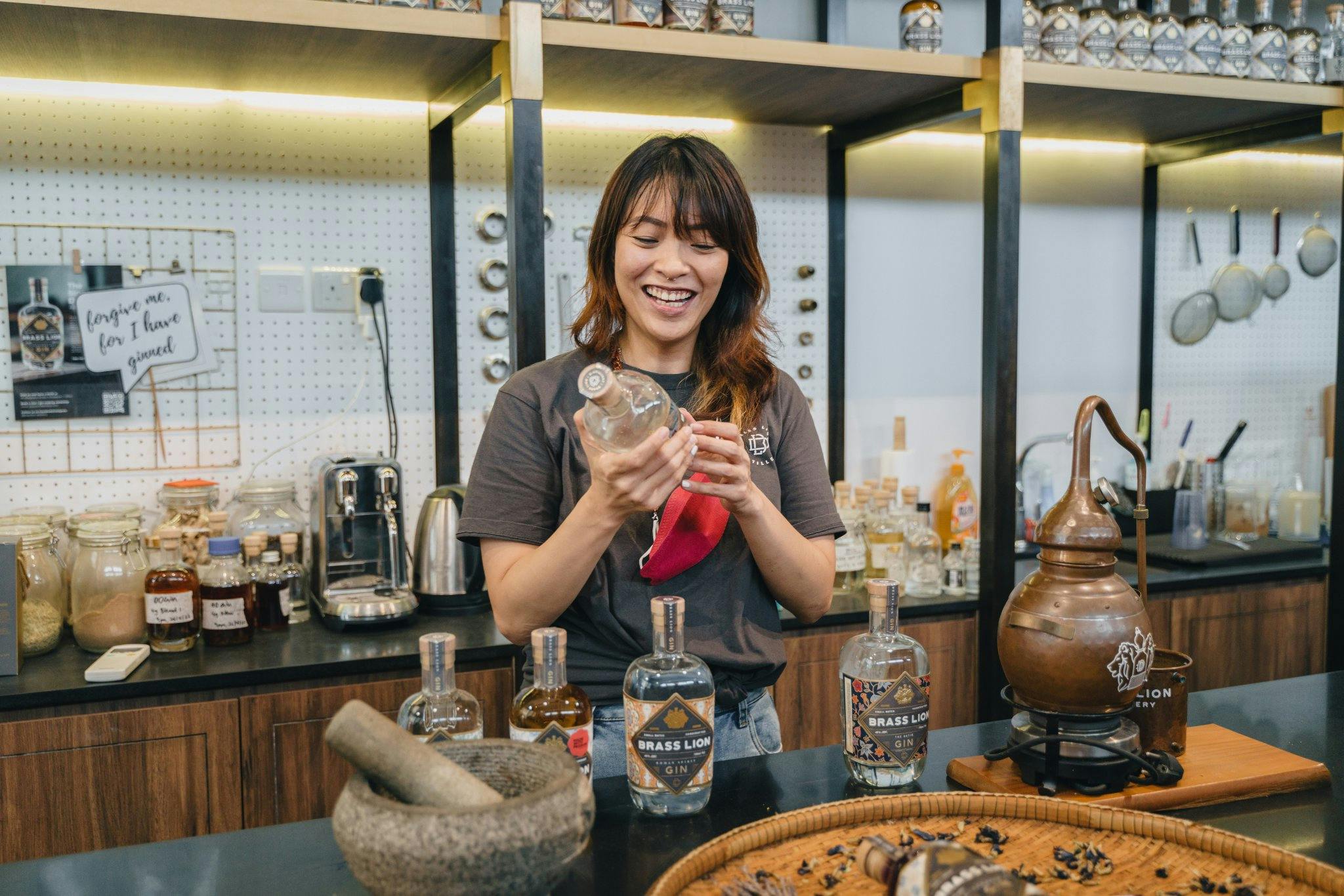 If you love the super iconic Singapore Sling, why not learn to make the Singapore Sling with local Singaporean gin no less! Here you can taste a bunch of unique local gins, and use homebrew gin to make the iconic Singapore Sling cocktail🍹
36. Free Flow Wine and Cheese Evening!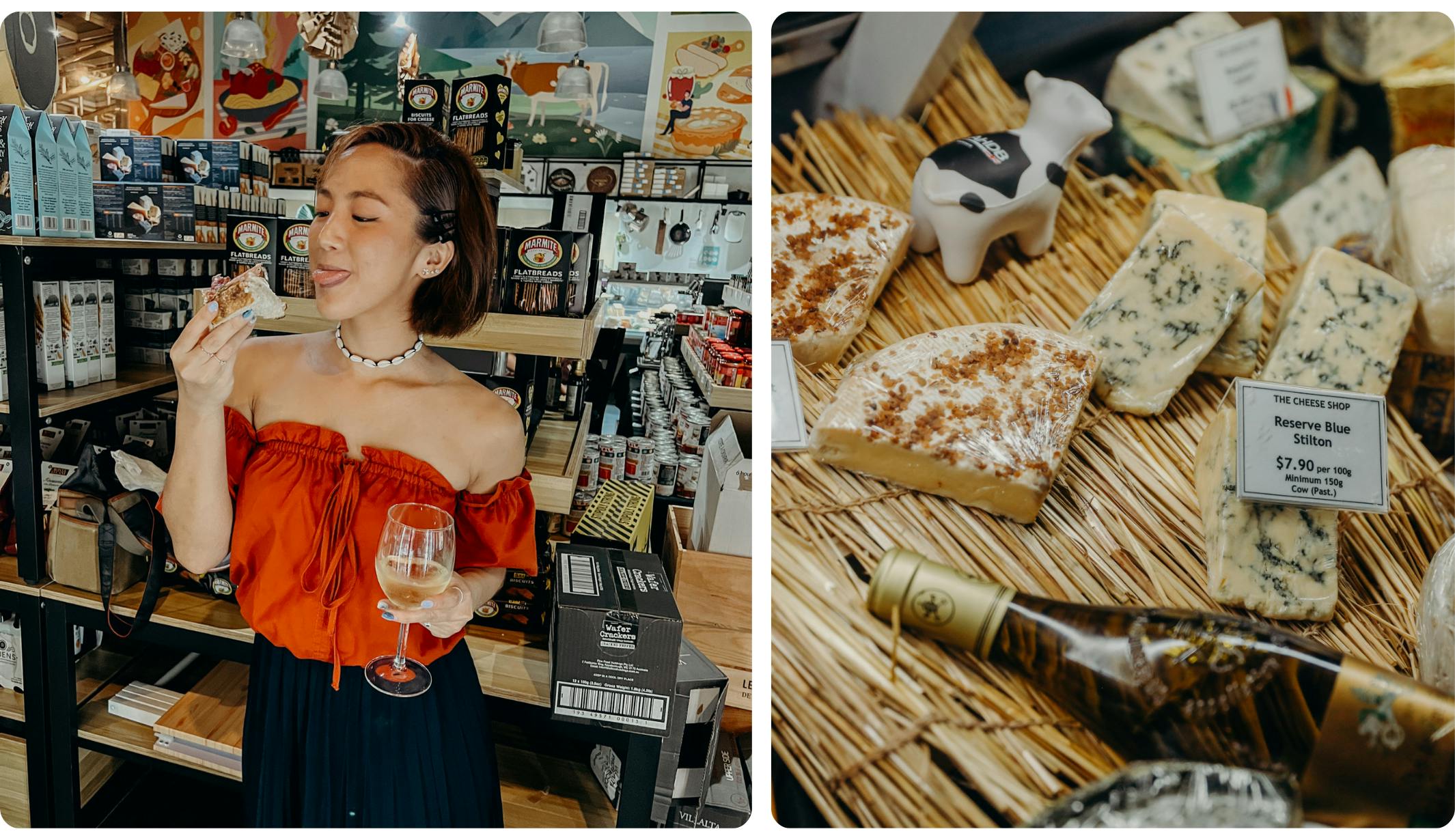 If you love your cheese like we do, this free flow cheese & wine evening is the perfect night out.This takes place at one of the best cheese artisans in town, so you know that the quality of cheese you're having will be good. Not only do you get to indulge in free-flow carefully curated cheese and wine pairings, you'll also learn the stories behind what you're eating.
37. Make Traditional Kueh on a Rooftop Farm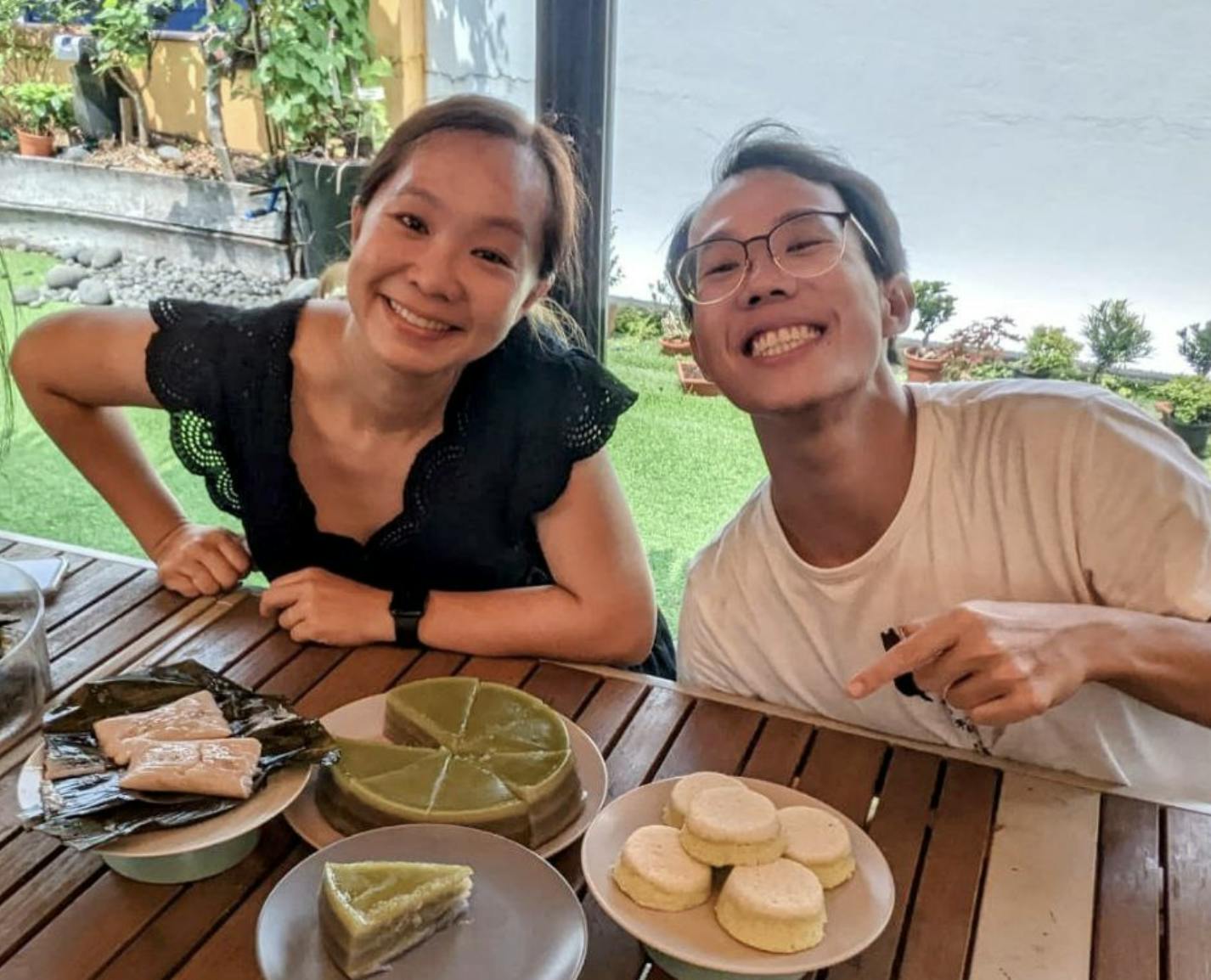 Relive your childhood by learning how to make old-school kueh-kuehs and snacks in a unique farm-to-table kueh experience!
Start off by harvesting the freshest leaves from banana trees and pandan plants growing atop a super cute rooftop farm, and learn how to hand-make them into 3 different delicious tea-time snacks. During this session, you'll learn to make yummy Kueh lapis, Naga sari, and Putu ayu!
38. Market-to-Table Cocktails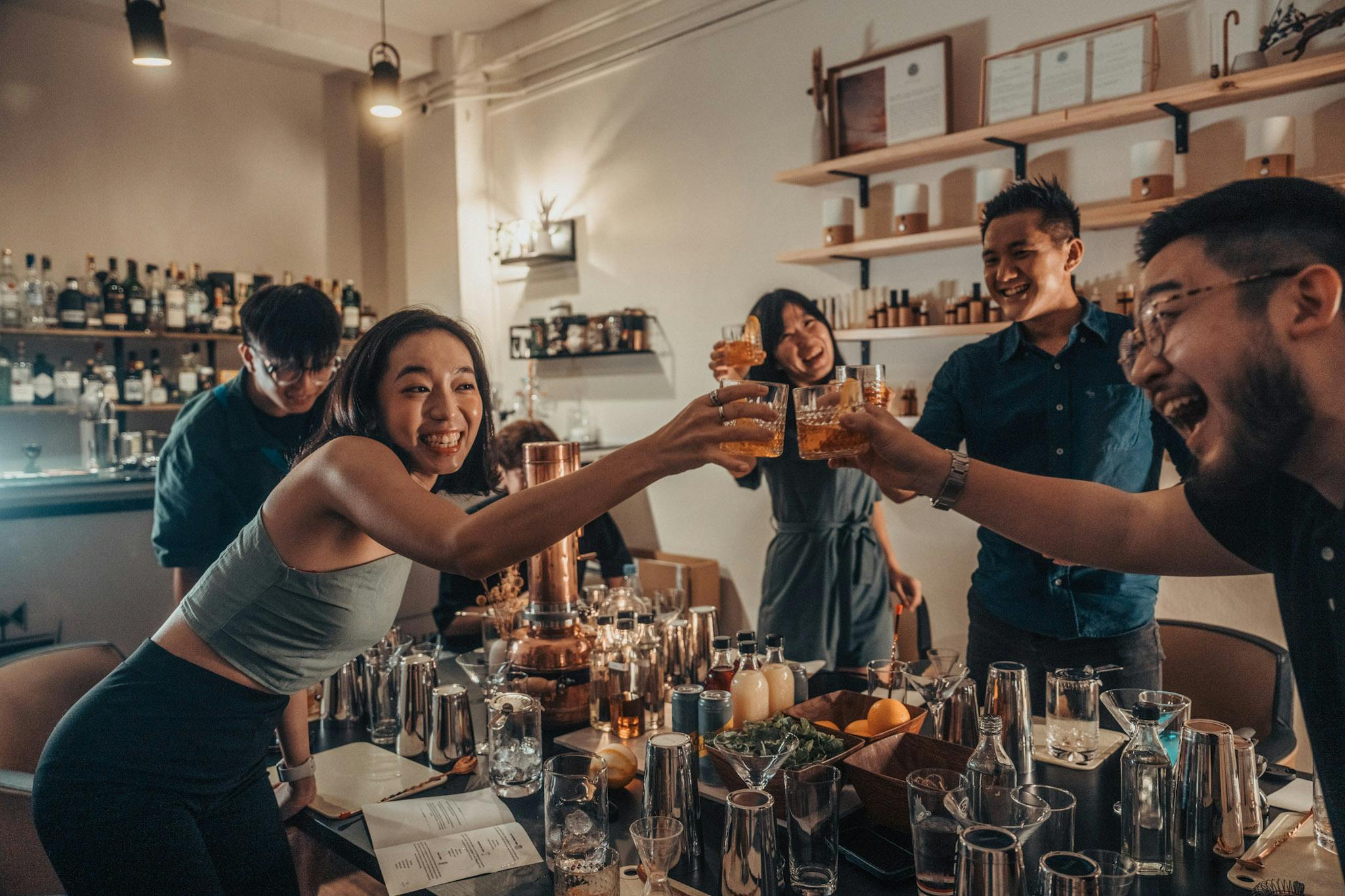 Singapore is well-known for its snazzy cocktail bars (many in the Top 50 bars in the world!), and its talented mixologists so it's definitely worthwhile doing a cocktail class here.
This may be the only cocktail making experience that first takes you to a local market in Little India to source your own fresh ingredients! You'll learn bartending tricks and get to use your hand-picked ingredients in your cocktail. Our fave cocktail was the pomegranate, passionfruit + mezcal 🤩 Later you'll also get to enjoy your cocktail with complimentary tacos!
Urban Farms
Urban farms deserve their own category as they're such a fascinating part of the Singapore story. Singapore is aiming to be semi-self sufficient in food production by 2030, so we have urban farms for everything from microgreens to bee-keeping. To us urban farms are a must see for anyone who's curious about the Singapore story and how we're constantly reinventing ourselves in a changing world.
39. Visit the coolest rooftop farm in Singapore and try beekeeping!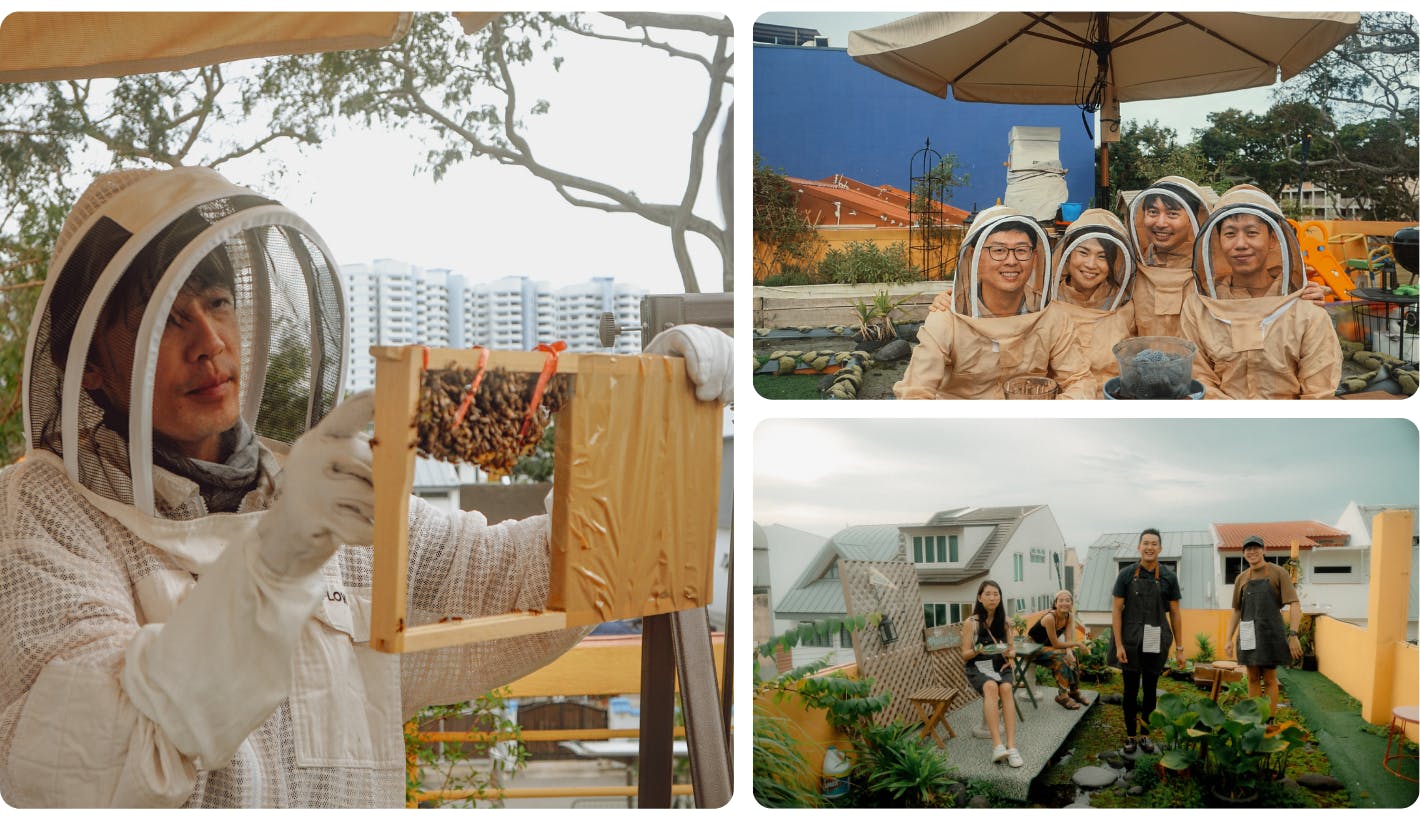 This whimsical rooftop farm is one of the coolest urban farms we've seen in Singapore. It's got a really interesting story - it houses bees that have been rescued from homes all around Singapore, that would otherwise have been killed as pests.
Here, the rescued bees are in paradise as they feed all-day on the plants on the rooftop and produce honey. As well as beekeeping, you'll also learn about organic farming and end your day with a honey tasting session here!
40. Check Out a Veggie Farm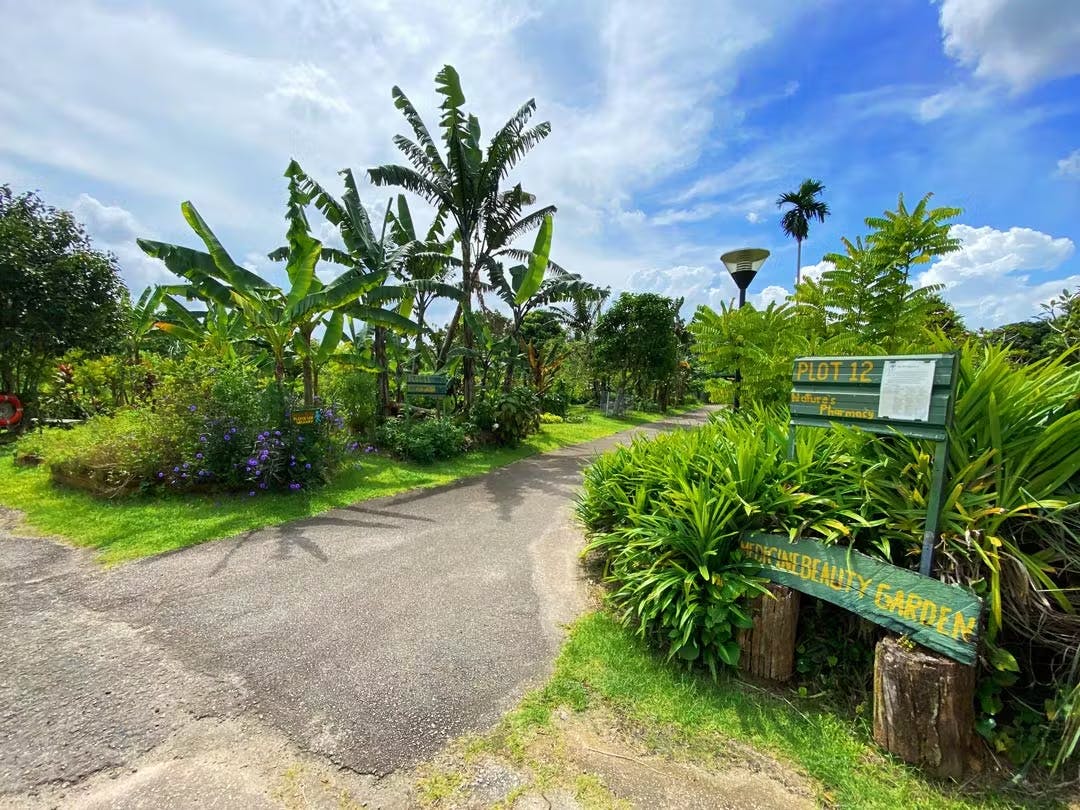 Bollywood Veggies is more than just a farm, it's a local institution. It's a place where people can learn about sustainable agriculture, connect with nature, and enjoy the simple things in life. You can head to their bistro for yummy food cooked with their fresh produce (the nasi lemak with blue butterfly pea flower rice, and chicken curry are yummy!). Come early on weekends as it does get packed at mealtimes!
Ps: This is a short drive from Sungei Buloh Nature Reserve, so you can pair this with a nature walk there!
Wellness
41. Try Forest Bathing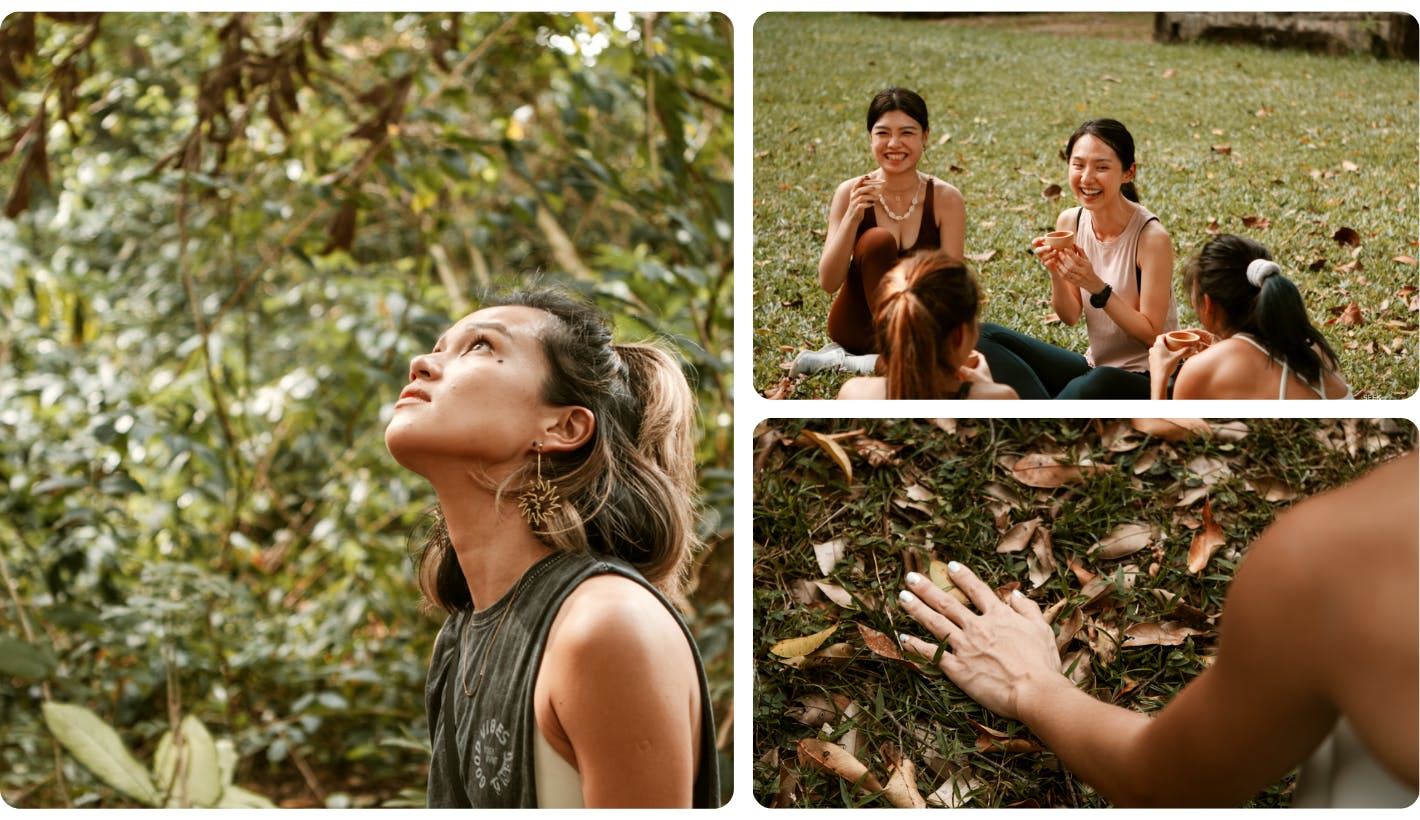 Forest Bathing (shinrin-yoku) is an ancient Japanese practice of 'bathing' your senses in nature and the environment around you. In a way this is the perfect thing to do in Singapore. Though in our garden city, we are surrounded by trees, we're also so plugged into our devices that we're disconnect from nature.
This forest bathing experience takes place in a nature park in Singapore with an experienced therapist guide who will lead you into meditation in nature. You'll feel recharged, and a lot more connected with nature and your surroundings afterward - at least that's how we felt after our own session!
42. Floating Yoga with Gorgeous MBS Skyline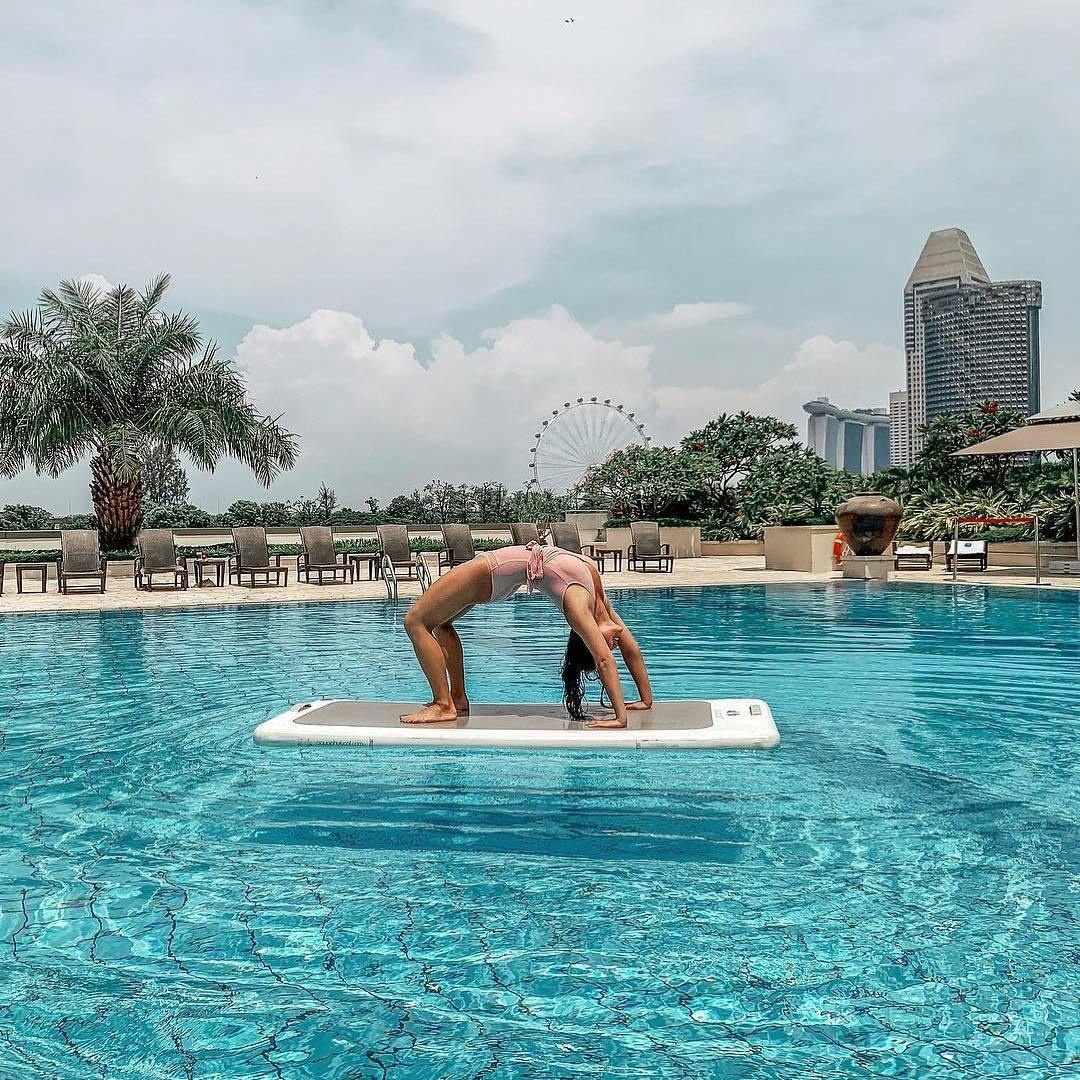 If you want to try something cool & super IG worthy, this floating yoga experience is it! It takes place on a rooftop pool - with a gorgeous backdrop of the skyline of iconic Marina Bay Sands! While yoga-on-water is new to many, there's NO need to be a pro - simply take it easy and have fun! After all, falling into the water just means more time to admire the view.
43. Chill with a Sound Bath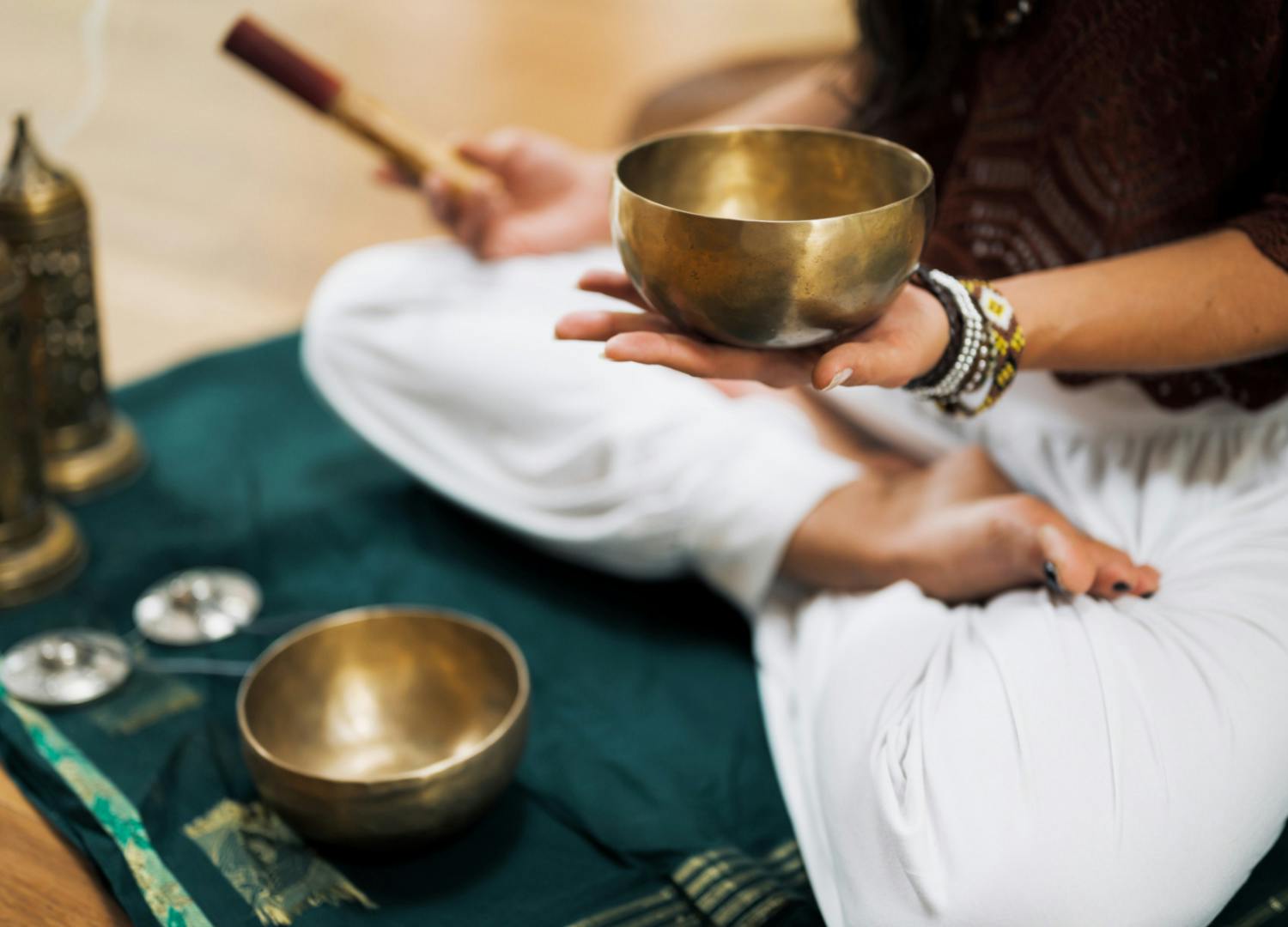 If you're looking for a day of relaxation, a sound bath session is perfect for you. Head over to try this Tibetan Singing Bowl therapy 🥣 - a sound bath experience that helps your body release stress! Simply close your eyes and immerse yourself in the gentle sound waves.
Sports & Games
44. Beer Run!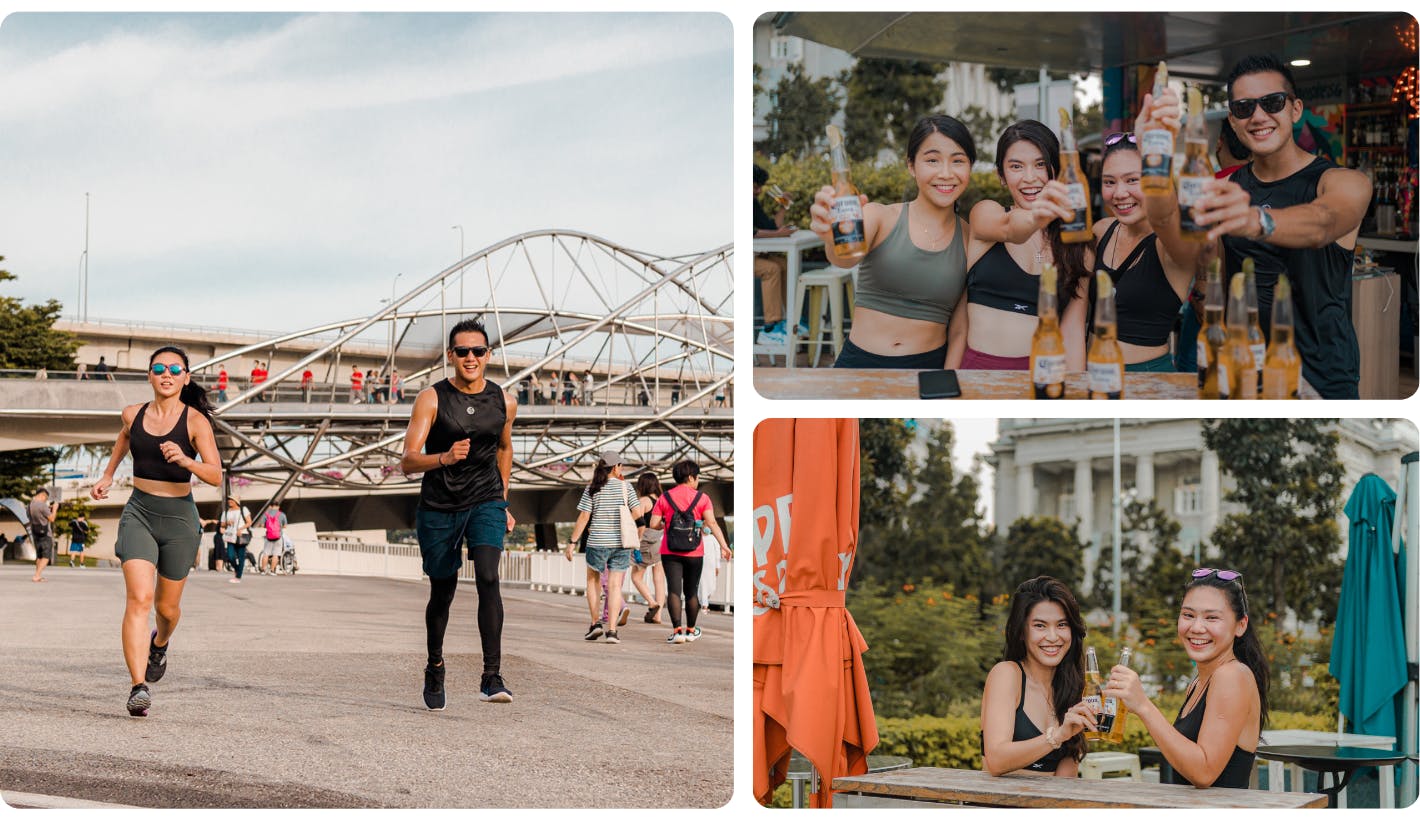 You know how Bordeaux has its famous Medoc Marathon where you visit vineyards, while running a marathon at the same time? This Beer Run is the Singapore's equivalent, and much more doable! It's only 4km, and you'll jog around Singapore's most scenic spots and stop at 3 places for beers mid-way. No fitness experience is required, and beers are included. It's a great way to meet new people and have fun!
45. Zovb down a hill in a giant bubble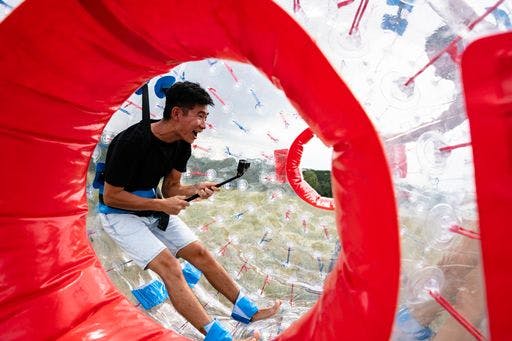 If you thought that you've run out of things to do in Singapore, think again. Rediscover play by rolling down a slope in a giant bubble (Zovb!), and let your adrenaline take over! Feel what it's like to be a space traveller with the ball's anti-gravity weightlessness 🤩
46. Laser Clay Shooting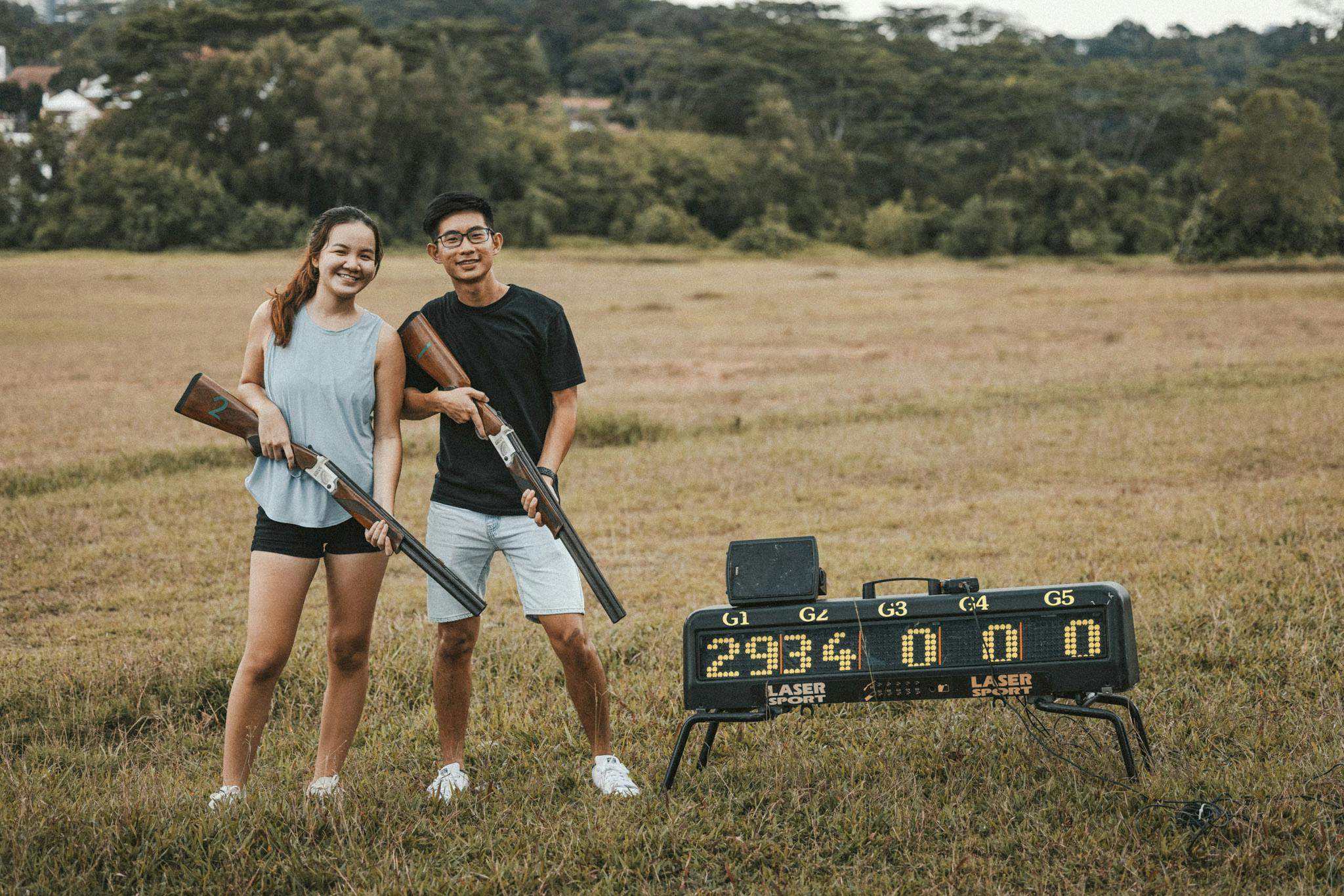 If you've always wanted to try clay pigeon shooting - this laser clay shooting is a safer version! Here you'll use a shotgun to fire laser beams at actual targets. Unlike clay shooting, these shotguns don't have any recoil and don't cause bruising! This is a great and unexpected way to spend time with your friends - see who can get the highest score on the scoreboard!
47. Learn Longboarding Tricks!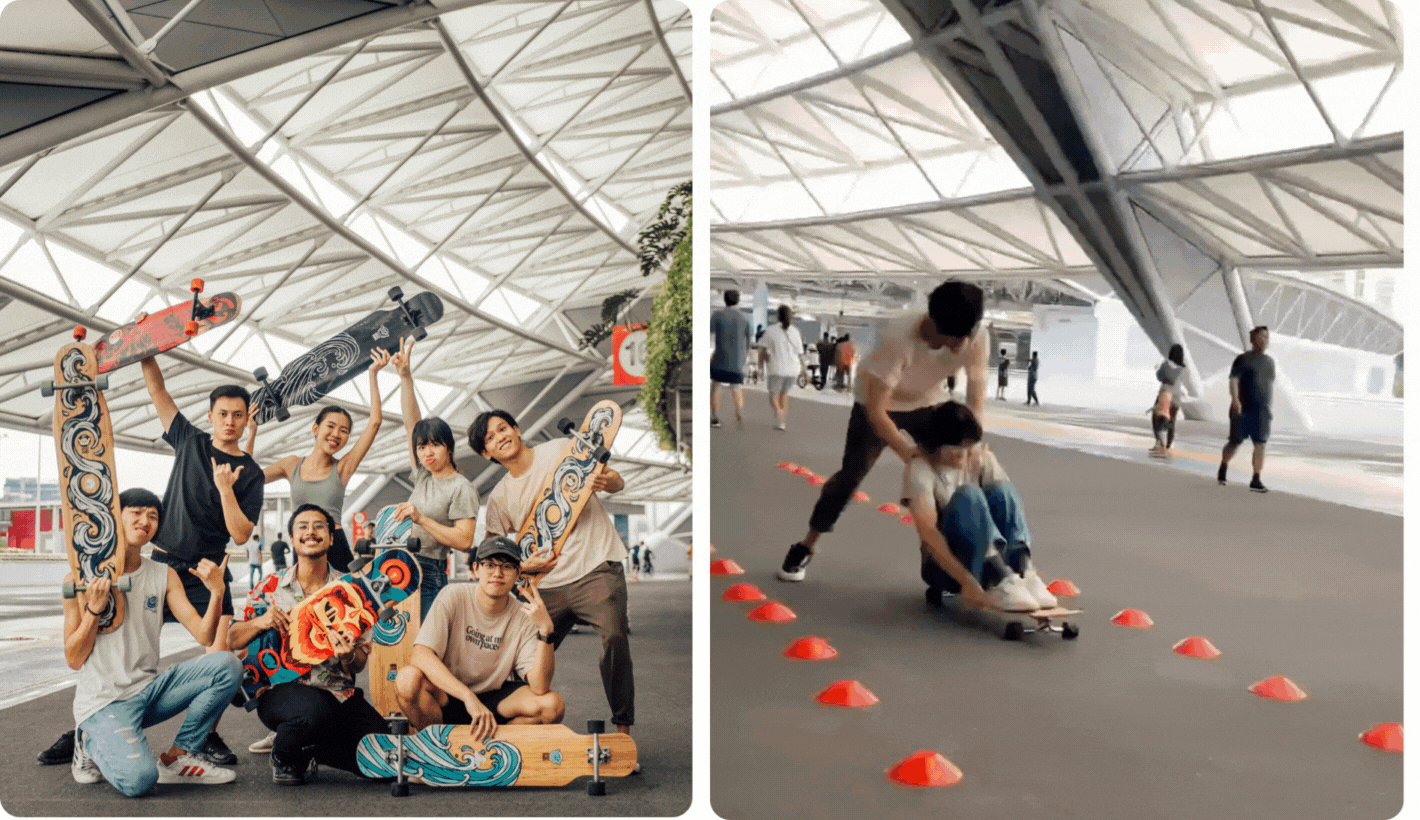 If you're looking to try something new, try long boarding! We especially love the community vibes here where boarders beginner & experienced support each other. Under the guidance of passionate instructors, you'll learn the basic techniques of longboarding, which includes pushing, carving, and braking. Who knows, if you're a natural skater, you'll pick up a cool trick or two!
48. Go Spin (But underwater!)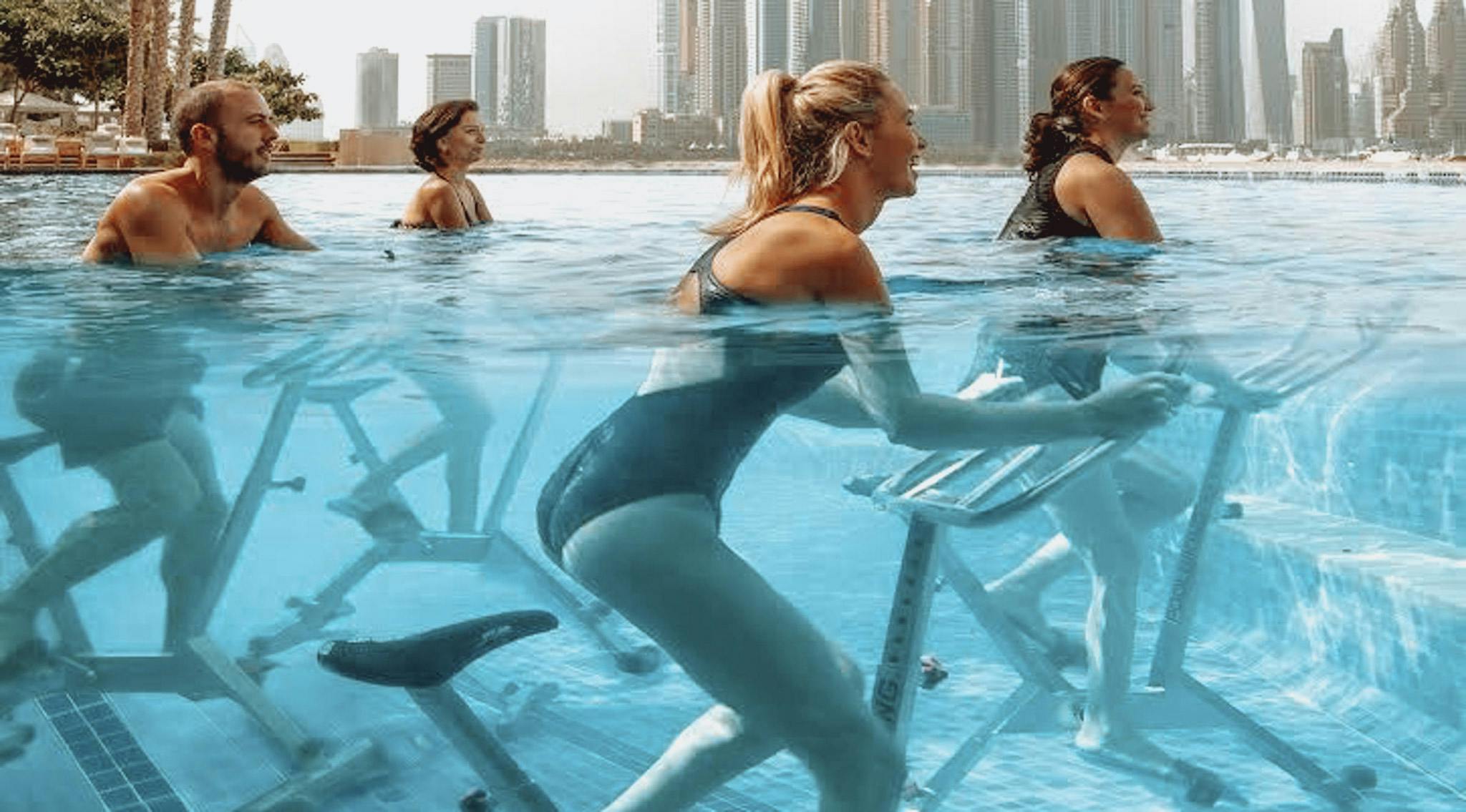 If you love spinning, why not mix it up and spin... underwater! At this unique underwater spin class, you'll find yourself spinning while partially submerged in a pool, pumping away to the energizing high tempo beats. Great for a challenge, or just a good time with friends!
49. Axe Throwing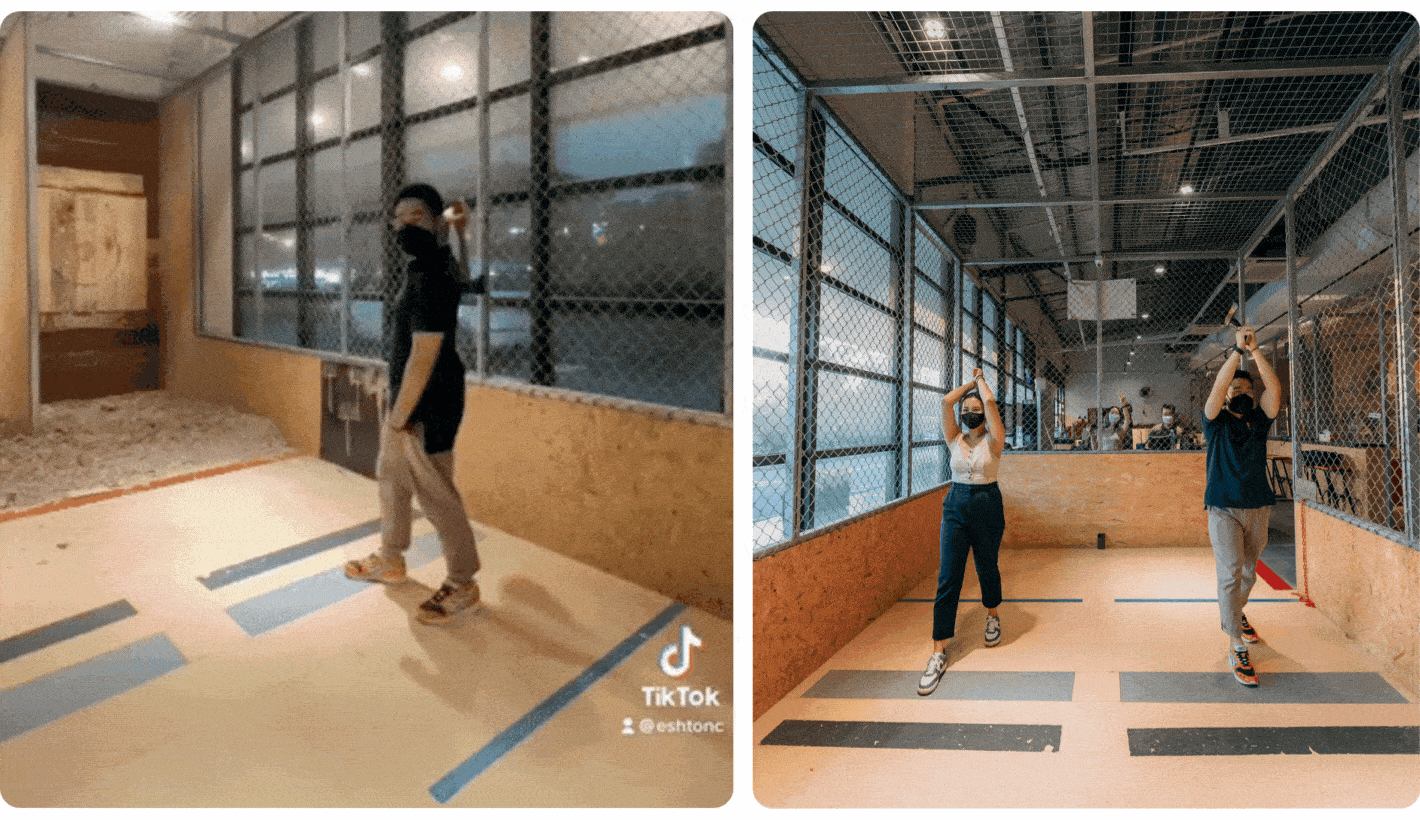 For anyone who loves anything random, axe throwing is surprisingly therapeutic and fun at the same time! Grab an axe, create your own axe throwing competition (where losers buy beers!), and off you go! It's also great exercise 😉
50. Dragon Boating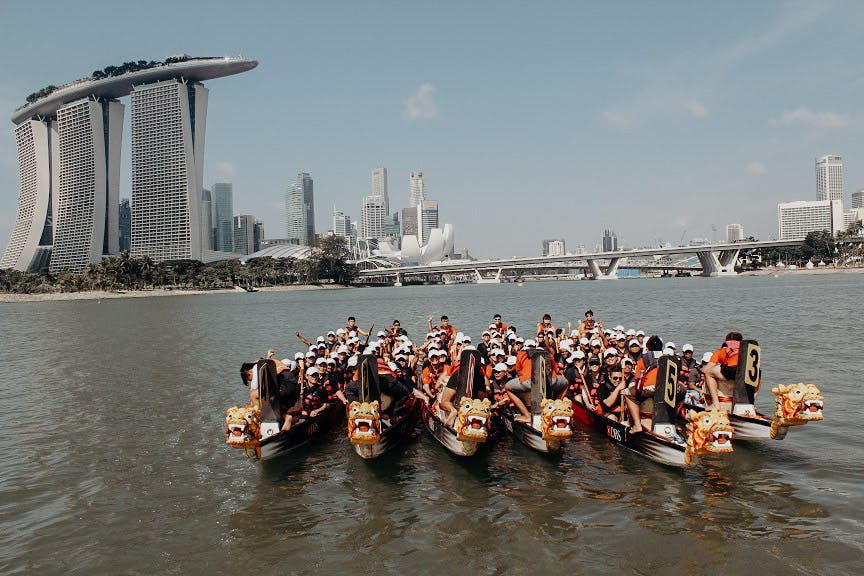 We can't think of anything more iconically Singapore than having a dragon boat race against the gorgeous MBS skyline. Experienced trainers will share the history and stories of dragon boating, and you'll cap off the experience with a 200m race. It's fun, educational and really memorable all at the same time. You'll need at least 6 persons for this experience, so bring your friends!
Frequently Asked Questions
What is Singapore Best Known For?
Singapore is best known for being a densely populated financial centre, with a world class airport, and lots of trees! Thanks to Sir David Attenborough, Singapore has more recently become known for its otters and other wildlife that co-exist with people in the city. Singapore has also been glamorised in Crazy Rich Asians as a glitzy playground for the rich, and is also known for its UNESCO hawker food and iconic Gardens by the Bay/Marina Bay Sands skyline view.
How Can I Have Fun In Singapore?
There are SO many fun things to do in Singapore! It wasn't the case even five or ten years ago, so even locals sometimes fall into the trap of thinking Singapore is boring. But that couldn't be further from the truth. If you love museums, Singapore has some word-class museums like the gorgeous National Gallery, the amazing National Museum and Art-Science Museum. If you love the outdoors and hiking, Singapore is pretty much connected end-to-end by park connectors so you can do an urban hike along the Southern Ridges, hike the water pipes from Mandai to Dairy Farm or even do a off-the-beaten-path hike to the enormous abandoned Marsiling WW2 Bunkers. If you love shopping, Singapore has boutique and high-end stores at the fancy shopping malls at Orchard Road & Marina Bay Sands, as well as thrift markets. And if you love food, Singapore is a paradise of super cheap & yummy street-food, to award-winning Michelin Star restaurants, to amazing private dining.
What are the must-visit places in Singapore?
Touristy (but worthwhile!) things to do in Singapore are: the Singapore Zoo, Botanic Gardens (UNESCO), Universal Studios Singapore, National Gallery Singapore, Jewel Changi Airport (for the indoor waterfall!), Marina Bay Sands and Gardens by the Bay. We would recommend pairing a touristy visit with a slightly less touristy one so you can see the authentic side of Singapore as well as what the shiny attractions are. We would also highly recommend Pulau Ubin (for hiking and kayaking - to see Singapore as it was as a sleepy fishing village), wandering the colourful streets of Chinatown, Little India and Kampong Glam, and having brekkie at Tiong Bahru Market!
What are the off-the-beaten-path places to visit in Singapore?
We're glad you asked - this is close to our hearts at Seek Sophie! For outdoors/nature, we would highly recommend kayaking and hiking in sleepy Pulau Ubin (or cycling around Coney Island if you can't spare half a day), doing an intertidal walk to see Singapore's hidden marine life, and going to Sungei Buloh nature reserve with a naturalist to see crocodiles, monitor lizards and birdlife.
If you're super adventurous, we would recommend the Marsiling Bunker trek to see enormous abandoned WW2 bunkers, and Fort Serapong in Sentosa. If you want something chilled in nature, do an island hopping yacht trip so see lesser-known islands around Singapore! Singapore also has a ton of heart beneath its gleaming skyscrapers, and we would recommend going on a walking tour with triad members to understand some little known history of Singapore.
Finally, for foodie adventures, we would highly recommend going for private dining (peek into a local's home with yummy food!), prata breakfast/supper at Springleaf Prata (coupled with a hike at railway corridor!), and enjoying Peranakan food that's unique to Singapore/Malaysia.
What are fun activities to do with friends in Singapore?
These days instead of meeting up with friends for dinner and drinks, we prefer to go hiking, a gallery or play instead! Usually this means we have even more to talk about and it's also a fun bonding experience of trying something new together. For hiking our favourites for a catch up are: Railway Corridor (top it up with a Springleaf Prata!), Fort Canning Park, Botanic Gardens and Dairy Farm Reserve as it's so quiet. If you want to do something creative, why not try an art jam or something like pottery, rug tufting or even leather making? You can do something fun and chilled, and catch up at the same time! Or wander around National Gallery Singapore as they always have new exhibits coming in. If you opt for the gallery, you can go for coffee/lunch at Funan beforehand or even yummy Burmese food at Peninsula!