Your Cheat Sheet to Planning a Trip to Komodo Islands [2023]

/
Your Cheat Sheet to Planning a Trip to Komodo Islands [2023]
Everything you need to know about planning your bucket list trip to Komodo National Park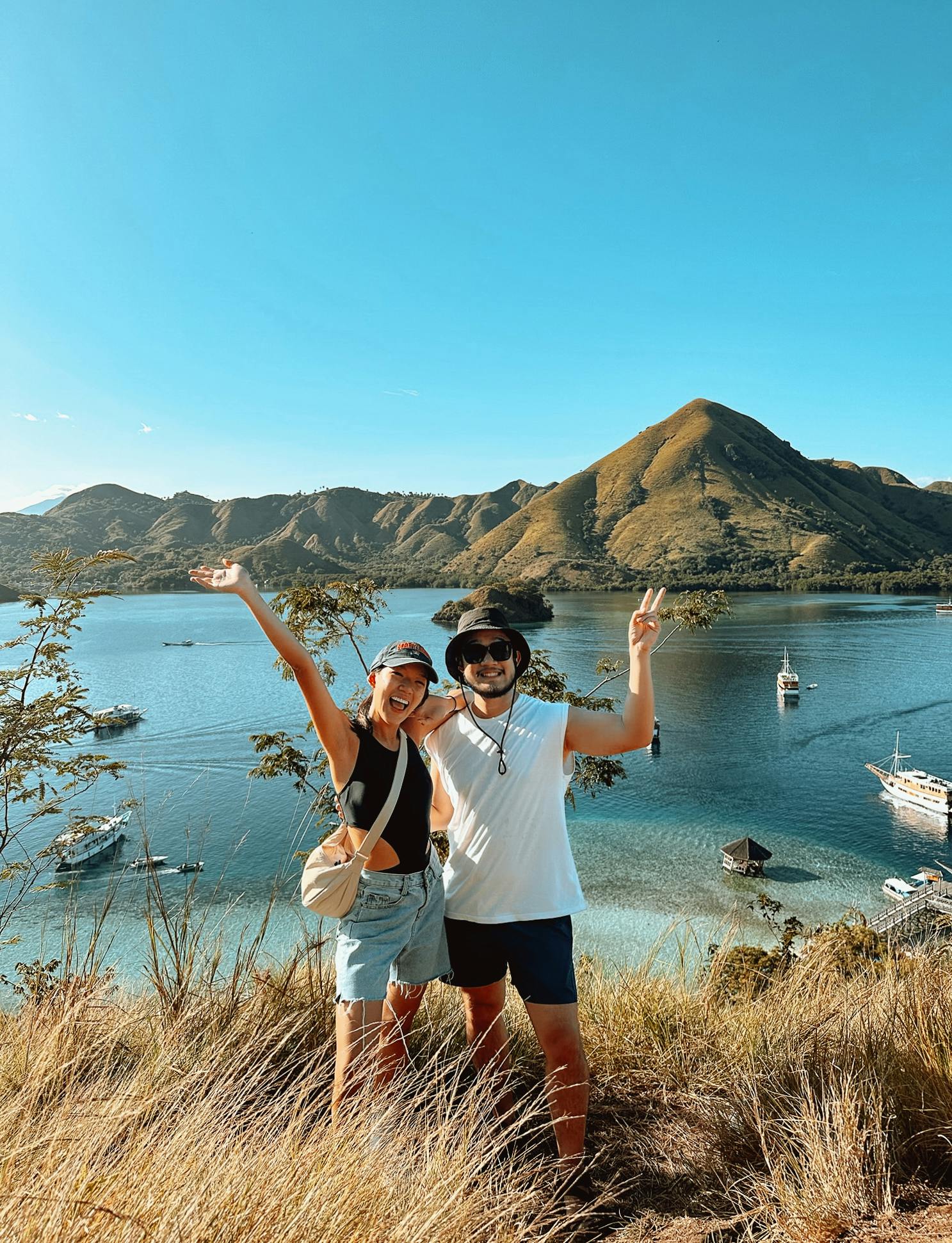 Hi! Welcome to Seek Sophie
We take pride in finding the best local guides and experiences. We will only recommend what we love, and hope you love them too.
Jump to Section:
The Basics

What to See & Do

How to Choose a Boat Trip

Common Questions from Travellers
Komodo National Park is one of our favourite places in the world to visit. Over the years, it has become increasingly gentrified - from not having street lamps or pavements a few years ago, it now even has a Starbucks! It doesn't get easier to plan a trip there though as questions like how to choose a boat, what are the park fees etc, are still maddeningly opaque.
Here is everything you need to know about planning a trip. If you're ready to book, check out all the Komodo experiences here!
The Basics
1
What are the Komodo Islands?
Most people don't know this, but the UNESCO heritage Komodo National Park doesn't just have one island, it has 29 islands. Komodo Island is just one of the many islands on Komodo National Park (more on that later).
When you visit Komodo National Park, you not only see Komodo dragons, you'll also head to other islands to see Pink Beaches, swim with Manta Rays and hike up to otherworldly view points.
2
How to Get There
The gateway town to Komodo National Park is Labuan Bajo (LBJ). Labuan Bajo airport has a few international direct flights, but most travellers will fly here via Jakarta or Bali (which has multiple flights a day to LBJ).
From Labuan Bajo town, it takes a couple of hours by boat to get to Komodo National Park. Most of the boat trips will offer a pick up from Labuan Bajo town.
Finally, for adventurous travellers, there is a boat that goes from Lombok to Labuan Bajo via Komodo National Park.
3
How to Explore Komodo National Park
You can only see Komodo National Park on an island hopping boat tour. You can either do a sightseeing boat tour or you can do a diving boat trip.
The sightseeing boat tours range from a day tour on a speedboat to a 3D2N liveaboard. Both will cover all the usual highlights like trekking with Komodo Dragons, seeing a Pink Beach, hiking to the viewpoint at Padar island and some snorkelling.
The diving boat trips range from one day leisure dives to 4 day liveaboards. They usually are only diving focused and they'll take you to some of the top dive spots but they won't go sightseeing to the various islands.
4
Staying in Komodo National Park
There are no hotels in Komodo National Park so generally travellers will stay in Labuan Bajo town. If you want to spend the night in Komodo National Park, you'll need to choose an overnight boat, and stay on board (pictured).
While there are resorts that are located on an island, and not in LBJ town, these resorts are not in Komodo National Park itself. The issue with staying in these resorts is that the join-in boat trips do not offer pick up from these resorts, so it'll be more logistically painful to do a sightseeing boat trip.
5
How Much Time to Spend Here
The shortest amount of time you need here is 3 days, even if you're only doing a one day speedboat trip. Because you'll fly in on the 1st day, do the speedboat trip on the 2nd day, and fly out on the 3rd day.
If you really want to see everything that Komodo National Park and Labuan Bajo has to offer, we would recommend 7 days if you're not diving (for 3D2N boat trip + 1 day road trip around LBJ + 2 days travel time). If you want to dive as well as sightsee, we would recommend at least 9 days (including travel time).
Note that the timings of the boat trips usually means you should fly in the day before your trip starts, and fly out the day after it ends.
6
Best Time to Go
Try to avoid the rainy season from January to March, as most boat trips don't run during this time, other than the one day speedboats. Even the one day speedboat trips may be cancelled on the day due to bad weather. If you do go then, plan for a couple of days' buffer time so you can reschedule your boat trip in case the original trip gets cancelled.
If your aim is only to see Komodo dragons, avoid mating season in July and August. You'll likely only see small Komodo dragons during this time as the large dragons are in the forest mating, and hard to find.
Finally try to avoid local holidays (for e.g. Raya) as it's way too packed then. You'll be queuing to hike up Padar, and crowding around the Mantas!
What to See & Do
7
Komodo Island
This is one of the two islands where Komodo dragons live, and the largest island in Komodo National Park. This is also the only island in Komodo National Park that's inhabited by humans, as Komodo village and the indigenous Ata Modo are here. Here you'll get to trek with a local guide (usually from the indigenous Ata Modo tribe!) and try to spot wild Komodo Dragons.
Tip: Usually boat trips will either visit Komodo Island or Rinca Island to see Komodo dragons. But it's a bit harder to spot them in Komodo Island as the island is larger and more wild.
8
Rinca Island
Home to over-1000 Komodo dragons, Rinca is the only island other than Komodo Island where you can find Komodo dragons. Though it's not as famous as Komodo Island, it's actually easier to spot Komodo dragons here as it's a smaller island with a larger population of dragons on the island!
Tip: Rinca Island is a bit more manicured, with a boardwalk and easier sightings. If you want something more wild, go to Komodo Island.
9
Padar Island
This is the most iconic viewpoint at Komodo National Park, and the picture you've probably seen everywhere. Here you'll do a 45 minute easy trek to the top, and get to see panoramic views of Komodo National Park. If you peek carefully in that picture, you'll see a pink beach, a black beach and a white sand beach!
Tip: If you do an overnight boat trip, you'll be able to come here for sunrise when it's a little less crowded.
10
Pink Beach
There are several Pink Beaches in Komodo National Park. The Pink Beach that most boats go to is the one near Komodo Island, which is a little less pink recently as travellers take the red coral (which gives the sand its colour) home. To see the pinkest part of the beach, venture to the far end of the beach where travellers don't go, and you'll see it in a dark pink hue.
Tip: If you take a private boat or if currents permit, you can head to the pinkest (and more remote) Pink Beach near Padar Island - called Short Beach. Don't forget to leave the red coral behind 🙈
11
Manta Point
Here you can snorkel with giant Manta Rays! The waters here are colder, which is what the gentle Mantas like, and during Manta season you'll be able to swim with many Mantas around you.
Tip: The best time to come here is actually in rainy season from December to March where the waters are especially cold, but you'll be able to see them up to June. If you come here from July to September though the chances of seeing them are low.
12
Siaba Bay
Also known as Turtle Bay, Siaba Bay is home to gorgeous coral reefs and where giant turtles like to hang out because of their favourite food (sea grass!) here. Siaba Bay is one of our fave spots in Komodo - you can snorkel and dive here to see the super zen and gorgeous turtles.
Tip: Not all the boat trips go to Siaba Bay so if you do love turtles and want to come here, check the itinerary carefully or go for a private boat where you can customise your itinerary.
13
Kalong Island
This was our highlight when we went to Komodo National Park! Here you'll see the exodus of millions of bats at sunset and it's such a otherworldly sight. First you'll see just a handful of bats fly out, and before long the entire orange sky is entirely covered with bats.
Tip: Not all boat trips go to Kalong island. The 3D2N trips will go, but the one-day join-in speedboat trips and dive trips won't. Kalong island alone is a good reason to do a 3D2N trip or a private speedboat trip!
How to Choose a Boat Trip
14
Join-in vs Private Boat
Most of the boat trips in Komodo are join-in boat trips, but you can charter your own private boat as well.
If you're solo/couple or want to make friends, do a join-in trip. But if you have 4 or more persons, or any time constraints, you may want to charter a private boat. It's more flexible, more comfortable and not a lot more expensive.
The join-in trips have a number of constraints that private boats don't. For e.g. if you want to do a 3D2N join-in trip you'll need to arrive by Thursday. And if you're looking to do a 2D1N trip, you'll only find basic boats willing to do that trip on a join-in basis. If you do a private trip you don't need to worry about any of this, and can customise your itinerary!
15
Day Trip vs Overnight
If you want to wake up with the incredible views of Komodo National Park, you'll have to do a liveaboard trip as there are no hotels in Komodo National Park. However if you would rather not spend the night on the boat, a one-day speedboat actually covers most of the destinations that the overnight boats do.
The only difference in itinerary is that on a one-day speedboat, you don't get to go to Padar Island at sunrise (which isn't the biggest deal really), and you don't get to see the exodus of bats at Kalong Island. If you really want to see Kalong Island on a one-day trip, you can charter a private speedboat.
17
Budget Boat vs Phinisi Boat
For overnight trips, you can choose between basic boats, or Phinisi boats (which is basically a deluxe or luxury boat - pictured).
A basic boat usually has on-deck sleeping and you can choose from either a 2D1N trip or a 3D2N trip. A Phinisi boat will have private rooms (some will have both private rooms and dorms), and generally have better food, and amenities.
Komodo is a complicated place, and every year, several basic boats do sink. So if you do go for a budget boat do check their safety credentials carefully.
Common Questions from Travellers
18
What are Komodo Park Fees?
Generally park fees are excluded from your boat tour price, and you'll need to bring cash for the fees. Usually the amount is quoted as a range, not a fixed sum because, well, it's complicated!
Komodo park entrance fees depend on the island you're visiting, whether it's a weekday or weekend, whether you're foreigner or local, and even how many people there are on your boat. To complicate it more, there are constant talks about increasing the fees 🤷
Current fees per person/per day on weekdays: Foreigners/Kitas holders: IDR 400-500k / Indonesians: IDR 180-250k. Sundays/public holidays per person (Foreigners/kitas holders : IDR 450-550k / Indonesians : IDR 180-250k)
19
What should I pack?
Pack light if you're spending the night on the boat! The rooms on the boats aren't large so if you bring a large suitcase you may not even be able to open it in your room.
Pack swimwear for snorkelling (and a rashguard if you're sensitive to the cold), sea sickness pills if you're prone to motion sickness, and hiking sandals or sneakers (as you'll need grip for the Padar trek).
20
Can I fly out on the day my trip ends?
We don't recommend flying out on the same day. Usually the boat trips are scheduled to arrive back at Labuan Bajo between 4-6pm in the evening. However this is subject to the currents and weather, and is very unpredictable. So ideally you should plan to fly out the day after your boat trip.
21
Can I go on my period?
Yes you can. Some people are concerned that Komodo dragons may be aggressive towards people on their periods, but that is not a risk at all.
As with any wildlife, whether or not you're on your period, just keep a sensible distance away from the wildlife and you'll be ok.
22
Can I bring my drone?
Guests who bring their own drone for usage within the Komodo National Park are required to purchase a drone ticket at the National Park Office at Labuan Bajo 3 days prior to the trip. The cost of the ticket is 1 million rupiahs so please do prepare enough cash. 
Frequently Asked Questions
Why go to Komodo National Park?
Komodo National Park in Labuan Bajo, Flores, Indonesia is a UNESCO World heritage site, and one of the most beautiful places on earth. Here you can see the prehistoric Komodo Dragon (basically a giant lizard!), swim with manta rays and turtles in crystal clear waters and see surreal pink sand beaches. You'll do an island hopping boat trip here to visit all the highlights of Komodo National Park, and you can hike, dive and snorkel when you're here.
How can I safely encounter Komodo dragons in their natural habitat?
To safely encounter Komodo dragons in their natural habitat, it is essential to visit the Komodo National Park with an experienced guide. These local guides are knowledgeable about the dragons' behavior and will ensure your safety while maintaining a respectful distance from the animals. Additionally, it is important to follow the guidelines provided by the park and your guide, such as not feeding the dragons, wearing appropriate footwear, and staying on designated paths.
What are some of the top diving spots in Komodo National Park?
Manta Point - Known for its large population of manta rays, this site is perfect for observing these majestic creatures up close.

Castle Rock - An underwater pinnacle teeming with fish, sharks, and other marine life, Castle Rock is ideal for experienced divers seeking a thrilling adventure.

Batu Bolong - A coral-covered rock formation that attracts an abundance of marine life, including turtles, reef sharks, and schools of colorful fish.

Cannibal Rock - This dive site features stunning soft corals, sea fans, and a variety of macro creatures, making it a favorite among underwater photographers.

Tatawa Besar - With its gentle currents, Tatawa Besar offers a relaxing drift dive along a vibrant coral reef, perfect for divers of all levels.
What is the best time of year to visit Komodo National Park
We would recommend not visiting Komodo National Park during January to March as this is monsoon season and most boats don't run during this time, other than the one day speedboats. Even the one day speedboat trips may sometimes be cancelled if the weather is so bad that it's deemed unsafe to go out on the day. So if you visit Komodo National Park during this period, include more buffer time just in case your initially booked trip gets cancelled because of the weather.
Other than that, the other months are fine to visit Komodo National Park. The timing that you visit will determine what you'll get to see as some months are better for Komodo dragon sightings and other months are better for Manta Ray sightings.
For Komodo dragon sightings, the ideal time to visit is during the dry season, which typically occurs between April and November. However, it is essential to avoid the mating season (July and August) when the dragons are less active. During mating season, the large dragons would be much more difficult to spot and you'll likely only see small, monitor-lizard sized dragons.
Manta rays on the other hand love the rainy season. So if you only care about seeing them, the rainy season from December to February can be an excellent time to visit. Although the weather is wetter, manta rays are more likely to be spotted during this period as they tend to aggregate near the surface to feed on plankton.
To maximize your chances of seeing both Komodo dragons and manta rays, consider visiting during the shoulder months of April, May, October, and November. These months generally offer favorable weather conditions and fewer crowds, increasing your chances of memorable wildlife encounters.