Everything You Need to Know about Climbing Mount Batur [2023]

/
Everything You Need to Know about Climbing Mount Batur [2023]
All your questions on visiting Bali's most iconic volcano answered :)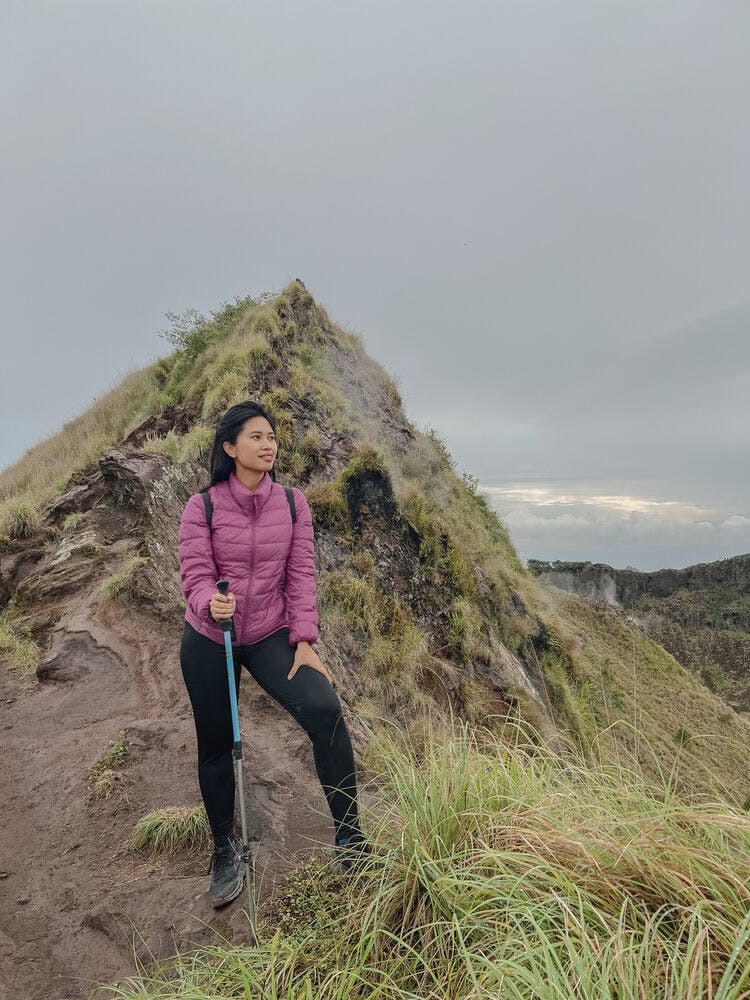 Hi! Welcome to Seek Sophie
We take pride in finding the best local guides and experiences. We will only recommend what we love, and hope you love them too.
Mount Batur is one of the most popular sights in Bali, for good reason. It's a beginner-friendly climb, and you get to see amazing views. If you're planning a climb, here is everything you need to know about Mount Batur sunrise trekking - from seeing it without the tourist crowds, to how to seeing it without even trekking! :)
[Update July 2023: Contrary to what you read in the news, there is no hiking ban in place in Bali]
Ready to book? Check out all our handpicked Mount Batur trekking & Jeep experiences here!
1
Why visit Mount Batur? Is it worth it?
Mount Batur is a UNESCO heritage site and an active volcano. Its elevation is 1717 meters. It is the most popular hike in Bali because you get to see a gorgeous sunrise (in good weather!), panoramic views over Lombok island and Mount Agung volcano after a reasonably easy hike.
It's worth it if all you're looking for is some time out in nature and a good view. However the mountain can get crowded, with up to 600 hikers a day. We would recommend picking a trekking guide who takes a less touristed-trail.
2
Is there a ban on hiking in Bali?
In June 2023, the Balinese governor announced that the public, including local Balinese communities, may be banned from hiking any of Bali's mountains except in very specific circumstances. This was in response to tourist behaviour perceived to be disrespectful to the Balinese spiritual traditions on the mountains.
As yet, no ban has been put in place and both locals and travellers are still allowed to hike at Bali's mountains. It is expected that stricter protocols will be put in place to protect the mountains, but a ban on hiking is considered to be very unlikely.
3
Is Mount Batur hard to climb?
It really depends on individual fitness level, but if you're relatively fit you can reach the summit within 2 hours. Most travellers find it fairly easy - which is why it's such a popular climb! The descent is typically easier for most (although for those with weak knees it may be harder!), but there are some tricky terrains to manage, so definitely leave some energy for the way down. Descent will also take 1.5-2 hours.
If you want something easier, you can consider the Caldera Trek, which takes under one hour. You can also do a jeep ride!
4
What's the view from the top?
There's a good reason why so many people bother to wake up in the middle of the night, and hike up Mount Batur in total darkness. The views from the top are amazing. As the sun rises, you'll see Mount Abang, Mount Agung and Mount Rinjani volcanoes, as well as the volcanic lake. When the sky clears, you will also have some excellent panoramas of towns and villages below.
5
What is the timing of the Mount Batur climb?
If you're doing the Mount Batur Sunrise Hike, you'll have a very early morning start! Your hotel pick-up will be around midnight, and your hotel drop-off will be around noon. If you're doing the the Mount Batur Jeep trip, your hotel pick-up will be around 3am, with drop-off around noon.
If that's too early for you, you can also consider doing a Sunset hike or Sunset jeep ride. These have a later start time and avoid the crowds. The sunset trips will start early-mid afternoon, and finish around 8-9pm. This may work better for families with children!
6
What's the terrain like?
No matter which route you take (will be chosen by your trekking guide) you will most likely encounter this terrain: 1) a dirt road at the very bottom which you may share with motorbikes and even cars, 2) narrow jungle path surrounded by thick brush, 3) rocky dirt path, with an occasional loose rock, 4) on the descent you may need to slide down some very slippery black sand lava - take it slow and you'll be fine!
Don't worry about hiking in the dark - your guide will be prepared with flashlights for you!
7
What should I wear?
Ideally you should dress warm as it gets chilly at the summit of Mt Batur before sunrise - the temperature here ranges between 14-18 degrees.
We'd recommend a jacket or a long sleeve fleece and some long trousers. After the sunrise, it warms up so do have a short sleeve shirt underneath, as well as a hat handy. Rain gear (rain jacket or poncho) is a good idea especially during rainy season (December to March). You don't need proper hiking shoes, a good pair of running shoes will do.
8
What else should I pack for the hike?
Make sure you have these essentials with you: bottle of water, sunscreen, sunglasses and your photo and/or video devices. You can fly a drone at the top of Mt Batur, so if you have it - pack it!
You can also consider having some light snacks, however most guides will include breakfast in your trek package. This typically includes a banana sandwich, tea or coffee and an egg cooked in volcanic steam! Usually you will also find locals selling chocolate bars and snacks as you wait for sunrise so pack a bit of cash.
9
How long to reach the start point?
Depends on where you are staying. If you are in Ubud, it's about an hour (especially if you are going in the middle of the night when there is very little traffic). If you are coming from South Bali (Kuta Area, Seminiyak, Canggu) it can take close to two hours. If you stay somewhere in the Kintamani area, it will take you 10-15 minutes. Sometimes you can even walk from your hotel or homestay.
10
When is the best time to go?
This will depend on your preferences. The dry season of June to September will usually bring the best sunrises. However that is also peak season, meaning that the crowds can get pretty intense. Up to 600 people per day climb Mt Batur during those months.
If you don't mind getting caught in the rain, the shoulder seasons of October to November and April to May are better to avoid the crowds. If you are travelling during rainy season and don't want to waste your time waking up early for a low chance of seeing the sunrise, you can do the Sunset Trek.
11
Do I need a guide?
The short answer is: yes.
The entrance to the mountain is tightly controlled by the local guide association. Some hikers have even reported verbal harassment when attempting to hike solo. This system is meant to ensure safety as well as to make sure that locals have a way to benefit from the tourism in the region. Here are our favourite Mount Batur guides!
12
What else is there to do around Mt Batur?
Lots of people combine their Batur trek with a visit to the Natural Hot Springs to soak tired muscles. The Hot Springs are pretty touristy though, so if that's not your thing, we would recommend a coffee plantation. Kintamani is famous for being the coffee growing region in Bali! Do make sure that it's a sustainable coffee plantation with no luwaks though.
Other interesting places nearby are: Besakih Temple (most important temple to the Balinese!), the Kato Lapo waterfalls and our favourite Trunyan Village. It's Bali's oldest village with a magical tree and was featured in the BBC for its fascinating traditions.
13
Can I see Mount Batur without the crowds?
Yes there are a few mountain tour guides that take a less touristed route to summit Mount Batur volcano. On these routes you won't see many people until you reach the summit.
If you want something that is truly untouristed, you can avoid the summit altogether and do a sunrise hike to Mount Batur's volcano's rim (the Batur Caldera hike). Best part? It also includes a boat ride around Lake Batur that very few people get to see, and feels like a true adventure!
14
Can I see Mount Batur without hiking?
Yes! 4WD Jeeps have been recently introduced into the area as an alternative means of experiencing Mt Batur. If you are not into hiking or just want a different experience, which includes going to the black sand lava fields, the Jeep Adventure might be the right option for you.
Frequently Asked Questions
How long does it take to climb Mount Batur?
In total, the Mount Batur sunrise hike will take approximately 4 hours for a novice hiker, if you are of moderate fitness. If you're very fit, it should take you 3 hours or less. Ultimately, how long it takes really depends on individual fitness level, but if you're relatively fit you can reach the summit within 2 hours. Most travellers find it fairly easy - which is why it's such a popular climb! The descent is typically easier for most (although for those with weak knees it may be harder!), but there are some tricky terrains to manage, so definitely leave some energy for the way down. Descent will also take 1.5-2 hours.
How difficult is the Mount Batur Trek?
The climb up Mount Batur is considered easy to moderate, depending on your fitness level and experience. The trek takes around approximately 2-3 hours to reach the summit, and the terrain can be steep and rocky in some areas. However, with a good level of fitness and the right equipment, most people can make the climb.
What kind of weather should you expect at Mount Batur?
It gets chilly at the summit of Mt Batur before sunrise - the temperature here ranges between 14-18 degrees. If you reach the summit with time to spare before sunrise, it may feel even colder because of the wind so we would recommend a jacket, fleece and long trousers.
What are the different ways to climb Mount Batur?
There is generally one common route up the mountain that most of the local tour guides will use. That means that sometimes there will be a human traffic jam up the mountain, especially during peak season when you have 600 hikers using the same narrow route up before sunrise. However, some of the local guides have now found other less-touristed ways of doing the Batur sunrise hike which will still take you up the summit but through less-known routes. When we did the less-touristed route, there was no one on the route with us until we reached the summit, so we would highly recommend it! Alternatively, if you don't like climbing you can also do a jeep tour. This has become an increasingly popular way to see Mount Batur at sunrise. This takes you not to the summit but to a vantage point midway where you can see the Batur Lake, and the neighbouring volcanoes. Finally, you can also climb to the Mount Batur volcano rim instead of the summit. This gives you as good a view as the summit with no crowds so you can take an amazing pictures without jostling for position with others.
How do I get to Mount Batur?
Mount Batur volcano is located in the Kintamani district of Bali. To get there, it is about 60-90 minutes drive away from Ubud, and 2 hours from Seminyak and Canggu. Your mountain guide will usually provide a pick-up from your accommodation in Bali to the starting point of the hike or jeep tour.